The Only Thing Missing From This Almanac Is Your Daily Horoscope
Every day, you read the Four Winds report, to get a sense of the current energies. There's just one thing missing — your daily horoscope. Written for you, every day of the week, your Planet Waves daily horoscope is designed to give you the clue you need, that little edge to make your life go smoother.
One well-placed line from an astrologer can make all the difference in your life. We now have two editions of the Four Winds Report — one with, and one without your daily reading. You may be one of the readers who've waited for years for me to offer you this — and now you can have it. Horoscope Lover membership gets you direct mailing of each day's reading, plus the weekly reading on Sunday night, and the monthly reading the last Thursday of the month. Sign up at this link.
with love,


Today is Thursday, Sept. 28, 2017
Hebrew date is 8 Tishrei 5778
Islamic date is 7 Muharram 1439
Mayan Tzolk'in Day is 4 Ik'
Mayan Long Count is 13.0.4.15.2
Julian Day is 2458025
Today's Birthdays: Prosper Merimee (1803-1870), Isis Pogson (1852-1945), Elmer Rice (1892-1967), Ed Sullivan (1901-1974), Tuli Kupferberg (1923-2010), Brigitte Bardot (1934), Ben E. King (1938-2015), Janeane Garofalo (1964), Mira Sorvino (1967), Naomi Watts (1968), St. Vincent (1982), Chloe Hanslip (1987).
"If you just concentrate on what you're doing and allow yourself to actually enjoy and let your feelings come out, whatever the tempos, whatever the rhythms, whatever the songs, 9 out of 10 times it will work. And I've taken that lesson to thousands of studios with me."
— Ben E. King
Recently on Democracy Now!
One week after Hurricane Maria devastated Puerto Rico, Donald Trump says he will visit the island next Tuesday, even as most of the 3.5 million U.S. citizens who live there remain in the dark, without access to power, clean water, food and fuel. Facing withering criticism, Trump held a press conference Tuesday and denied he has neglected the disaster.
View this and other Democracy Now! posts here. We feature this informative show as part of our affiliation with the Pacifica Network.
Moon Phase: Moon is in First Quarter phase and enters Waxing Gibbous phase on Oct. 1-2 at 8:24 pm PDT / 11:24 pm EDT (03:24:34 UTC).
Next Full Moon is in Aries on Oct. 5 at 11:40 am PDT / 2:40 pm EDT (18:40:02 UTC).
Corresponding New Moon in Libra is on Oct. 19 at 12:12 pm PDT / 3:12 pm EDT (19:11:58 UTC).
Moon Sign: Moon is in Capricorn and enters Aquarius on Sept. 29-30 at 9:40 pm PDT / 12:40 am EDT (04:40:05 UTC).
Sun Degree: 6-7 Libra.
Planetary Stations and Sign Changes
Pluto stations direct at 12:35 pm PDT / 3:35 pm EDT (19:35:35 UTC).
Interesting Selected Aspects | Data by Serennu
— Jupiter opposite Uranus at 9:25 pm Sept. 27 PDT / 12:25 am EDT (04:25:06 UTC).
— Mercury trine Sedna at 9:58 pm Sept. 27 PDT / 12:58 am EDT (04:58:31 UTC).
— Mercury square Galactic Center at 3:26 am PDT / 6:26 am EDT (10:26:26 UTC).
— Sun square Juno at 11:09 am PDT / 2:09 pm EDT (18:09:29 UTC).
Subscribe to Planet Waves — sign up here | Visit Our Website at this link
If Your Birthday is Sept. 28
(The Day of the Heartbreakers) | Libra Birthday Reading | All Other Signs
You have your way of doing relationships, which may seem to contradict the rules and laws laid down by your family or some institution. Yet you have more in common with traditional values than it seems, which helps you persist with your truly original experiments in relating. You get to define your own notion of commitment, though commit you must.
Written in the Planets
Jupiter's opposition to Uranus might give a boost to the innovator in you. Both these planets have at least a touch of chutzpah — and both are in the late degrees of their current signs, so this relatively rare aspect also has something to say about stimulating change. Note that all oppositions in astrology relate to polarity, or the attraction between different sides; very few are likely to describe that dynamic so palpably as this one. It's basically the zodiacal equivalent of the electromagnetic force. Let it power up your mind.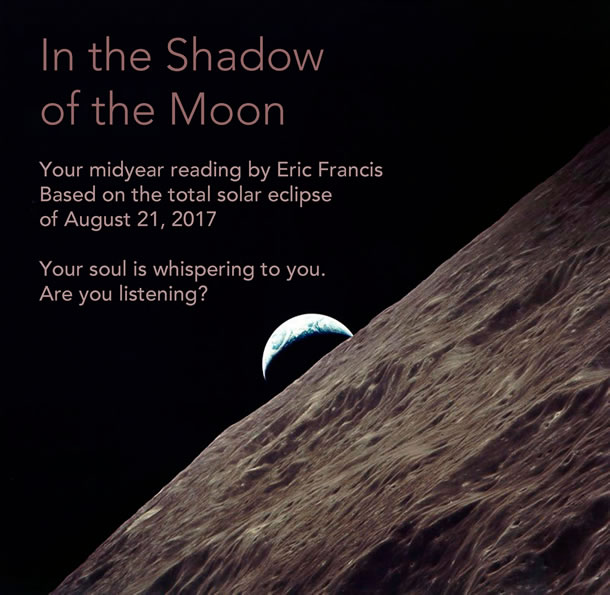 In the Shadow of the Moon, the exciting 2017 Midyear Reading by Eric Francis, is now published. Although the video readings for all 12 signs use the Great American Eclipse of Aug. 21 as a starting point,
Eric develops the themes through some of the most important astrological events you'll encounter in the remainder of 2017 and beyond
. We'll be increasing the price again very soon, so don't hesitate to
order your copy here
. You can also choose your
individual signs here
.
Pre-order your Libra audio reading today. Please use this link.