Dear Friend and Reader:
In this world, having good information is a way of feeling like you belong somewhere. Relevant knowledge, when you need it, makes life easier. And someone offering you good information reminds you that they care enough to provide you with a hint, an idea, or when called for, a word of caution. Even better, a word of encouragement.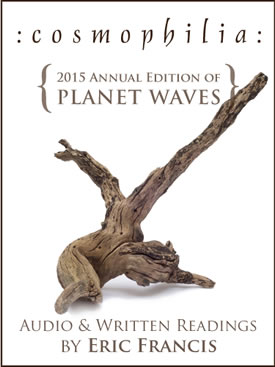 One thing that's clear about our lives today is that we are responsible for knowing so much — even as the world gets less predictable, and information is relevant for less time. Our moment of history is the perfect time and place for astrology, which can embrace so much of who you are, and even help you see around the bend.
The Planet Waves annual edition, now in its 16th year, is a beautiful tradition of offering sound astrological guidance. I've been creating the Planet Waves annual since before most people had Internet access.
Year after year, I've conducted impeccable research on the coming four seasons. Then I've prepared readings designed to provide you with the ideas, guidance and encouragement to make the most out of your precious time and energy.
One thing you get with your Planet Waves annual reading is the benefit of experience. Lots and lots of experience, which is the result of astrology practiced every single day, year upon year.
In each annual edition, I cover the 12 Sun signs and rising signs in both audio and written format. The spoken word and the written word work differently in the brain, and I want to use both approaches.