Dear Friend and Reader:
Belonging means being part of something larger than yourself, and also confident in yourself. To truly belong means being held by existence — a feeling that we would all like more of.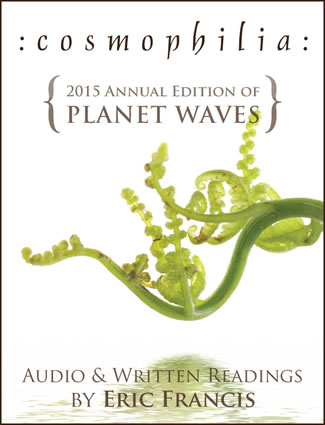 Abraham Maslow, a pioneer of humanistic psychology, considered belonging to be such a significant need that he compared it with food and shelter. Yet often a dry roof and food on the table seem easy compared to getting some assurance that you belong where you are.
I know that life demands constant adaptation that can make this seem more challenging every day — in your work, in relationships, or in our society that's changing so fast nobody can keep up. Then of course there are your deeper goals, the ones that seem more difficult to reach.
Astrology can help — and as you know, it does so dependably.
If astrology speaks to anything, it's the theme of aligning with who you are, at this moment, and navigating your way through life. This is the theme I'm taking up with Cosmophilia, your 2015 annual readings from Planet Waves.
My message: You belong here.
I will map out the fast-moving, exciting astrology of 2015 and offer solid ideas about where you stand right now, and what your most beneficial options are.
Looking into the future, I will offer ideas for how to plot your course forward, avoid obstacles and take advantage of hidden opportunities. My focus is always on a creative approach to relationships, sustaining yourself and doing meaningful work that helps you grow.