The Only Thing Missing From This Almanac Is Your Daily Horoscope
Every day, you read the Four Winds report, to get a sense of the current energies. There's just one thing missing — your daily horoscope. Written for you, every day of the week, your Planet Waves daily horoscope is designed to give you the clue you need, that little edge to make your life go smoother.
One well-placed line from an astrologer can make all the difference in your life. We now have two editions of the Four Winds Report — one with, and one without your daily reading. You may be one of the readers who've waited for years for me to offer you this — and now you can have it. Horoscope Lover membership gets you direct mailing of each day's reading, plus the weekly reading on Sunday night, and the monthly reading the last Thursday of the month. Sign up at this link.
with love,


Today is Tuesday, Sept. 12, 2017
Hebrew date is 21 Elul 5777
Islamic date is 21 Zul-Hijjah 1438
Mayan Tzolk'in Day is 1 Kimi
Mayan Long Count is 13.0.4.14.6
Julian Day is 2458009
Today's Birthdays: Samuel Joseph May (1797-1871), H.L. Mencken (1880-1956), Irene Joliot-Curie (1897-1956), Marya Zaturenska (1902-1982), Jesse Owens (1913-1980), Ian Holm (1931), Leonard Peltier (1943), Barry White (1944-2003), Nan Goldin (1953), Amy Yasbeck (1962), Ben Folds (1966), Louis C.K. (1967), Bizzy Bone (1976), James McCartney (1977), Jennifer Hudson (1981), Emmy Rossum (1986).
"I don't know how to save the world. I don't have the answers or The Answer. I hold no secret knowledge as to how to fix the mistakes of generations past and present. I only know that without compassion and respect for all of Earth's inhabitants, none of us will survive — nor will we deserve to."
— Leonard Peltier
This Week's Horoscope for Virgo by Eric Francis Coppolino
You might ease back on any endeavor involving labeling yourself. This is a temptation in a world where everything seems to be based on some official identifier or identity that proves something for some allegedly urgent reason. It carries through to the contemporary mania around branding everyone and everything. Soon we'll all be ready to go on the shelves at WalMart! Seriously, though: whether you're working on an actual marketing project, or are proffering yourself for some reason, or are just inclined to tag yourself, look carefully at what you're saying. Does it really leave you enough room to be who you are, to expand your enterprises, or fulfill your purpose? You might start with those things, and let the naming take care of itself. Credibility is earned in far more ways than presentation. Anyway, you want to be a whole font, not just a logo.
You may read all 12 signs here.
Moon Phase: Moon is in Disseminating (waning gibbous) phase and enters Last Quarter phase tonight at 11:25 pm PDT / 2:25 am Sept. 13 EDT (06:24:56 UTC).
Next New Moon is in Virgo on Sept. 19-20 at 10:30 pm PDT / 1:30 am EDT (05:29:47 UTC).
Next Full Moon is in Aries on Oct. 5 at 11:40 am PDT / 2:40 pm EDT (18:40:02 UTC).
Moon Sign: Moon is in Gemini and enters Cancer on Sept. 13 at 3:12 pm PDT / 6:12 pm EDT (22:12:16 UTC).
Sun Degree: 20-21 Virgo.
Planetary Stations and Sign Changes
No changes today.
Interesting Selected Aspects | Data by Serennu
— Mercury square Huya at 12:23 am PDT / 3:23 am EDT (07:23:15 UTC).
— Vesta square Galactic Center at 5:23 am PDT / 8:23 am EDT (12:23:17 UTC).
— Venus conjunct Sila-Nunam at 6:34 am PDT / 9:34 am EDT (13:34:05 UTC).
— Venus trine Saturn at 5:49 pm PDT / 8:49 pm EDT (00:49:35 Sept. 13 UTC).
Subscribe to Planet Waves — sign up here | Visit Our Website at this link
If Your Birthday is Sept. 12
(The Day of the Fearless Crusader) | Virgo Birthday Reading | All Other Signs
You are liberated from many old ideas about yourself and, notably, none of them came from you. Keep an inventory of what people told you about yourself when you were younger, and what they say now, and scrutinize them carefully. Using a process of elimination, you'll travel light-years learning how to decide, for yourself, who you really are.
Written in the Planets
Although the approaching square between the Virgo Sun and Saturn in Sagittarius (on Wednesday) could feel frustrating, the sky seems to be offering a balm to ease you into things. Today Venus in Leo makes a trine to Saturn. Although Saturn in this aspect may temper your tendency to be demonstrative in relationships, it can bolster loyalty. Notice whether you feel steady and stable emotionally. You can use that sense of stability and responsibility to put yourself in a good position for what develops later in the week.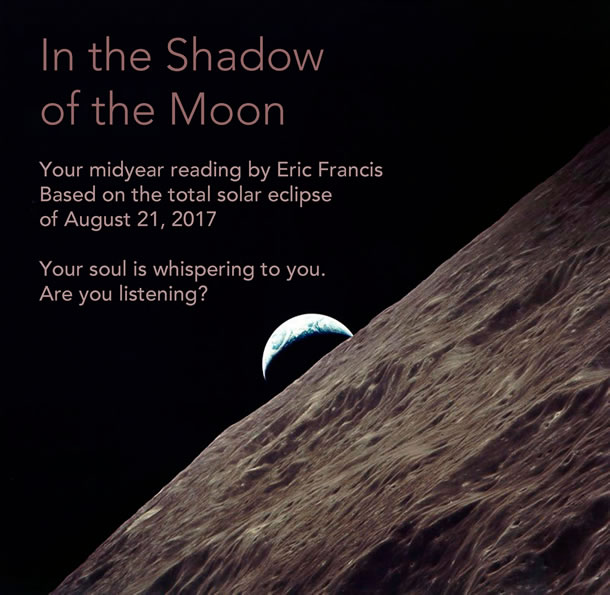 In the Shadow of the Moon, the exciting 2017 Midyear Reading by Eric Francis, is now published. Although the video readings for all 12 signs use the Great American Eclipse of Aug. 21 as a starting point,
Eric develops the themes through some of the most important astrological events you'll encounter in the remainder of 2017 and beyond
. We'll be increasing the price again very soon, so don't hesitate to
order your copy here
. You can also now choose your
individual signs here
.
How will you activate your potential and passion to grow and become? You can start by pre-ordering your Virgo Birthday Reading — at the lowest price we offer: just $33 for some of the clearest, most immediately useful astrology you can find on the internet, designed for anyone with a Virgo Sun, Virgo rising or Virgo Moon.