The Only Thing Missing From This Almanac Is Your Daily Horoscope
Every day, you read the Four Winds report, to get a sense of the current energies. There's just one thing missing — your daily horoscope. Written for you, every day of the week, your Planet Waves daily horoscope is designed to give you the clue you need, that little edge to make your life go smoother.
One well-placed line from an astrologer can make all the difference in your life. We now have two editions of the Four Winds Report — one with, and one without your daily reading. You may be one of the readers who've waited for years for me to offer you this — and now you can have it. Horoscope Lover membership gets you direct mailing of each day's reading, plus the weekly reading on Sunday night, and the monthly reading the last Thursday of the month. Sign up at this link.
with love,


Today is Monday, Sept. 11, 2017
Hebrew date is 20 Elul 5777
Islamic date is 20 Zul-Hijjah 1438
Mayan Tzolk'in Day is 13 Chikchan
Mayan Long Count is 13.0.4.14.5
Julian Day is 2458008
Today's Birthdays: Mary Watson Whitney (1847-1921), O. Henry (1862-1910), Sudhamoy Pramanick (1884-1974), D.H. Lawrence (1885-1930), Herbert Stothart (1885-1930), Jessica Mitford (1917-1996), Betsy Drake (1923-2015), Sharon Lamb (1955), Jon Moss (1957), Andre Dubus III (1959), Virginia Madsen (1961), Moby (1965), Harry Connick Jr. (1967), Taraji P. Henson (1970), Ludacris (1977).
"The nature of the infant is not just a new permutation-and-combination of elements contained in the natures of the parents. There is in the nature of the infant that which is utterly unknown in the natures of the parents."
— D.H. Lawrence
---
From Crisis to Awakening
Once again we begin the week with a national crisis on our hands, born of a global situation: one of the most powerful storms on record has ravaged Caribbean islands and now Florida and, potentially, surrounding states and others as far north as Tennessee.
Larry Kahn, an editor of a news website based in the Florida Keys, was quoted in the Miami Herald Saturday: "Everything is underwater. I mean everything."
As everyone knows, this follows by mere weeks the flooding and storm surges of Hurricane Harvey that devastated the Gulf Coast of Texas, and by a few days a massive earthquake in Mexico.
Wildfires are currently raging in many Western states. Just a few days ago, our beloved friend and editor in Oregon, Carol van Strum, as a forest fire lingered just miles away, was busy figuring out how to load her family of birds and dogs into her truck. We all knew that her donkeys and horses would have to be left behind, should the fire reach her neck of the forest. Thankfully they were all safe. Not everyone was so fortunate.
It is exhausting to be confronted with this kind of news several times a week, endlessly. It may seem that only those at the scene are involved, and for everyone else, these are conceptual events. Yet because we are connected via an extended nervous system, which reaches directly to the scene of every disaster and feeds your eyes and ears, we are in a sense right there.
---
Moon Phase: Moon is in Disseminating (waning gibbous) phase and enters Last Quarter phase on Sept. 12-13 at 11:25 pm PDT / 2:25 am EDT (06:24:56 UTC).
Next New Moon is in Virgo on Sept. 19-20 at 10:30 pm PDT / 1:30 am EDT (05:29:47 UTC).
Next Full Moon is in Aries on Oct. 5 at 11:40 am PDT / 2:40 pm EDT (18:40:02 UTC).
Moon Sign: Moon is in Taurus and enters Gemini today at 12:29 pm PDT / 3:29 pm EDT (19:29:15 UTC).
Sun Degree: 19-20 Virgo.
Planetary Stations and Sign Changes
Quaoar stations direct at 8:34 am PDT / 11:34 am EDT (15:33:57 UTC).
Pallas stations retrograde at 10:48 am PDT / 1:48 pm EDT (17:48:24 UTC).
Moon enters Gemini at 12:29 pm PDT / 3:29 pm EDT (19:29:15 UTC).
Interesting Selected Aspects | Data by Serennu
— Sun sextile Ceto at 2:26 am PDT / 5:26 am EDT (09:25:49 UTC).
— Vesta trine Sedna at 12:48 pm PDT / 3:48 pm EDT (19:47:57 UTC).
— Vesta opposite Chiron at 7:13 pm PDT / 10:13 pm EDT (02:13:20 Sept. 12 UTC).
Subscribe to Planet Waves — sign up here | Visit Our Website at this link
If Your Birthday is Sept. 11
(The Day of Dramatic Choice) | Virgo Birthday Reading | All Other Signs
Face any challenges with an open heart and mind, and you'll turn them into your allies. It will help if you rise above self-defeating mental tendencies, which would make a first-quality psychological and spiritual growth agenda for the year. Happiness is possible, though in this life it's something that we both earn and learn. You're motivated to make real changes.
Written in the Planets
Vesta opposing Chiron, among other aspects, suggests that today could be a day to go deep. Give yourself as much space as you need and, where possible, be prepared to work with some of your more potent feelings. This might mean some hard effort, or it might mean relaxing and allowing your emotions to surface gently. This may be a singular opportunity to commit anew to your healing and growth process. Don't hesitate to grasp it.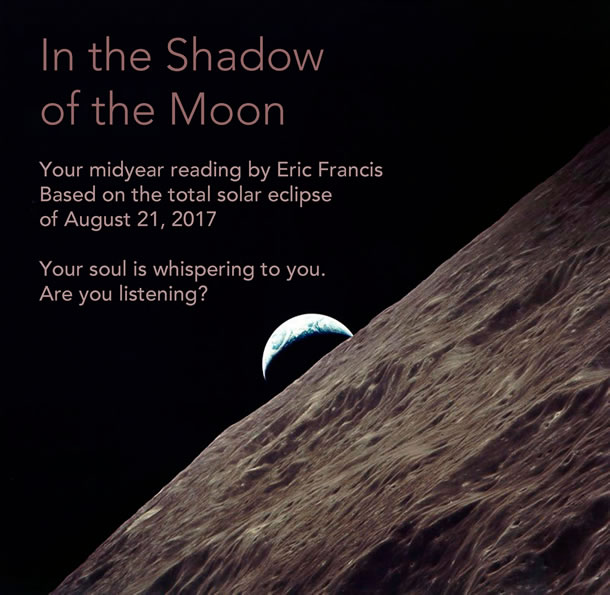 In the Shadow of the Moon, the exciting 2017 Midyear Reading by Eric Francis, is now published. The video readings for all 12 signs cover the Great American Eclipse of Aug. 21 and well beyond. We'll be increasing the price again very soon, so don't hesitate to
order your copy here
. You can also now choose your
individual signs here
.
How will you activate your potential and passion to grow and become? You can start by pre-ordering your Virgo Birthday Reading — at the lowest price we offer: just $33 for some of the clearest, most immediately useful astrology you can find on the internet, designed for anyone with a Virgo Sun, Virgo rising or Virgo Moon.