Dear Friend and Reader:
It's been an exciting week in the last days before the Pisces New Moon (exact Saturday, March 17 at 9:11:31 am EDT, 6:11:32 PDT).
This is the final New Moon of the astrological year. The equinox, when the Sun enters Aries, is on March 20. These last days of Pisces are like a seed moment of transformation and laying intention for the future, and the end of the lunar cycle coming so close to the equinox ramps up that effect.
The Moon and Sun will align in a close conjunction to Chiron in Pisces, which is nearing the end of its run through this sign. After eight years in Pisces, Chiron makes its first ingress into Aries on April 17. The New Moon conjunct Chiron is one of many events heralding the transition of Chiron from Pisces to Aries.
First let's take a look at the news and see if we can get a feeling for what this New Moon is about. Beginning with the most exciting and positive development, students at thousands of high schools across the country walked out of class, demonstrating for sensible gun laws.
The students who walked out were mostly born 2000-2003, a group with significantly different astrology compared to their immediately preceding cohort. As one protester told BBC World Service, "We are the generation that will change everything."
Or as a New York Times report put it, "Even after a year of near continuous protesting — for women, for the environment, for immigrants and more — the emergence of people not even old enough to drive as a political force has been particularly arresting, unsettling a gun control debate that had seemed impervious to other factors."
Democracy Now! reported that a million students were involved in the protests. [Listen to coverage here.]
The New York Daily News summed up sentiment toward the protests in its editorial Wednesday night.
"May the electrifying walkout that united students in cities, suburbs and towns, in states red and blue and in between, be the beginning of a powerful new movement of youth activism to break America free of the death grip of the gun lobby once and for all," the Editorial Board wrote.
"The mass youth protest — on a scale not seen since the Vietnam War, with a passion against injustice reminiscent of the Civil Rights movement — marked one month since teens saw the sanctuary of their Florida high school explode at the barrel of a single assault weapon wielded by a single deranged young killer."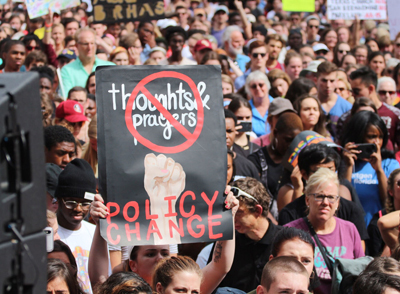 Students from Marjory Stoneman Douglas High School in Parkland, Florida, and supporters march in Tallahassee for gun control after 17 were shot and killed at the school Feb. 14. Photo by Alan Alvarez, The Alligator.
Momentum is building for the March 24 "March for Our Lives" protest in Washington, DC, and many cities around the country. The Washington Post reported this week that 500,000 people are expected to take over parks and Pennsylvania Ave., after a permit to use the National Mall was revoked due to the 24th allegedly being the rain date for a talent show.
To me, these developments represent the one thing that's been missing from the national conversation in American society for many years: the voices and presence of young people. We began to see that change with the women's march on Washington, DC, on Jan. 21, 2017.
What is the astrology behind this? I would say the Uranus-Eris conjunction is the defining factor. This is the most potent alignment since the events of 2000-2002, and on par with comparable conjunctions in 1965-66 and 1993.
A student named Aly Sheely told the New York Times, "The 'children' you pissed off will not forget this in the voting booth. Don't doubt the power of the younger generation, because we are a force to be reckoned with." This is language different from what we've been hearing — or not hearing — from recent younger generations, who have seemed more enamored with their iPhones than with social justice, despite many claims of their idealism and commitment.
In other gun news, Morgan Roof, the younger sister of Dylan Roof (who killed nine people in a Charleston, South Carolina, church in 2015), was arrested Wednesday in South Carolina for allegedly carrying a knife and pepper spray on school property.
Roof published a Snapchat post disparaging National Walkout Day, which said she hoped "it's a trap and y'all get shot" and "we know it's fixing to be nothing but black people walkin out anyway," local authorities said.
Additionally, a teacher who is also a reserve police officer trained in firearm use 'accidentally' discharged a gun in a California high school, during a class devoted to public safety, school officials said in a statement. A male student was reported to have sustained non-life-threatening injuries. A bullet struck the ceiling, ricocheted, and fragments lodged in a boy's neck.
Stephen Hawking Has Died
Stephen Hawking, author of A Brief History of Time, died this week. Among his many distinctions, including living productively to age 76 as a quadriplegic with a progressive neurological disease, he never said anything mean about astrology. You will notice this is almost always true of the greater minds in physics.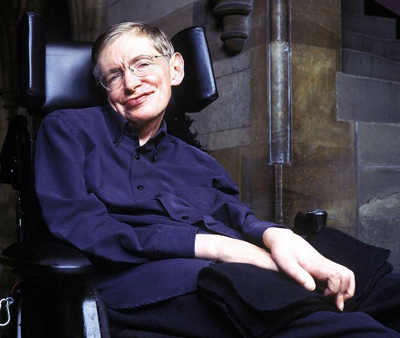 Stephen Hawking. Photo by lwpkommunikacio/flickr.
He wrote in The Universe in a Nutshell, "If one particle falls into the black hole, there is no prediction we can make with certainty about the remaining particle. This means that there isn't any measurement outside the black hole that can be predicted with certainty: our ability to make definite predictions would be reduced to zero. So maybe astrology is no worse at predicting the future than the laws of science."
Hawking was a hero for people with disabilities, and many others. He appeared on The Simpsons four times. A natural born mystic, he had the Sun in Capricorn and a Moon-Neptune conjunction in Virgo.
Stormy Gears Up
to Fight Donald Trump
Stephanie Gregory Clifford, or Stormy Daniels, was paid $130,000 by Donald Trump's personal lawyer in late 2016 to remain silent about her affair with the then-candidate. She has sued Donald Trump to invalidate a nondisclosure agreement pertaining to a sexual relationship she had with Donald Trump in 2006, shortly after the birth of Trump's youngest child Barron, by his third wife and current First Lady, Melania.
Daniels raised more than $135,000 through crowd-funding in just three days, funds intended to cover her legal fees and litigation expenses.
"I am attempting to speak honestly and openly to the American people about my relationship with now President Donald Trump and the intimidation and tactics used against me," Daniels said in a recent statement. Her lawsuit has raised questions regarding the tactics of non-nondisclosure agreements (NDAs) and payoffs to silence the victims of sexual violence.
And in Other Water News
Researchers at the State University of New York at Fredonia have discovered that nanoparticles of plastic are present in nearly all of their samples of bottled water. The chances are that this will lead to the revelation of ubiquitous contamination by microparticles of plastic in food and water. Though media reports today claimed that the health effects are not known, there is evidence of plastic nanoparticles causing brain damage in fish.
Plastic degrades into nanoparticles, and contaminates the world's oceans and fish supplies. It's now turning up in bottled water, and may even be in milk. Photo via Sierra.org.
Researchers at the university tested 11 different major brands of water from 27 different lots, purchased in different parts of the world.
Overall, 259 individual bottles were tested. It turned out that water in 93 percent of the samples showed contamination by microscopic particles of plastic, the researchers say.
Some were as thick as a strand of human hair, and others were so small they could pass through the intestinal membrane. Dr. Joe Mercola has been warning us about the dangers of bottled water for ages, which include hormone poisoning from plasticizers such as BPA.
Meanwhile, ancient monuments at Easter Island, or Isla de Pascua, 2,200 miles off the coast of Chile, are threatened by rising sea levels. Ocean waves are reaching the ancient statues, which were carved in the period 1100-1690 CE, according to radiocarbon dating. This is one of many world heritage sites that are threatened by rising sea levels, not to mention population areas threatened by rising sea levels.
Russia Still in the News, Again
British authorities are claiming that Russia launched a nerve gas attack on a former spy and his daughter, sickening both. The incident was reported Sunday at 4:15 pm GMT. Sergei Skripal, a former Russian intelligence officer, and his daughter Yulia were allegedly poisoned in Salisbury, England. There were five nonfatal injuries, said to be caused by novichok, a new-generation form of nerve-gas chemical weapon.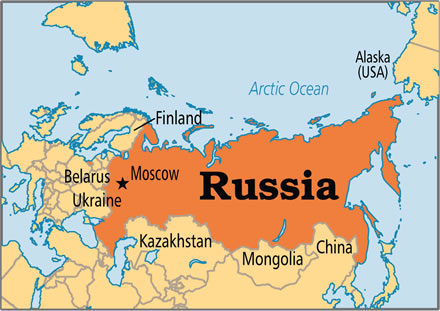 In case you were wondering where Russia is, it's right near Mongolia and across the way from Alaska. China is actually much larger, and Kazakhstan is where Borat is from.
The UK responded by expelling 23 Russian diplomats who were believed to be working as spies. The world community and most of the media seem to be accepting Russia as the culprit, claiming that the variety of gas had been verified at a British government testing lab called Defence Science and Technology Laboratory at Porton Down.
However, that is not proof of anything, including whether that was the substance used, or that it came from the Russians. No laboratory testing is verified unless the chain of custody of the sample is provided, and the sample is split and sent to two independent laboratories.
Otherwise, we are dealing with a claim like that of weapons of mass destruction in Iraq. And if there is a sample or supply of novichok in the UK, you can be sure it will be kept at Porton Down.
This is the latest in a long series of events raising tensions between Russia and NATO-allied nations. The Trump administration joined a collective statement with Britain, France and Germany denouncing Russia for its apparent role in a nerve-gas attack, despite the lack of evidence that Russia was the actual perpetrator, or that this was the chemical involved in the Skripals' injury.
The most interesting thing about this incident is that in the era of freelance terrorism, the presumed enemy has suddenly shifted to an official state actor.
More Trump Administration Follies
The Executive Branch continued to unravel as Pres. Trump fired Rex Tillerson, the secretary of state, by issuing a tweet. Tillerson, the former chief of Exxon-Mobil, was considered one of the less aggressive, pro-diplomacy members of the administration. Other members of Tillerson's staff were fired or are expected to resign in this latest Executive Branch bloodbath.
Trump has nominated Mike Pompeo, currently the C.I.A. director, to be the new secretary of state. Trump nominated Gina Haspel to take over the C.I.A. Haspel was in charge of a torture center located in Thailand during the Bush administration, and was also responsible for the destruction of video documentation of that conduct. While some are saying that she finally broke the glass ceiling by being the first woman named as C.I.A. director, others are saying she should be brought before the International Criminal Court in the Hague and prosecuted for crimes against humanity.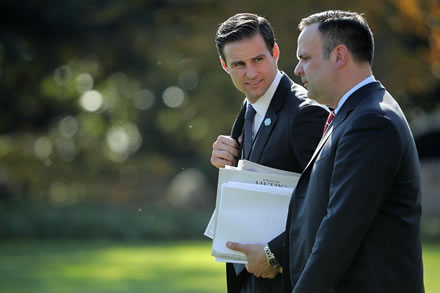 John McEntee, left, personal aide to Pres. Trump, was fired Monday, due to being a security risk. He was not allowed to get his coat. He is being investigated for serious financial crimes but is great at throwing a football. Photo by Chip Somodevilla.
Trump praised the use of torture during the campaign. "With his elevation of Ms. Haspel, now the agency's deputy director, Mr. Trump displayed a willingness to ignore the widespread denunciations of waterboarding, sleep deprivation, confinements in boxes and other interrogation techniques that were used by the C.I.A. more than a decade ago," the New York Times reported.
Both Pompeo and Haspel face senate confirmation before taking on their proposed roles. Haspel faces a bigger confirmation fight than Pompeo, and if any senators show some spine, we will see a rare discussion of torture on C-Span.
Trump also fired John McEntee, his longtime "bodyman" or personal assistant, after the Department of Homeland Security determined that he was involved in serious financial crimes. He was removed from the White House grounds so fast he was not given time to collect his coat or belongings. A bodyman is someone who shadows the president or other high official, and is with them almost constantly, taking care of things like meals, clothing, and other personal necessities.
This is the latest in a series of shakeups associated with people around Trump whose backgrounds are so dodgy they cannot get security clearance.
Democrat Wins in Western Pennsylvania
Conor Lamb, a Democrat, has won a special congressional election in a Pennsylvania district that Trump took by 20 percentage points in the 2016 election.
He won by about 600 votes. Lamb is a conservative Democrat, who claims to be personally against abortion but as policy, pro-choice (that describes a lot of thinking, breathing Americans). He is also in favor of more liberal gun policy, meaning that like most people in his region of the country, he is pro-gun rights.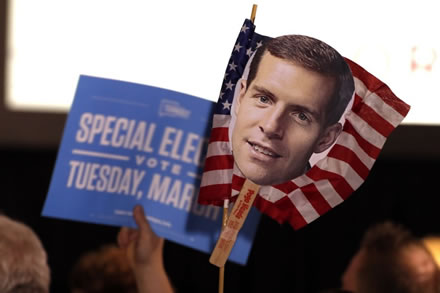 Supporters of Conor Lamb, the Democratic candidate for the special election on Tuesday in Pennsylvania's 18th Congressional District, hold signs during his election night party in Canonsburg, PA, Wednesday. Photo by Gene J. Puskar.
This is the latest in a series of special elections in which a Democrat has beaten a Republican, some of which have been in pro-Trump districts.
Presumably, this points to a big win by Democrats in the midterm elections for congress that will be held Nov. 6.
The Outlook
These events come as we approach the end of several major cycles, including the solar year, Chiron in Pisces, and Uranus in Aries. We're likely to see even more quickening when Chiron enters Aries in April and Uranus enters Taurus in May.
Plus, Mars will be retrograde most of the summer (mostly in Aquarius), and Venus will be retrograde (mostly in Scorpio) later in the year.
We have yet to see whether some strong core of people can rise above the frustration, malaise and depression of our times, and actually claim the fact of being alive, and commit to making an actual difference.
Yet we are seeing signs of awakening — some of them not even subtle.
Keep your eyes on the March 24 "March for Our Lives" protest. Please buy your kids train and bus tickets to get to the nearest event.
With love,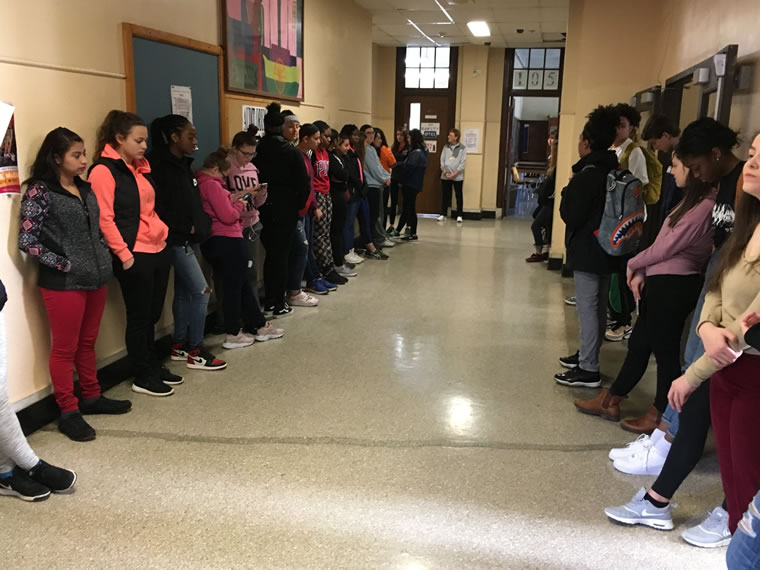 Welcome to the Free Speech Zone
By Eric F. Coppolino
Wednesday, March 14 was the day designated for high school students across the country to walk out of class, in honor of the young lives taken in Parkland, FL, one month ago.
Here in Kingston, the school administration decided that instead of a walkout, there would be an event that would "empower the student body, but also keep them as safe as possible," in the words of Kirk Reinhart, the principal.
"I am proud to say that we have worked with students to reach a compromise and create a collaborative and respectful event," what in a letter to parents he called a "peaceful, organized and effective demonstration."
That event? Students could walk out of their classrooms and stand in the corridors.
I arrived at Kingston High School at about 9:30 am, and encountered a perimeter set up about 75 feet from the front stairs, staffed by a security official named Sean. He told me that press had been pre-cleared for the event, and that I could not enter the building without permission from what he called Crown Street — the district office located around the corner from my studio, in another part of town. I was told to leave the campus or face arrest.
I stepped off campus, called the school district and got John Verge, the deputy superintendent. I identified myself as a radio and print reporter, named some of the places I work, and he said he would call the school and authorize my entry.
By then, the security perimeter was moved down to the street. I told a guard standing at the entrance that I had been granted permission to attend the "protest" by the deputy superintendent, as instructed. Eventually, word came around on his walkie-talkie that I was authorized, and he allowed me in.
When I entered the building, I was stopped by the assistant principal. I told him that per instructions of his security guy, I had called the district office and received permission to be in the building.
"I don't have anything to prove you were cleared by the [deputy] superintendent." I told him about my call with Mr. Verge a few minutes earlier, and how the guard had let me in when he confirmed that.
"Why are you doing this?" he asked, as if my purpose was to annoy him. I reminded him of the obvious, which is that I was a reporter covering a protest.
He told me to leave the campus, since I didn't have permission to be there. I went back to my car. Sean, the security official, came and found me as I was driving out. It had all been a mistake, and I was now allowed to come into the building.
"My bad, my bad," he said, sincerely apologetic.
This time, when I went back in to the building, I was now allowed to walk past the assistant principal and various cops standing around, and joined some students who were holding a kind of silent vigil in the corridor, with their arms linked.
The names of dead students at Marjory Stoneman Douglas High School were being solemnly read off by someone on the school's PA system. It was morose. The students had to remain mute. There was no expression of feeling, of energy, of anger.
After about three minutes, another school official came and found me, and said to come with her. She was clearly upset. Her name was Kate Heidecker, the school's "public relations specialist." She, too, claimed I did not have permission to be in the building.
"I got permission 20 minutes ago," I said.
"For an event of this nature, you cannot ask 20 minutes in advance." She claimed I needed to be pre-cleared two weeks earlier, like all the other media. Apparently they wanted 100% control over their PR choreography.
"What kind of event? It's a bunch of kids standing around in the corridor."
Dan Barton, editor of Kingston Times, said he had received an email from Heidecker at about 9 o'clock Monday morning — two days, not two weeks earlier — inviting coverage from "some select media." He has provided me with a copy of the email. I've written to Heidecker seeking clarification and have not received a response.
Notably, if the school's concern was security, nobody patted me down, searched my bag, or wanded me. (The rumor going around was that they were afraid they would have a school shooting at a protest about school shootings — an entirely unfounded concern, based on there being no actual threat.)
Back in the front lobby, the assistant principal was now pleading with me to leave the building. I must have had the vibe that I was willing to get arrested for the story, which would have created a hassle that lasted all week, plus the ongoing publicity about why they busted a reporter who had obtained authorization to be on campus, plus the trial.
True enough, I'm sometimes willing to get arrested for the story, but I was not in the mood that day.
On the sidewalk outside the building, a student named Xavier had actually walked out of school. He said that the administration had recruited him as a student of color to have input on the in-school "protest," since all the other organizers were, as he put it, "white girls." But he was having no part of that.
A little while after I left, about 100 students walked out the building and staged a protest on school grounds, facing Broadway. I've been told that they will all face in-school suspensions.
Readers Say This Is Our Best Annual Reading Yet
Tap or click to visit our most beautiful website ever.
"As always, the reading comes at exactly the right moment. The divine timing serves to remind me of how connected I am: my 'work' is a joyous extension of who I am; my deeply held spiritual beliefs are part of my every day life; I am strong and trusted."
— Jennifer, on the Art of Becoming annual readings
Dear Friend and Reader:
We recently published The Art of Becoming reading for Aquarius. This means that ALL TWELVE Art of Becoming signs are now available for instant access — whether you purchase one or two readings individually, or go all-in and order all 12 signs to share with your household.
"This reading is so amazingly dialed-in that I can't believe it wasn't written specifically for me. Thank you, Eric, for tying together many strands of intuition of which I was vaguely aware: now I can begin to own and embody them with confidence."
— Anthony, on the Art of Becoming reading for Aries
If you have any questions, please email us at cs@planetwaves.net. Or call from within the U.S. at (845) 481-5616, or from outside the U.S. at (206) 567-4455. If you leave voicemail, please be sure to leave your number in the message, and we'll call you back as soon as we can.
Thank you so much for your patience, and we look forward to hearing your response to these beautiful readings.
Yours & truly,

Amanda Painter
P.S. Here's what others are saying about The Art of Becoming:
"Dearest Eric, I just wanted to acknowledge how beautifully insightful your work always is and how moved I was reading your essays. Thank you so much for continuing to be such a guiding light along the way. Much love and appreciation."
— Maureen, on the Art of Becoming annual readings
"The leadership aspect of what you offered really assists me to understand what my being is up to in the world of work. True, it is rarely discussed in astrology in this way for Cancer. It is not always an easy road, but it is certainly not dull. This year I have shifted direction and am discerning what parts need to come with, and what needs to be left as no longer required. This is across relationships, views, methods and tribes. Your articulated integration of the various dimensions influenced through the realms is a gift and valuable resource in curating the conditions required. Received with gratitude."
— Rebekah, on the Art of Becoming annual reading for Cancer
"I am deeply appreciative of your integrity and the depth from where your being resides. Many blessings on your path."
— Desiree, on the Art of Becoming annual readings
"I will put this in a very safe place, and reread it over the coming days, weeks, months. This has been an extremely tough beginning of the year — it seems that I'm no longer being allowed to play out my life without really addressing what/who runs it from the shadows. You write about all this so brilliantly. Thank you for this stunning reading, dear Eric, for your extraordinary insights, wisdom and guidance."
— Liz, on the Art of Becoming annual readings
"Thank you, Eric, this reading is exquisite in its most absolute form. My sense of where my life is heading is reflected back to me in this annual with such elegant cohesion; your writing simultaneously feels to be a healing balm and a road map to a territory unknown except for the consistency of its beckoning."
— JeanMarie Murphy, on the Art of Becoming annual reading for Gemini
Chiron and the Pisces New Moon: What Have You Learned?
By Amanda Painter
Saturday is the Pisces New Moon; it happens at 9:12 am EDT (13:12 UTC), conjunct the centaur Chiron and also square the Galactic Core in Sagittarius. This will be the last Pisces New Moon with Chiron also in Pisces; as such, it calls for a deeper or more focused level of review and introspection as you prepare yourself for a new phase of growth.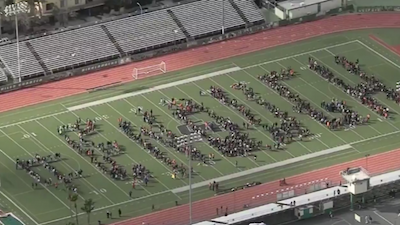 Students in the Granada Hills area of Los Angeles spelled out a message to lawmakers during a Wednesday walkout in response to gun violence, lying silently in the formation of "ENOUGH" with 17 chairs lined up representing the 17 students killed in Parkland, FL, one month ago. Photo by NBC Los Angeles.
With Chiron having to do with raising awareness to facilitate healing, and Pisces relating strongly to the emotional-spiritual-creative nexus, and the Galactic Core often described as our "cosmic homing signal", this configuration seems to pose some questions.
For example, what have you learned and how have you grown since 2010 (when Chiron entered Pisces)? You could also think in terms of your position within society and ask: Are we any closer to spirit/source/god/soul?
You might find that your answers to those two angles of questioning seem different. That is, you might feel like you have covered tremendous ground along your path of personal growth, and have worked hard to heal persistent emotional and psychological hang-ups and patterns; but then, when you look around you at the national and global news, it seems like the same chaos and pain is emanating from the same sources as usual. Maybe some (or many) situations feel even worse off than they did several years ago.
If society is in a spiritual crisis — and there are many indications that it is — what is that crisis about?
Many recent Planet Waves articles have referred to the continuing disembodiment of our psyches due to how much of our lives we now live online in digital 'reality'. The disconnection from ourselves, the lack of inner life or sense of inner presence, is certainly a big factor. But can we really point to the internet as the cause of this collective state, or has it merely been a magnifier and accelerant for a trend that had already begun with previous generations?
This week on Planet Waves FM
Seven Years Since Fukushima; Federal Gay Rights Decision
Dear Friend and Listener:
In this week's edition of Planet Waves FM (play episode here), I take a look at Mars square Chiron (which was exact Sunday into Monday)
and the Pisces New Moon conjunct Chiron, which happens on Saturday.
Donald Zarda (r), a skydiving instructor, was fired for being gay, and took his case to federal court. Photo courtesy of
Freedom for All Americans
.
Then I cover two issues, the first being a landmark gay and lesbian rights case that was recently decided by a high-level federal court in New York City. My friend Stephen Bergstein was one of the attorneys who worked on the case, and he is my guest tonight. The issue was recently covered in The New York Times.
Next, Sunday was the seventh anniversary of the Fukushima Daiichi nuclear disaster. I look at the chart for the incident, and consider the issue of charting nuclear-related matters, which is a whole branch of astrology.
If you want some background, here's an article that came out shortly after the incident, called Notes from Downwind. In an article that appeared one week before the incident, I seem to describe it in detail. In the last segment, I consider what society's obsession with LGBT people does in the minds of those who are "heteronormative." There are some questions that are not being asked, and some observations to draw.
Planet Waves FM is part of Chiron Return, the nonprofit arm of Planet Waves. We now do the program live on Radio Kingston at 10 pm Eastern, 7 pm Pacific on Sunday nights. The show then posts each Tuesday on the Planet Waves FM website, where we host nearly seven years of previous programs.
We remain supported by your contributions. If you've come back to Planet Waves FM week after week for years, please consider becoming a member. That helps cover the considerable costs associated with doing such a high-quality program.
Thanks for your membership support, and I'll catch you live next Sunday at 10 pm Eastern.
With love,

Dedication to Truth: Planet Waves Membership
---
Listen to Vision Quest on Live Stream
Planet Waves has an in-house music ensemble, called Vision Quest. We have a 38-hour loop of our music, which you can listen to any time. Included are finished pieces, rehearsals, live concerts, drum grooves, and spoken word recordings. I consider it a kind of musical divination. Click in randomly at different times of day and see what you discover.
---
Four Winds Almanac Now Includes Daily Horoscope
Planet Waves publishes a nifty daily astrology newsletter called the Four Winds Report. Designed as a fast read arriving early in the morning, we're now trying an experiment — we're including the New York Daily News daily horoscope for everyone.
Were it not for horoscopes, I wouldn't be an astrologer. It was the Patric Walker daily that convinced me there was actually something to astrology, and I got my basic education studying his column each day in the New York Post.
I pack a lot of energy into each sign's 50-word write up. Part of the value of astrology is the timing, and daily allows for precision, as well as chronicling a narrative day by day.
Your almanac also includes information about Mayan astrology (long count and short count dates), several formats of the current date (including Hebrew and Islamic), a daily birthday reading, and special discounts on products and services.
Best of all, we take no outside advertising.
Monthly Horoscopes and Publishing Schedule Notes
We published your extended monthly horoscopes for March on Thursday, Feb. 22. Your extended monthly horoscopes for February were published on Thursday, Jan. 25. Please note: we normally publish the extended monthly horoscope on the first Friday after the Sun has entered a new sign.
Aries (March 20-April 19) — This week's New Moon a few degrees shy of your sign, combined with Mars entering your 10th house of career and ambition, could see you propelled forward into new territory with comparatively little effort. This may well result from work you've already put in. It's likely you'll be at least somewhat prepared for whatever reward or progress is in the air, though additional research is rarely a bad thing; and preferably you'll want to sketch out some idea of where you're heading within the next few days, then refine and develop it gradually. – by Amy Elliott. For your Eric Francis horoscope this week, please see this link.
Taurus (April 19-May 20) — It's time for you to get real about your spiritual goals, as in whether the direction you're currently following is helping you meet them, or to grow. The forthcoming New Moon will shed light on certain healing needs, to which you would probably be wise to pay more attention. After all, every developmental path is to some extent dependent on our being aware of our own feelings, and on the process of uncovering the unconscious ones. Is there a particular issue you've been neglecting? If so, now's the moment to dig it out and seek to understand it. — by Amy Elliott. For your Eric Francis horoscope this week, please see this link.
Gemini (May 20-June 21) — You seem to be reaching a new level of clarity regarding the relationship between how people treat you and how you act toward them. That is to say: if you've felt others encroaching on your precious time and energy, you may now understand better how they're getting past your defenses. Likewise, if someone isn't reacting as you expect or wish, you might discover something in your behavior that's possibly contributing. Don't let this enervate you; instead, treat knowledge as power, and use it constructively to effect the changes you need. — by Amy Elliott. For your Eric Francis horoscope this week, please see this link.
Cancer (June 21-July 22) — Saturday's New Moon would appear to be something of a watershed moment in terms of your personal growth. You'll probably want to take a look back at your recent progress, and apply careful scrutiny to ideas and actions both past and present. One aspect that may need to go under the microscope involves the people closest to you: you might ask whether each is supporting you in being yourself and pursuing your ideals, or not so much. You can afford to be discerning with your time and attention, so don't fall for any bullshit. — by Amy Elliott. For your Eric Francis horoscope this week, please see this link.
Leo (July 22-Aug. 23) — It would seem you have some long-held plans that you're ready to bring to fruition, but something is preventing you from beginning. Potentially this has to do with concerns about how your work will be received, or of making errors. To a large extent you can ameliorate both with cautious planning; though in any case, keep going. You've worked hard and built up a lot of ground, and you may consider the next logical step as part of the natural flow of the process. By all means examine any fears you have, but don't let them get the better of you. — by Amy Elliott. For your Eric Francis horoscope this week, please see this link.
Virgo (Aug. 23-Sep. 22) — The Pisces New Moon this week offers the potential for deep healing in a particular relationship issue, which may stem originally from a hidden insecurity. It may have plagued you for years; now suddenly an entirely new and refreshing perspective appears to be opening, allowing you to spot the key to overcoming this challenge. This will involve effort and creative thinking, and it might take a few weeks for you to feel you've gotten somewhere. That's okay — once you're decidedly on the right track, the onward journey should be a good deal smoother. — by Amy Elliott. For your Eric Francis horoscope this week, please see this link.
Libra (Sep. 22-Oct. 23) — It's a truth commonly acknowledged (at least, on the pages of Planet Waves) that we often carry over to our adult relationships habits and feelings from childhood. We don't always recognize them, and occasionally our reactions can therefore take us by surprise. This week, you may find that one such mechanism, at least, has outlived its usefulness. This might have to do with self-confidence, or perhaps putting someone else's wishes before your need to be fully open, in order to preserve the peace. Try being yourself anyway; the results may surprise you. — by Amy Elliott. For your Eric Francis horoscope this week, please see this link.
Scorpio (Oct. 23-Nov. 22) — This week's astrology seems to open up some fertile creative ground, though in order to make full use of that energy you will probably need to collaborate, or at least call in advice. This isn't the same thing as losing autonomy on your projects. You can be discerning in relation to what you discuss with whom. That said, it would be useful for you to be clear on the difference between retaining your copyright, so to speak, and refusing help out of stubbornness. If you take courage and ask, the chances are you'll get precisely what you need. — by Amy Elliott. For your Eric Francis horoscope this week, please see this link.
Sagittarius (Nov. 22-Dec. 22) — Your charts would seem to indicate that, recently, you've been inclined to wariness or hesitancy in terms of going after what you desire. This isn't like you, and probably it's been discomfiting to some degree. Mars entering your 2nd house, however, will hopefully provide you with the encouragement you need. What you're looking for, in a way, is the sweet spot between inaction and recklessness, otherwise known as proceeding sensibly and with due care. Persistence in the face of challenges would be a useful ingredient. — by Amy Elliott. For your Eric Francis horoscope this week, please see this link.
Capricorn (Dec. 22-Jan. 20) — Mars entering your sign Saturday should bring a welcome boost of energy, and a certain sense of validation if lately you've been feeling self-doubt. It's possible that you've been visited in recent days by the ghost of a trouble you'd dealt with in the past. If so, treat it as a reminder of how far you've come since. This theme is likely to recur over the next month or so; it's an opportunity for you to lay to rest for good many facets of your early days that have served to hold you back, and to taste freedom on a scale you might never have known before. — by Amy Elliott. For your Eric Francis horoscope this week, please see this link.
Aquarius (Jan. 20-Feb. 19) — You're probably getting somewhat sick of all this emphasis on your 12th house, as if you hadn't done enough work tidying the closets of your inner being. This week should see you getting a change of air, so to speak; a real shift in the process of healing that you've undertaken, and a feeling of solidity in your self-image that you've probably missed for a while. By now you have a new understanding of who you are and what you're capable of. This is an achievement of which you have every right to feel proud. I hope you do. — by Amy Elliott. For your Eric Francis horoscope this week, please see this link.
---
The Perfect Reading for Your Growth and Happiness
"Eric, as a Pisces I really appreciate all your readings, as they have truly helped me push past the insecurities and become a truly wonderful person with greater strength to become ME. Thanks so much!"

 — Susan Andrews
Dear Friend with Pisces Sun, Rising or Moon:
Eric recorded two in-depth segments of audio astrology for your 2018 Birthday Reading in time for the recent Full Moon in your opposite sign. And now, with the Pisces New Moon coming this weekend, you have an ideal time to immerse yourself in your astrology for the next 12 months and get yourself pointed in the right direction.
Eric considers his job to be providing encouragement, reassurance, and actual information about your transits. He does his best to provide just that.
"The past few years have been very difficult on many levels and it has been the readings I get through you that keep me going. Always, absolutely right on, every one of them."
— Rhonda
This is a mellow, but detailed, reading, which starts with a long discussion of relationships and the need to be discerning. That is directly related to claiming your full value in the world, and feeling good about yourself: what some call self-esteem.
"I have just listened to your Part 1 and Part 2 readings and I am amazed at how accurate it has been. Like you have a telescope watching me shed a skin and transform into a totally changed person in the last 10 years."

— Pauline
Eric begins with two different interpretations of the recent Virgo Full Moon, and then talks about the ingress of planets from water sign Pisces to fire sign Aries. Mercury and Venus have already made the switch; Chiron follows suit in April. The second segment mainly focuses on career, profession and community involvement — this is a discussion of Saturn moving from Sagittarius into Capricorn.
"Thank you for your dedication to these audio segments. I've spent my free moments today listening to my Sun sign Sagg, my rising and Moon Pisces, and Aquarius where I have Saturn in the last degree and is the sun sign of significant others. No longer am I amazed that what you convey is spot on… it's just the way things are."

— Rob Moore
Note that while the current price is still only $44, the final price will increase to $66.
If you have never gotten one of Eric's audio readings, you're invited to listen to last year's Pisces Birthday Reading as a gift from us. Once you do, you can secure the current price by ordering the 2018 Pisces Birthday Reading, and get instant access to the perfect guide to the next steps along your path.
Yours & truly,

---
Pisces (Feb. 19-March 20) — The New Moon this week is pivotal, acting as a kind of checkpoint for reviewing the eight-year sojourn of Chiron through your sign, and hopefully giving you a glimpse forward into life after Chiron enters Aries. For you, this may feel particularly like renewal, to the point of a metaphorical rebirth. That situation could take time to develop fully. In the meantime, consider this a reasonable moment to give thanks, raise a glass and celebrate what you've accomplished. You'll still have plenty of time to get cracking on whatever's next in your sights. — by Amy Elliott. For your Eric Francis horoscope this week, please see this link.