"I am stunned by your seeming x-ray ability to see into the soul's unfolding growth."
— Loretta
Pre-order your Aries reading now for only $24.95. Price goes up after publication.
Dear Friend and Aries: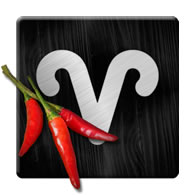 We're in the eclipse zone: that special two weeks between a solar eclipse and its corresponding lunar eclipse when it's possible to move some area of your life ahead by leaps and bounds. This applies especially to you: now that the Sun is in your sign, the April 4 lunar eclipse will be impacting sensitive areas of your chart.
In fact, that eclipse occurs with the Sun right in the middle of your sign: conjunct Uranus and square Pluto. This weaves your personal, inner life into the era-defining cultural changes around you. It also means that your relationship house (Libra), where the Moon will be, is also at the epicenter of the lunar eclipse.
Eric will explain, in plain language, what this means for your relationships — as well as the rest of your solar year's key messages — in your soon-to-be released Aries birthday reading. You have an opportunity to pre-order your Aries reading now for only $24.95. After it publishes, the price increases.
Without a doubt, anyone with strong Aries in their chart (this includes Aries rising or Moon, or other groupings of Aries planets) has been through some dynamic astrology in recent years. Some would call it brutal, others would say energizing; whatever your experience of it has been, Eric is adept at finding the common through-line of your story — yet he does it in a way that can feel so personal, you'd think he's been standing with you every step of the way.
In a sense, he has been.
Pre-order your Aries birthday reading, and you'll be among the first to hear just how close Eric is to the heart of your astrology. Give the Aries reading as a gift to your favorite ram, and you'll be giving her or him the spark they need to get this solar year started on the right foot.
Your reading will consist of two audio segments of astrology (at least 20-30 minutes each), a tarot reading, images of the charts and tarot spread Eric uses, plus access to last year's reading for Aries so you can review.
Yours & truly,



Amanda Painter
Planet Waves Astrology Editor
P.S. Not an Aries? We have readings for every sign! Select yours below. This drop-down menu will take you to your reading by sign: