Introducing Your 2014 Annual Readings from Eric Francis
Dear Friend and Reader:
Believe it or not, the time has come to tell the story of another year, in my 2014 annual readings. We are about to enter the peak of the Uranus square Pluto era, and what a story the charts for the next four seasons have to tell.
The astrology is already coming through in waves. Whether you feel like you're on top of your game or holding on for dear life, I believe that understanding your astrology will be helpful, and can give you a considerable advantage getting a handle on your life and manifesting your most valued plans.
Graphic by Lizanne Webb.
This year's annual readings (our 16th consecutive edition!) are called The Mars Effect. Before I describe them, just a reminder — we offer the best price to existing clients who purchase all 12 signs early, followed by a series of incremental increases, and finally offer the signs individually.
As you may know, starting in early 2014, Mars will be making a long retrograde through Libra (the most basic sign of relationships). This is the central defining event of the year, and in many respects, of the 2012-2015 era. For about eight months, Mars will turn the long-developing Jupiter-Uranus-Pluto alignment into a grand cross — the most influential aspect in astrology.
Think of the grand cross as the backbone of the whole astrological system, and we are going to experience a rare, beautiful and long-lasting one. This will in some way influence every aspect of living, and may at times seem to spin the world on its finger.
Aspects for 2014 indicate a new opening to relate, work and create connected to source, in harmony with who you are. This will, as you know, require the cultivation of new skills, and the opportunities to do that are manifesting as we speak.
My job as an astrologer is to provide you with the most creative approach I can bring in, offering you ideas to turn this surge of energy into something creative, loving and productive. This is not about prediction — my readings are about using astrology as a visioning tool.
I provide ideas you can build on and learn with rather than endpoints of their own. My goal is to help you weave the story you want for yourself, and to offer you ideas to find your own way.
The Mars Effect readings come in written and spoken-word format, each giving different approaches to the astrology. The readings are presented in plain English, using astrological language when necessary, and explaining all of my terms clearly. Carefully edited, beautifully illustrated written interpretations are augmented by spoken-word astrology sessions presented in studio-quality audio. You may download the recordings into your audio player or portable device, or listen as many times as you want.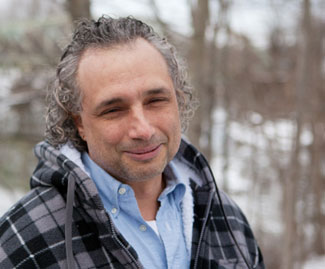 Eric Francis in New Paltz, NY.
My annual readings apply to your Sun (birth) sign, your rising sign and your Moon sign. I have found through years of doing these readings that they are helpful in sussing out the experience and point of view of your partners, yet respecting their personal space.
In addition to the readings, The Mars Effect comes with a selection of articles on topics related to Mars by our annual edition writing team. Themes of passion, anger, intention, desire, war and peace, sexual identity, sex drive, and examining the obligatory forms of relationship are all on the queue.
I am creating some magnificent readings for you, and my creative team is pulling together a truly beautiful annual edition. Today, the price for all 12 signs is $59 (less than five dollars per sign!). On Thursday, Nov. 14, the price will go up to $69. Then after a series of price increases, we will offer the signs individually for $19.95 each.
Many people who purchase one sign go on to purchase additional ones, usually to look into themes associated with significant others and children. These readings work. It makes sense to get in early and get the whole publication, all of which will be of interest to you.
You may purchase online or order by phone, by calling Chelsea at (877) 453-8265 or (206) 567-4455. If she doesn't pick up she will call you back promptly.
It's a privilege and an honor to be your astrologer, and I am grateful for your trust, your confidence and your continued business.
With love,

PS — We also offer an All-Access Pass, which includes the 2014 annual, plus a year's extension of your subscription, and access to all other products. You may purchase that here, or find out more about the All-Access Pass at this link. Note, the price for the All-Access Pass goes up Thursday as well. This is your last awesome opportunity to order at the lowest price point. — efc
To unsubscribe, click here
e Wiki | Friends | Editors | Contact Us
Copyright © 2013 by Planet Waves, Inc. All Rights Reserved. Other copyrights may apply.
Some images used under Fair Use or Share Alike attribution.