Editor's note: this is the full PW members' edition, featuring horoscopes by Eric, the Create feature, Planet Waves FM and more.
Dear Friend and Reader:
In just five days, Uranus will leave Aries and enter Taurus. Since Uranus is the planet of surprises and revolution, and Taurus is the sign of practicality and habit, this transition could feel a little jarring for some people. It's already showing signs of manifestation in Mother Earth, in the form of volcanic activity and earthquakes.
Perhaps the event in that category getting the most attention in the U.S. is the eruption of Mt. Kilauea, on the main island of Hawaii. Earthquakes and lava flow began at the beginning of the month, causing evacuations; by May 9, 27 houses had been destroyed and approximately 2,000 people had been evacuated.
On Wednesday, officials stated that the eruption could intensify, causing "ballistic projectiles" weighing as little as a few pounds or as much as several tons to be thrown in all directions, to a distance of just over half a mile — with pebble-sized rocks ejected several miles.
"At this time, we cannot say with certainty that explosive activity will occur, how large the explosions could be, or how long such explosive activity could continue," the Hawaiian Volcano Observatory said in an update on Wednesday, according to Time magazine. Whether it does depends partly on whether the lava within the summit of Kilauea falls to the level of the groundwater, which would produce steam-driven explosions.
Uranus poised to enter Taurus on May 15 does not guarantee a volcanic explosion. It is, however, something worth watching, and it offers a useful correlation and symbol astrologically. If you use it as a psychological metaphor, you might take Kilauea as a cue to check in with yourself. Are there places where you're holding tension and pressure is building up? Are there any actions you've been resisting having to make? These are the areas of your life where you might like to let off a little steam and give yourself some wiggle room to do things differently.
Opening the Parachute
The current week's astrology looks like it's preparing the way — mentally, at least — for this transition. This is because some of the most significant aspects over the next few days involve Mercury, the planet of the mind.
As we all know, often the biggest factor in how well we're able to meet challenges, unexpected changes and flashes of insight is our state of mind. Attitude, perspective and openness can make all the difference in the world. You've heard the saying: a mind is like a parachute; it only functions when open.
Some of this week's astrology looks like it will make it a little easier to live that maxim; some of it might present a reminder in the form of the opposite — that is, a struggle to be clear-headed. All of it reminds me that the more one can be the agent of change — rather than simply at its mercy — the better one can navigate life's difficulties. For many of us, that's easier said than done, but I think practicing with the 'small stuff' can help.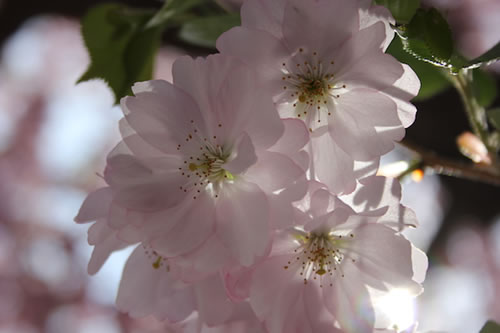 Photo by Amanda Painter.
As mentioned, Mercury is busy right now. It's currently in late Aries, making its way between Eris (which it made a conjunction to on Wednesday) and Uranus (which it will conjoin on Sunday). One reading of this is that we're all especially mentally tuned to the cultural chaos the internet has been so effective at fostering and broadcasting these last couple years.
Yet in between, Mercury is making aspects that bring in many variations on the themes of 'what the internet is doing to our minds' and 'how we can use our minds to respond'. For example, there appears to be some support in thinking of your ethical responsibility to your fellow human beings in a new way — a way that better enables you to make the most of some kind of second chance, or to see the bigger picture of cause and effect better. I can't help but think of a recent article in New York Magazine in which several early pioneers of the internet and social media express their regrets for not seeing the potential negative consequences for what they were building.
It's worth mentioning specifically that on Saturday, Mercury in Aries makes a square to Mars in Capricorn. Mars aspects tend to activate days prior to when they're exact, so this is a good one to have on your radar now. Often, Mercury-Mars squares manifest as irritability and defensiveness.
If you find yourself in a situation where you genuinely need to defend your ideas or beliefs in a debate of some kind, beware identifying too closely with those ideas and beliefs. Remember: a threat to your ego is not actually a threat to your life, or to your right to exist and be who you are. It's possible to debate ideas and argue beliefs without needing to decimate your 'opponent'.
Any such debate might actually offer you some exciting, new ideas to ponder, since Mercury is also approaching its conjunction to Uranus in the last degree of Aries (exact Sunday at 6:50 am EDT / 10:50 UTC). The combination of Mercury in Aries, a square to Mars and a conjunction to Uranus presents a serious challenge to thoughtful consideration, though. Mercury-Uranus is all about fast, stimulating thinking and communication.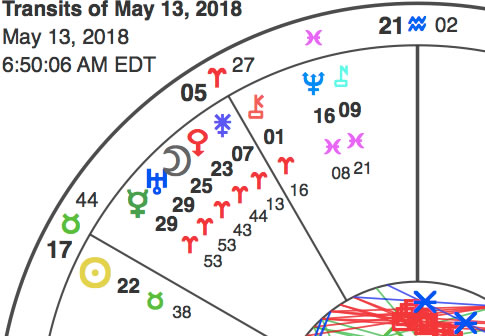 Chart section for the moment Mercury conjoins Uranus in the last degree of Aries, just two days before Uranus enters Taurus. From bottom-left to top-right: the Taurus Sun; Mercury, Uranus, the Moon, Eris, Juno and Chiron in Aries; Neptune and Nessus in Pisces. View glyph key here
.
If your mind does not feel too scattered, you may find that your intuition is on fire this weekend, which is great for any kind of original, clever work you need to do. Taking notes and then testing these ideas later might be helpful, given how fired up things are (the Moon will also be moving through Aries this weekend, adding another layer of emotional impulse). Should you be feeling nervous or jumpy, it's worth taking extra care while driving and traveling.
Taurus season always offers a reminder to take time to relax consciously, meditate, make some art (or love), or just unwind with quiet sensory pleasures or a walk in nature. This week in particular these activities could do a world of good to bring you back into your body instead of just burning up all kinds of mental energy. When Mercury enters Taurus on Sunday at 8:40 am EDT (12:40 UTC), it should help you to slow your thoughts down and focus on practical, common sense details.
Mercury is running vanguard, entering Taurus just two days ahead of Uranus. This may come as a relief — some grounding to balance the quickness; a little ballast to help you stay upright in the face of any big, Uranian surprises next week. There's a difference between grounded-ness and stubbornness. Hint: it has to do with having that parachute open, yet knowing how to land.
Yours & truly,

Amanda Painter
Chiron in Aries: The Challenge of Individuating
Dear Friend and Reader:
Chiron is now in Aries, for the first time since 1977. This is about the quest for individuality in the most deeply personal way: the cultivation and growth of your soul. There are challenges associated with doing this, which I plan to address eloquently and in a way that you will find reassuring and helpful.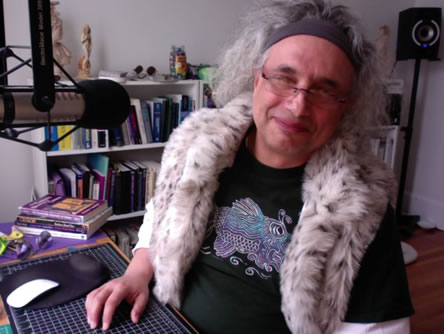 Eric Francis at his video desk, in Kingston, NY.
Chiron in Aries is good news for those who love learning about themselves, growing and living in a way that is fully committed to who you are. Following up on The Art of Becoming 2018 annual edition, I'm honored to offer you The Sacred Space of Self spring reading.
The Sacred Space of Self will come in the form of 12 video presentations, each approximately half an hour in length. These readings will apply to Sun sign, Moon sign and rising sign. They are offered as a package, and will interlink with and support one another.
One topic I will focus on is the special challenge of growing and evolving when you're involved in an intimate relationship — and your partner is not growing as fast as you are, or does not want to.
The Sacred Space of Self will cover Chiron's transition into Aries over the next nine months. I will also look back at Chiron in Pisces, which began in 2010. I will give a detailed reading of Mars retrograde in Aquarius (June 26-Aug. 27). And I will introduce Uranus entering Taurus. (NOTE: In the Midyear Reading over the summer, I'll further develop Uranus in Taurus, and give a detailed reading of Venus retrograde in Scorpio.)
Delivery is projected for the month of May. Given the complexity of the project, there's no way to give a better estimate, but May (as early as possible) seems doable.
Pricing Policy: Please Read Carefully
First, this is one purchase per household. You may share with your significant other and relatives. This reading will contain useful information for both adults and children.
Planet Waves products are introduced at the lowest price, and then we increase gradually. We are introducing all 12 signs of The Sacred Space of Self for $66, which is $5.50 per sign. Soon after, we will increase to $77, then $88, and then, right before publication, $99. Once we publish, the final price will be $111. If you want the best bargain (nearly half price), please purchase early!
Please order early if you would like the current best price. You will then get a delivery confirmation email, which would be good to print and keep in a safe place.
You may pre-order The Sacred Space of Self here.
Thank you for your business, and for trusting me as your astrologer.
With love,

---
About My Readings
My readings are warm, personal, and presented in plain talk, not astrological jargon. When I make an astrological point, I will show you using a clear illustration. In these readings, I draw upon my experience as an astrological counselor, a workshop presenter, plus extensive therapy training, and tantric work.
More than anything, I strive to be motivational.
Over the past 24 years of doing this work, I have developed the "solar chart" method of reading more effectively than it's ever been used before. The solar chart allows me to give readings close in detail to a personal reading, but without needing your birth data.
This allows me to bring you real astrology at a small fraction of the cost of a personal reading — and often deliver observations and insights that might not make it into a one-on-one session.
Notably, this is the time of year when I can do a few individual readings, which you can learn more about here.
Disruptive Beauty
By Amanda Painter
Practical beauty; functional creativity; art with a purpose: these are often hallmarks of Taurus. As we approach the Taurus New Moon next Tuesday, on the same day that Uranus ingresses Taurus, why not think of the unexpected ways these themes can manifest?
Take, for example, St. Francis of the Guns: a statue at the entrance of San Francisco City College created by Beniamino "Benvenuto" Bufano, following the assassinations of Martin Luther King, Jr. and Senator Robert F. Kennedy in 1968. With the 2,000 guns collected during then-Mayor Joseph Alioto's voluntary gun turn-in, Bufano had the statue forged in Italy and added a mosaic tribute to King, Kennedy, John F. Kennedy and Abraham Lincoln — all victims of handgun violence.
Bufano had previously been an instructor at the California School of Fine Arts (now the San Francisco Art Institute). But he'd been dismissed in 1923 for being "too modern." Though his Sun was in Libra (a Venus-ruled sign like Taurus that emphasizes elegance and social purpose), the reason for his dismissal seems a good reminder as we approach Uranus in Taurus: the need to find room in "what seems practical" and "what we're used to" to allow startling new ideas to take root, blossom and shift our perspective. How can you create beauty out of disruption?
This Week on Planet Waves FM
The Beltane Brian Eno Self-Love Edition
Dear Friend and Listener:
This week's Planet Waves FM — the mellowest edition ever [play episode here] — is the Beltane edition, with astrology focused on Chiron square Pholus [see related article].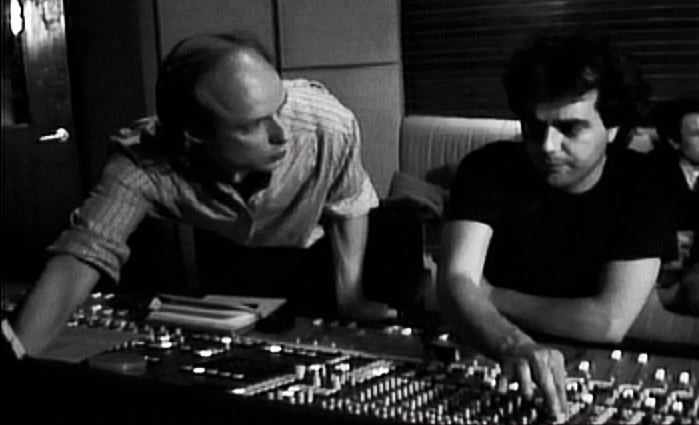 Eno with Daniel Lanois, recording The Joshua Tree.
My musical guest is Brian Eno, whom you may know as the creator of the Ambient series of records, or the producer of David Bowie, U2, Talking Heads and (at least on one occasion) just about every musical artist you love.
I describe Brian's influence on my creative process, play a few of his songs, and share some interviews with the members of U2 on their experience doing the Original Soundtracks album with him under the moniker Passengers.
In the last hour, I unravel the topic of masturbation, in what is now officially masturbation month (that would be May).
Planet Waves FM is part of the Pacifica Radio Network, distributed without profit by Chiron Return, an organization devoted to mentorship in journalism. I would be deeply grateful if you would make a contribution toward the admittedly modest production costs of this program — and our other efforts.
We will soon be announcing Investigative Reporting from the Kitchen Table, our long-awaited class for aspiring journalists.
With love,

P.S. I forgot to read Brian Eno's chart for this episode. You may view it here.
---
The Unique Role of Planet Waves
---
Listen to Vision Quest on Live Stream
Planet Waves has an in-house music ensemble, called Vision Quest. We have a 38-hour loop of our music, which you can listen to any time. Included are finished pieces, rehearsals, live concerts, drum grooves, and spoken word recordings. I consider it a kind of musical divination. Click in randomly at different times of day and see what you discover.
---
Four Winds Almanac Now Includes Daily Horoscope
Planet Waves publishes a nifty daily astrology newsletter called the Four Winds Report. Designed as a fast read arriving early in the morning, we're now trying an experiment — we're including the daily horoscope for everyone.
Were it not for horoscopes, I wouldn't be an astrologer. It was the Patric Walker daily that convinced me there was actually something to astrology, and I got my basic education studying his column each day in the New York Post.
I pack a lot of energy into each sign's 50-word write-up. Part of the value of astrology is the timing, and daily allows for precision, as well as chronicling a narrative day by day.
Your almanac also includes information about Mayan astrology (long count and short count dates), several formats of the current date (including Hebrew and Islamic), a daily birthday reading, and special discounts on products and services.
Best of all, we take no outside advertising.
Monthly Horoscopes and Publishing Schedule Notes
We published your extended monthly horoscopes for May on Thursday, April 26. Your extended monthly horoscopes for April were published Thursday, March 29. Please note: we normally publish the extended monthly horoscope on the first Thursday after the Sun has entered a new sign.
Editor's Note: Today we're giving you early access to your Daily Horoscope for tomorrow. Stay tuned Sunday night for your Monday Morning horoscope, which will cover the Taurus New Moon and Uranus entering Taurus on May 15, and Mars entering Aquarius on May 16.
Aries (March 20-April 19) — The Moon in your sign for the next few days will provide one awakening after another; though, to receive the full benefits, you might try taking a day off from the internet. If that is not possible, try three hours; and if that is not possible, have a long talk with yourself about why this is.
---
Taurus Birthdays 2018:
Your Reading Is Published and Available for Instant Access!
Dear Friend and Reader:
I am pleased to announce that Eric recorded the 2018 Taurus Birthday Reading this weekend. Infused with the earthy, juicy richness of Beltane, your two segments of audio astrology are sure to get your solar year to an ideal start — whether you have your Sun, Moon or rising sign in Taurus.
If someone close to you was born under the sign of the bull, why not treat them to this reading as a gift?
Uranus brings its high-voltage energy to Taurus on May 15, which is less than a week away. Taureans like to move at their own pace; the presence of Uranus offers a reminder that when you're the one to set that pace and instigate change on your own terms, you're a much happier person.
Eric covers all the important points about this transit, and offers a wealth of insights, strategies and unique perspective to help you go with the flow and keep from getting stuck. You get at least an hour total of astrology (in two segments), plus access to last year's reading and an extended description of your sign.
Order your 2018 Taurus Birthday Reading here for only $44.
Happy Birthday, happy Beltane, and here's to the unexpected gifts of Uranus!
Yours & truly,

Amanda Painter
---
Taurus (April 19-May 20) — To be strong, you must work with your vulnerability. The trend these days is to pile the defenses one on top of another, and all that does is seal in the bad vibes. Open up and loosen up a little. Pull back the curtains and allow the fresh air into the room. Feel who you really are.
Gemini (May 20-June 21) — Today and into the weekend, you have an unusual opportunity to experiment with who you present yourself to be. You might play with costume, persona, taking opinions you don't really hold, or speaking only to people you dislike. This will bring one revelation after the next.
Cancer (June 21-July 22) — This has been a most interesting week for you professionally, bringing out the best of who you are. Continue to shine, and aspire to doing your best work. You are not the kind to hide your light under a bushel, though you're soon to be in a position to light up your whole community.
Leo (July 22-Aug. 23) — When you look ahead at your future, what factors do you see limiting it? For example, fill in the following: I would do [blank] if only I didn't have to deal with [blank]. Write this sentence as many ways as you can until you run out of things to put into the blanks. Then, size up your situation.
Virgo (Aug. 23-Sep. 22) — Yours is a mutable sign. That means you are able to change, flex, grow and adapt better than nearly anyone you know. This is your strongest suit, and you've used it to great advantage the past few days. You're at your best when you're well prepared, but in the end, you think on your feet.
Libra (Sep. 22-Oct. 23) — This has been an interesting seven years in your relationships. I mention this because next week, the planet Uranus, which has been in your house of partnership, changes signs from Aries to Taurus, and this will shift your view of nearly everyone and everything in your life.
Scorpio (Oct. 23-Nov. 22) — Through the weekend, you will have an increasingly appealing series of opportunities to speak your personal truth in a close relationship. Now is the time to let go of all of your 'withholds' and say the things you have needed to say for a long time. Set aside your fears, and resolve to be true.
Sagittarius (Nov. 22-Dec. 22) — Push continually into the unknown. Find the place, the thing, the topic, the person you don't know, and apply curiosity and a touch of courage. The unfamiliar is your best friend right now, and the place where you will find the greatest rewards. That will be true forever.
Capricorn (Dec. 22-Jan. 20) — There is still considerable tension between who you want to be, and who your family thinks you are and should be. But is there really any debate here? Your life is yours to live, and is the 'property' of no other person. Remember that once per hour, or more.
Aquarius (Jan. 20-Feb. 19) — You are thinking some unusual thoughts, and some unusually creative ones as well. Among your current revelations are things like the true nature of your relationships, your determination to be yourself boldly, and whom you trust and do not trust. Keep this discussion going, and remember it well.
Pisces (Feb. 19-March 20) — Focus on yourself this weekend, and have some fun. The whole trip of Mars through Capricorn, going back a month or so, has taken you through some really strange, interesting and revealing territory — and it's time to take a step back, review, reflect and relax, even if just a little.