Planet Waves is running a membership drive.
Read more in Solstice Fire and the Art of Service, by Eric Francis.

Dear Friend and Reader:
In tonight's Planet Waves FM, I'll be looking at the astonishing synchronicity of Western powers reaching a nuclear agreement with Iran at the same time the New Horizons spacecraft passed through the Pluto-Charon system after a three-billion-mile journey. Planet Waves FM is usually published by about 5 pm EDT (17:00 UTC).
I will look at the chart, and we'll have our first view of the close-ups of Pluto (expected around midnight today; they take more than four hours to reach the Earth from the edge of the solar system).
This has both astronomical and symbolic implications, which manifested spontaneously as these two highly unusual events aligned: a proposed treaty to slow down nuclear proliferation, and a spacecraft reaching the Kuiper Belt.
To commemorate the moment, I'll be playing music from the "No Nukes" concerts of September 1979 including truly gorgeous performances of "Cathedral" by Graham Nash and "The Crow on the Cradle" by Jackson Browne. The No Nukes concerts were performed in response to the Three Mile Island partial meltdown. Artists involved recognized the connection between nuclear power and nuclear bombs.
I'll also have an overview of the Cancer New Moon, square Eris, which I introduced in Sunday night's astrology diary. This is a stunning chart, also featuring a Mercury-Mars conjunction opposite Pluto. Inner planets are aspecting two of the planets that define the edge of the solar system, concurrently with two simultaneous conjunctions.
Apropos of Pluto, I'll be a guest tonight on the Kepler College all-day Pluto commemoration. I've chosen to be on at 11 pm EDT. Check this page for details on how to listen.
Apropos of the New Moon, I've called for a schedule change for the late-week Core Community edition. In order to publish closer to the New Moon (which is Wednesday at 9:24 pm EDT, or 01:24 UTC) we will be publishing on Wednesday evening. If all goes well, the issue will be out a few hours before the New Moon.
Len Wallick will also be covering the New Moon in his column this afternoon on the main Planet Waves website.
If you scroll and click through, you'll also find: Judith Gayle's latest musings on politics and spirituality and "our fear of flying"; Amanda Moreno's investigation of the potential beneficial use of apocalyptic imagery; guest-author Prana Regina Barrett's article on making Tantra workshops (and any teaching) more Transgender-friendly; and a Monday tarot reading from Sarah Taylor that's part of a clear progression, with Pluto holding the key.
In addition, I've posted an article on the idea of marriage as a renewable-term contract; and Fe Bonglan has followed up on the latest moves in Greece's debt stare-down with the EU.
Catch you later on the website, and on Planet Waves FM.
Lovingly,


Planet Waves (ISSN 1933-9135) is published each Tuesday morning and Thursday afternoon in Kingston, New York, by Planet Waves, Inc. Annual basic subscription rate: $97/year. Core community membership: $197/year. Editor and Publisher: Eric Francis Coppolino. Web Developer: Anatoly Ryzhenko. Office Manager: Lauren Gdovin. Astrology Editor: Amanda Painter. Astrology Fact Checker: Len Wallick. Copy Editor and Fact Checker: Jessica Keet. Client Services: Amy Elliott, Lisa Gatto. Media Consultant: Andrew Marshall McLuhan. Research, Writing and Editing: In addition to those listed above, Planet Waves is produced by a team consisting of Fe Bongolan, Judith Gayle, Kelly Janes, Amanda Moreno, Carol van Strum, Len Wallick, Lizanne Webb and Chad Woodward.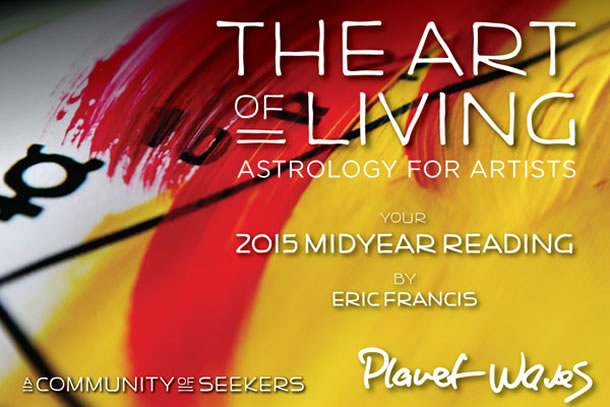 We are now offering for pre-order the 2015 Midyear Report — The Art of Living / Astrology for Artists. The theme is how to live artfully; how to turn your life into a creative project; and how best to integrate conscious creation into your life, as a way of life. This is a 12-sign audio reading plus an introduction which will move elegantly through the astrology of the second half of the year — Venus retrograde, the two additional Venus-Mars conjunctions, the two additional Venus-Jupiter conjunctions, and Jupiter ingressing Virgo. You may pre-order here. Note, this fantastic project is a fundraiser for Planet Waves. Thank you for signing up. You will love it. By the way, I describe the project in detail, along with my personal commitment to the subject matter, in the last segment of last week's Planet Waves FM.