Editor's note: this is the full PW members' edition, featuring your weekly horoscopes, the Create feature, and more.
Dear Friend and Reader:
Even if the New Year's Day Full Moon did not herald any major events in your personal life, this first week of 2018 still managed to begin with exceptional drama: namely, Pres. Trump's incendiary, innuendo-loaded tweet taunting North Korean leader Kim Jong-un, and Michael Wolff's tell-all book describing the insanity in the current White House. We have some juicy astrology brewing, which means you can expect things to get stranger.
Just in case you're on a January news fast and cleanse, here are the basics of what's just unfolded: Earlier this week Kim Jong-un announced the reopening of the hotline with South Korea's leaders (which Trump is now claiming credit for). Jong-un also mentioned in his New Year's address that he will only use North Korea's nukes defensively, and that "the entire mainland of the U.S. is within the range of our nuclear weapons and the nuclear button is always on the desk of my office."
Not to be outdone, Trump took to Twitter on Jan. 2, announcing, "North Korean Leader Kim Jong Un (sic) just stated that the 'Nuclear Button is on his desk at all times.' Will someone from his depleted and food starved regime please inform him that I too have a Nuclear Button, but it is a much bigger & more powerful one than his, and my Button works!"
For real. This is what the President of the United States just proclaimed in public. It smacks of penis anxiety; except, well… "button"? Does Trump actually have clitoris envy?
Either way, it's a fascinating manifestation of the conjunction between Mars and Jupiter in Scorpio, which is exact on Saturday. I'll have more to say about that in a moment, but the symbolism should be pretty obvious: the planet of sex and war merging with the planet of expansion and excessiveness, in a sign infused with the power of sex and death. Granted, Trump spouts off like this on a regular basis, but the timing in this case is too perfect.
As is the timing for the pre-release PR about Michael Wolff's book, Fire and Fury: Inside the Trump White House. Among the tidbits being reported from the 200 interviews Wolff conducted over the course of 18 months ensconced in the White House: Donald Trump Jr.'s meeting with Russians to receive dirt on Hillary Clinton wasn't expected to matter, because nobody, including Trump and his family, thought he would win; and Steve Bannon called Junior's meeting with the Russians during the 2016 campaign "unpatriotic" and "treasonous."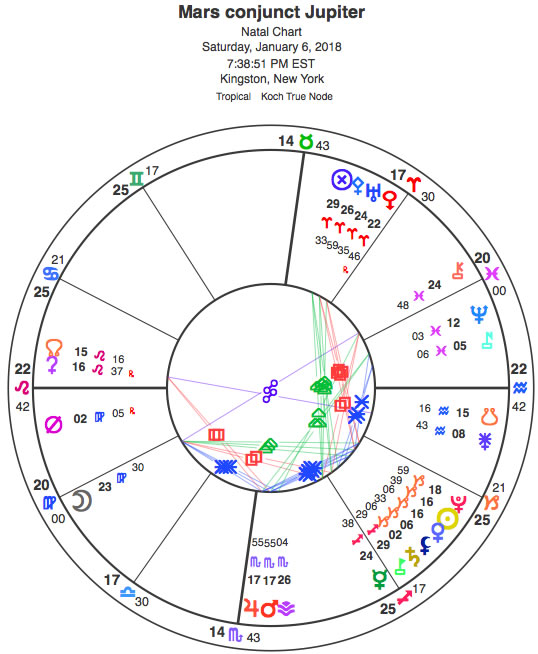 You can see Mars and Jupiter at the bottom of the chart, with the bold "17" next to them. To the lower right, the Sun and Venus have a bold "16" next to them, while Pluto has a bold "18" next to it. Those numbers tell you these objects are in aspect to each other. Note also that Mercury in Sagittarius (green critter with horns in the lower-right side) is square Chiron in Pisces (the orange key in the upper right). Mercury square Chiron can indicate extreme opinions and heightened intuition; this is the third Mercury-Chiron square as part of Mercury's recent retrograde process, and may represent a point of integration for something you learned along the way. View glyph key here. 
Of course, there are all kinds of salacious details about Trump's dysfunctional behavior in Fire and Fury that are grabbing headlines today (Lawrence O'Donnell covers a few here).
Rachel Maddow, as you might expect, homes in on the items I just mentioned (and a few others) to get to why this book could really matter: there are indications of obstruction of justice by Trump. And while Special Counsel Robert Mueller III cannot use this book as evidence, it seems increasingly likely that he has some solid leads to follow as he continues his investigation.
I don't think Mueller will be swayed by Trump's retaliation against Bannon, in which he claims — on official White House stationery, for a change — that when Bannon was fired, "he not only lost his job, he lost his mind."
In any case, as mentioned, things are likely to get stranger here in the era of government-by-internet, as symbolized by Uranus and Eris in their Aries conjunction. That astrology is not done with us, and has changed the political and social landscape in ways that we're barely beginning to understand. Which does not mean we can't stay as aware as possible of how disembodied our lives have become, and take active steps to mitigate the effects.
We can, and it seems we must. But we're definitely not in Kansas anymore, Toto, and have not been for a while now.
In the short-term, Mars and Jupiter in Scorpio are warming up a kind of super-sextile to Venus, the Sun and Pluto, which are all conjunct in Capricorn. Eric will have plenty to say about that configuration (as well as the shit-storm playing out on the political stage) in his next Planet Waves FM broadcast. For now I'll just say that this super-sextile suggests the sky is all lubed up and ready to get moving on something big. We'll have to wait and see what that means in terms of world events and Mueller's pursuit of justice. In your own life, however, you'll want to take things into your own hands — figuratively or literally — to move toward the changes you want and need to make.
A Visitor to Your Corner of the Revolution
As we make our way through this first week of 2018, after a stunning Full Moon, I hope you're feeling energized to move any intentions, resolutions or desires for this year forward — even in the seemingly smallest ways. What marked 2017 (personally and culturally) is carrying over for further development, as it always does from one year to the next. But it's always possible to take a slightly different approach — and the standout astrological aspect of the next several days speaks to that opportunity.
That would be a conjunction of Mars and Jupiter in mid-Scorpio, exact at 7:39 pm EST on Saturday (00:39 UTC Sunday) but in full effect now. There's a very interesting detail about this conjunction, which I'll get to in a moment. At its most basic level, however, a Mars-Jupiter conjunction is about energy, particularly physical energy. It tends to indicate that a person will likely have plenty of it, and have the desire and confidence to use it.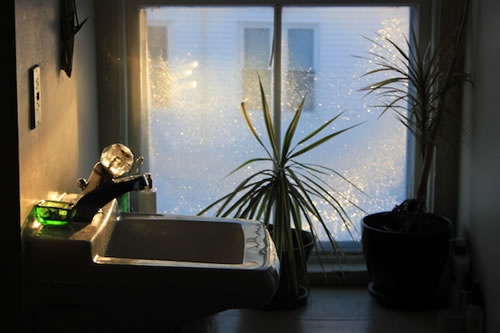 My personal 'spring' and 'grotto'. Photo by Amanda Painter.
That can mean you need to be aware of what constitutes a dangerous risk, or to keep tabs on whether you actually have the stamina and physical conditioning to complete any activity you feel motivated to start. But if you have plans to launch a new enterprise, and Mars is making a conjunction to your Jupiter (or vice versa), astrologers generally say it's good timing. In this case, Mars and Jupiter in Scorpio could emphasize the financial potential of this week; Scorpio might also speak to your sexual energy and your motivation and desire to embody, express and share it.
Yet there's another side to a Mars-Jupiter conjunction. Astrologer Isabel Hickey notes that it can indicate 'law' (Jupiter) being too near 'energy' (Mars); this can manifest as taking the law into one's own hands. President Trump's tweet earlier this week is a perfect (if absurd) example. Yes, Trump is the president; but threatening war willy-nilly with insults is not in line with traditional U.S. government protocol, and illustrates an un-evolved expression of this energy.
So what would a more 'evolved' expression of this astrology look like? In a person with a sense of higher purpose, empathy and a willingness to grow, both Mars and Jupiter in Scorpio can express as a form of healing power. Scorpio is a sign capable of a tremendous sense of social justice and transformative ability.
This potential is what makes the "interesting detail" I alluded to all the more fascinating: precisely conjunct Mars and Jupiter is a little-used asteroid named Egeria. What do I mean by "precisely"? Well, each sign of the zodiac is divided into 30 degrees. Each degree is divided into 60 segments called "arc minutes." Each arc minute is divided further into 60 "arc seconds." Egeria is conjunct the Mars-Jupiter conjunction within one arc second. (I owe my Planet Waves colleague Amy Elliott thanks and credit for noticing this detail.)
One arc second is an incredibly narrow slice of the zodiac. When something is that precise in astrology, it usually means it's speaking loudly. What is Egeria saying?
There are a number of clues. Although, one of the best indicators will be for you to pay attention to your desires and drive on the personal level; and on the cultural level, to pay attention to the news on Saturday and in these days leading up to it.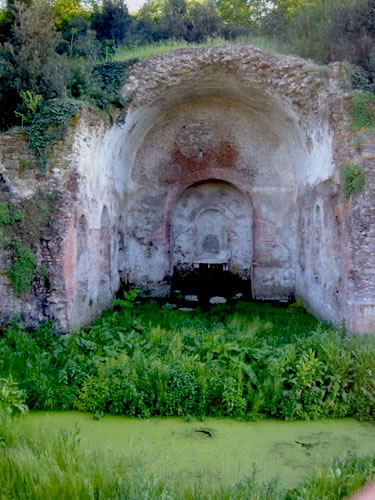 Apse of the Ninfeo d'Egeria, Parco Cafarella, Rome, a spring and grove considered sacred to Egeria; photo via Wikimedia Commons. 
You can find some clues on the Wikipedia page for Egeria. In myth, Egeria was a Roman nymph associated with Diana (unmarried goddess of the Moon, nature — especially woodlands — and of the hunt, as well as childbirth and women). Egeria was also advisor/consort to Numa Pompilius, second king of Rome, to whom she gave laws and rituals; and she was associated with sacred groves and springs.
Based on that information, Egeria in the Mars-Jupiter conjunction could suggest including women in your decision-making process. It's certainly an issue that is at the cultural forefront right now, relating to the #metoo movement and to the need to have female voices (and non-binary-gender voices) heard and involved in establishing workplace environments with balanced, healthy power dynamics.
We can take other clues from the chart for Egeria's discovery, which occurred in 1850. A conjunction between Uranus and Pluto in Aries was in effect at that time.
This means that the entire revolution/evolution cycle of those two planets — which has been the major descriptor of the upheaval we've witnessed since around 2010 or so, thanks to a square between Uranus and Pluto — is a major factor in what Egeria signifies. It emphasizes the idea that hearing women's perspectives in an advisory role, especially regarding sexual power, is a revolutionary act right now; one that opens the door for evolution, if we step through it consciously.
Finally, we can look at the Sabian symbols for both the Mars-Jupiter-Egeria conjunction and Egeria's discovery degree for more clues. (The Sabian symbols are a set of channeled images for each of the 360 zodiac degrees; the most well-known version was published by astrologer Dane Rudhyar.)
The degree for the conjunction is 18 Scorpio: "A path through woods brilliant with multicolored splendor." In Rudhyar's notes about this degree, he says it relates to living a life "through which spirit radiates creatively," and to "transfiguration."
The degree where Egeria was located when it was discovered is 2 Taurus: "An electrical storm." Its keynote is, "The cosmic power able to transform all the implications of natural existence."
With such beautiful imagery suggestive of powerful change, it would be easy to get excited about how different everything could be after Saturday. But that's not typically how life works, and it's not generally how astrology works, either. Transfiguration and transformation rarely happen suddenly, or as if by magic. Just like turning the calendar from one year to the next, we're always working with the arc of what has come before now to lead us to the present moment; and then looking at our options, desires and environment to determine the most feasible, productive and healthy next steps.
It's always possible for something sudden to occur — whether it feels positive or negative to us — that changes the game substantially. It's worth keeping your eyes peeled for anything in that realm. Yet it's even more important to do what you can, on the personal, everyday level, to manifest the available energy constructively, and with as much self-awareness, honesty and empathy as possible. You have some clues to work with, and which might help you notice others. What will this phase of your personal revolution look like?
Yours & truly,

Amanda Painter
New Features Added:

Understanding Key Life Transits of Saturn, Chiron and Uranus
Dear Friend and Reader:
The Art of Becoming is your 2018 annual reading. This is my 20th time at the rodeo! And that's a good thing, because to write about the transits of the coming year will take experience. If you're new to the discussion of this project, I've linked a letter in the last paragraph.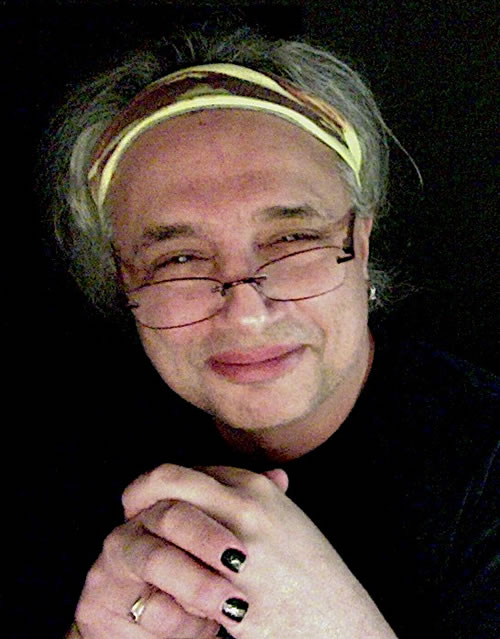 Eric Francis.
I've added three new features to The Art of Becoming, for those who pre-order all 12 signs: videos that cover Chiron in Aries, and Aries Chiron returns; Uranus in Taurus, and Uranus oppositions; and Saturn in Capricorn, including those two Saturn return groups (first and second). These cover many age groups and sub-generations.
Particularly regarding Chiron, the astrological profession for a while was starting to figure out this planet, which was discovered 40 years ago this month. Now astrologers seem to be forgetting or losing interest. I have not.
I have been a student of Chiron every day since early 1995, and will share what I have learned both from study, and from reading the Chiron transits of countless hundreds of clients.
These videos are included if you pre-order all 12 signs. Then they will be spun off as separate products. They will not be included with post-publication orders, or single-sign orders. Each will be offered separately for $37.37 each.
I've wanted to do transit readings like this for years! One distinction about my astrological career is that rather than predicting transits, I've been listening to my clients tell me the stories of their transits for more than two decades.
The current pre-order price is $99, which includes written readings for all 12 signs, plus the Saturn, Chiron and Uranus video presentations. Those will be published before the written readings, by the way.
Delivery is expected in January. That's the time estimate, based on 20 years' experience doing this project. If you're curious to read more about The Art of Becoming, here's a detailed letter describing how I do the readings and what they contain.
And if you have not read your 2017 reading, you may do so here at no charge.
Sign up today. The next price increase will be soon!
Thank you for trusting me as your astrologer, and for participating in Planet Waves.
With love,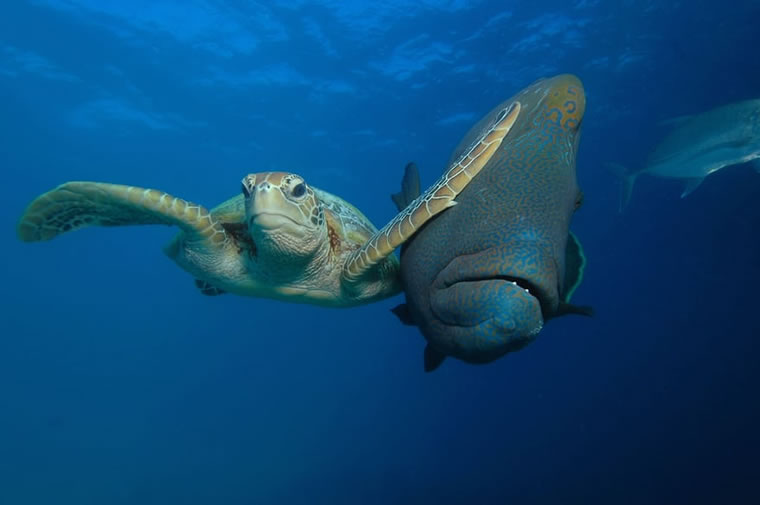 Monthly Horoscopes and Publishing Schedule Notes
Your extended monthly horoscopes for January were published on Thursday, Dec. 21. We published your extended monthly horoscopes for December on Wednesday, Nov. 22. Please note: we normally publish the extended monthly horoscope on the first Friday after the Sun has entered a new sign.
Aries (March 20-April 19) — Remember that you're human, and make room for your vulnerability. It's not possible to barrel along at full speed every day — if we could do that, we wouldn't be alive. Allow yourself the capacity to make mistakes, change your mind and wind down occasionally. Above all, be clear about how you feel. This takes true courage, and if you make this honesty a principle by which you openly live, others will surely admire and follow your example. — by Amy Elliott. For your Eric Francis horoscope this week, please see this link.
Taurus (April 19-May 20) — There are indications this week that a relationship issue may not be quite as hard work as it appears. One thing you'll need to do is to ensure you're fully present for any important conversation. Even if your interpretation of an issue seems obvious to you, there may be something you're not noticing. Slow down, give others time to talk, and listen carefully. It will likely help if you form a deep understanding both of their perspective and of your motivations. — by Amy Elliott. For your Eric Francis horoscope this week, please see this link.
Gemini (May 20-June 21) — Social justice is often talked of as a high ideal that can never quite be attained, with the underlying point usually being, "So why bother?" You know, really, that this is utter nonsense; and this week could see you getting the chance to make a real difference for someone who is more vulnerable than you. Be ready to help out with a community effort if invited; if not, pick a cause you care about, consider what you might do, and have at it. — by Amy Elliott. For your Eric Francis horoscope this week, please see this link.
Cancer (June 21-July 22) — This is likely to be an unusually fertile moment, allowing you to plant seeds for anything you want to do creatively. You'll need, however, to let go of any temptation to hold yourself back, or to respond to what's offered you with unreasonable suspicion. Be on your guard particularly for a tendency to overthink. Trust your intuition and inner feminine, and listen to the women around you. (That's probably a good idea most days, come to think of it.) — by Amy Elliott. For your Eric Francis horoscope this week, please see this link.
Leo (July 22-Aug. 23) — Many of us are awash right now in a sense of compressed time. One thing that's doing is leading people to feel rushed, and to think they must be engaged in some activity every moment (making it all the easier to fall down the rabbit hole of the internet). Try to buck that trend this week. Rest periods do wonders to refresh and stimulate the brain; so make sure you get plenty, especially if you've been feeling somewhat overcooked lately. — by Amy Elliott. For your Eric Francis horoscope this week, please see this link.
Virgo (Aug. 23-Sep. 22) — Deal firmly with any inclination you might have this week toward impatience, whether with the universe or (probably more likely) with yourself. If you're experiencing worry or frustration, it's almost certainly a matter either time or perspective will solve. Be on the watch for self-criticism in particular. Find a way to communicate your doubts to people who care about you; make a note of their feedback, and make a talisman of their kindness. — by Amy Elliott. For your Eric Francis horoscope this week, please see this link.
Libra (Sep. 22-Oct. 23) — It's not easy to persevere and remain optimistic when one is tired, a bit grumpy or in a skeptical mood. You're good at getting things going; yet at present it seems you'd understandably rather put your feet up at home, in the warmth of a familiar space. By all means have a rest whenever you need one. But keep your ambitions fed, and get back on track the minute you feel able. In all probability things are about to get a lot clearer. — by Amy Elliott. For your Eric Francis horoscope this week, please see this link.
Scorpio (Oct. 23-Nov. 22) — Now that Saturn is in Capricorn, how you feel about yourself may be shifting toward the 'lighter and freer' side of things, which likely comes as a relief. You'll likely notice a concrete way in which you can be more sincerely yourself. Don't forget to cultivate and express a sense of gratitude. Also, take care how you display pride, especially in the words you use. Be mindful of what other people are going through, and keep compassion at the forefront of all you say and do. — by Amy Elliott. For your Eric Francis horoscope this week, please see this link.
Sagittarius (Nov. 22-Dec. 22) — We're programmed as a default to seek instant gratification, instant fame, instant enlightenment. The hunt for an easy cure-all has only gotten worse with information overwhelm being a click away. You have the honesty to know that, actually, the long way round is often the best and the truest. Keep that in mind, as you may be feeling impulsive this week. Remember that life is supposed to be a marathon and not a sprint, and take it easy. — by Amy Elliott. For your Eric Francis horoscope this week, please see this link.
---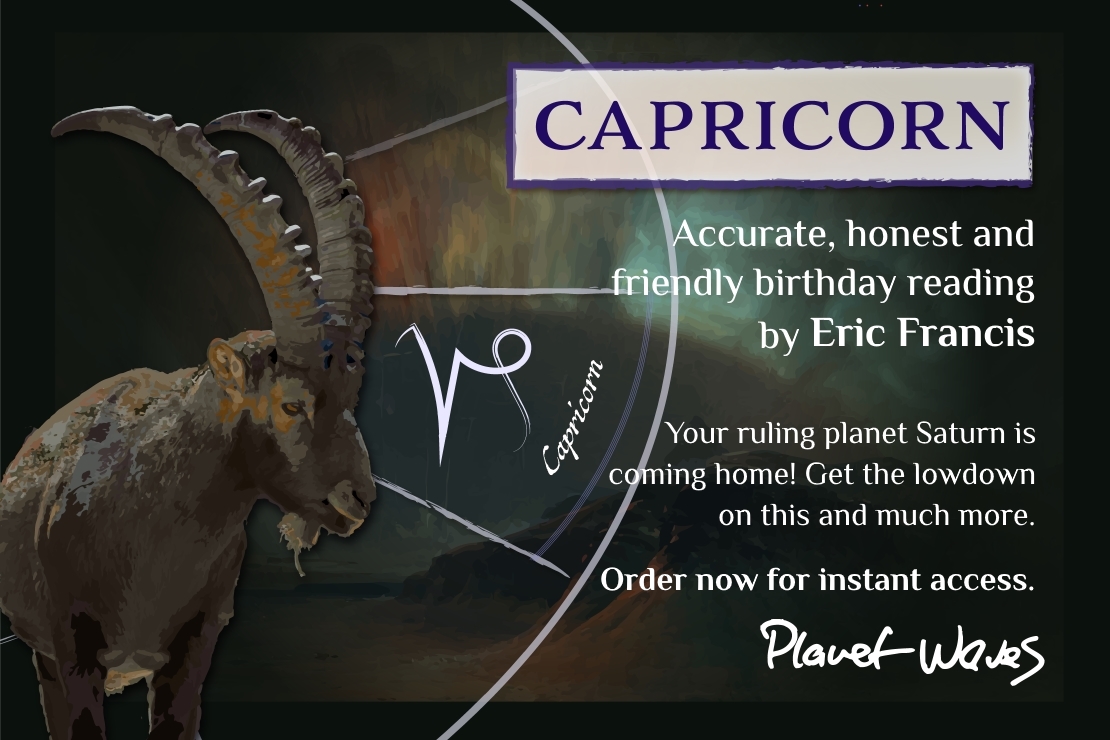 Capricorn Audio Birthday Reading is Ready!
Dear Friend and Reader:
Friday, I recorded your Capricorn birthday reading. It's about 70 minutes in length, in two sessions. This is your birthday audio — an entirely different reading from The Art of Becoming, which will be ready in January.
You are living in extraordinary times, as a Capricorn or Cap rising. There's been nothing quite like this in your sign since the early 1990s, when the Uranus-Neptune connection passed through town. That was a while ago — and what you're now working with is just as significant.
At the moment, the Sun, Venus, Saturn and Pluto are in your sign, which is building to a series of major events that peak in 2020. That may seem like a long way off, though time marches on. The presence of Saturn, the ruling planet of Capricorn, is a reminder to tend to your growth, shore up your foundations, and take your place in the world.
Saturn in your sign is helping to ground you in your real priorities.
In this reading, I focus on several key points of development, though none is as important as your relationship to your family, and your family history. For all you want to do in life, all the ways you want to succeed, and solidify your process of self-actualization: the family connection is essential.
This relates directly to your most intimate partnerships, because they're based on an emotional foundation that was laid in childhood. I provide specific information about how to work with these elements, and how to engage in productive self-therapy (it's not always so useful, but it can be).
Your reading includes access to last year's recording, plus your 2017 written reading (from The Book of Your Life), and a tarot reading that will arrive in about a month (maybe more, maybe less).
You can get instant access when you order the reading here for just $44. We will increase the price further when the Tarot section is published.
This reading is also included with the Backstage Pass. If you're not a BSP member, you can upgrade and extend your current subscription, and the Capricorn reading will be included.
Thank you for being a Planet Waves customer.
With love,

---
Capricorn (Dec. 22-Jan. 20) — With your ruling planet Saturn now firmly in your sign, hopefully you're beginning to feel considerably more like yourself. This week looks to present a fair few opportunities to rock this new you out on the town and dazzle (or at least entertain) your friends. Just remember that this is territory you're still exploring, and don't rush into anything if you feel too uncomfortable. Don't allow anyone to pressure you, either. This is, after all, your journey. — by Amy Elliott. For your Eric Francis horoscope this week, please see this link.
Aquarius (Jan. 20-Feb. 19) — Oh, the trickster that is the human brain. You think you've gotten round a problem by keeping it quiet, or avoiding people, or stuffing your emotions down into some deep recess. Then, just as you're celebrating your cleverness, out it pops. I know you don't want to hear this, but really you know it already: denial doesn't work. What you may not realize is that there's no actual shame in opening up or seeking help. Please consider doing so if you need to. — by Amy Elliott. For your Eric Francis horoscope this week, please see this link.
Pisces (Feb. 19-March 20) — You probably already have everything set out to make the necessary strides forward this week. That said: don't forget to relax when necessary. You may need to be smart, and perhaps quite precise, with your time management; more importantly, be sure to afford appropriate value not just to the work that you're doing, but to yourself. Remember that your mind is unique, and so are its contributions to the world. Give it enough space to dance. — by Amy Elliott. For your Eric Francis horoscope this week, please see this link.