"Nothing spoils tomorrow more surely than fear of it." — Len Wallick
Never were more truer words said than what our colleague Len Wallick wrote in his Friday column. From the Mayor of Roanoke, Virginia to the 47 Congressional Democrats who broke against the president and voted with Republicans to place a moratorium on accepting a modest number of Syrian refugees — 10,000 women and children — we have become prey to the easy lie, denying a safer and more hopeful tomorrow for people escaping the terror of war.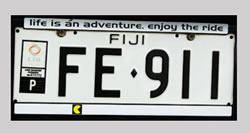 It's easy enough to get people who are only given a certain set of facts to believe a lie. Check out Donald Trump's tweet: "Eight Syrians were just caught on the southern border trying to get into the U.S. ISIS maybe? I told you so. WE NEED A BIG & BEAUTIFUL WALL!"
What his 130-character summation does not tell you is that members of two Syrian families presented themselves to authorities at the Department of Homeland Security at the Southern Border. The women and children were taken to a family residential center while the men were transferred to a detention center, DHS said.
But because of our terror of ISIS, Syrians, Muslims, and the ghost of 9-11, our minds cannot absorb facts, and so when a lie is repeated, again and again, in various forms and variations, the surface gloss of an innuendo-loaded statement becomes solid evidence. See how easy and dangerous that is?
But we're not only failing these war refugees. By the very truths that we hold dear, by the very foundation upon which this country was built, we're failing ourselves. As best said in an editorial in The Cincinnati Enquirer:
The selective nature of the proposed moratorium — targeting refugees from only one country — is also troubling because there's no confirmed, direct link between Syrian refugees and the Paris attacks. All the suspects identified so far hailed from France or Belgium. The call to block Syrian refugees is being made despite the evidence, not because of it. […]

Our refugee resettlement program — yes, even for Syrians — represents a core American value, one that reflects and continues our identity as a melting pot. We are a country founded and fueled by immigrants. We are a nation powered by the proposition that we value oppressed people — of all colors and creeds — who seek shelter.
I began last weekend heartsick with the familiar ring of politics ginning up people's fears. When will we ever learn? It wasn't helpful that the Republican presidential candidates used the refugee moratorium to rev up even more xenophobia on the stump, winning the news cycle in tandem with their Congressional compatriots. All we need right now is another fear-based political campaign to hoist a demagogue into the White House.
I have been tired of this since 2003, as are most of the people in my community in the San Francisco Bay Area. Yes I know we're not middle America, and by all measures the view of us — correct or not — is that we are crypto-liberal extremists too willing to sell the country out to the Communists. Whatever. But throwing my shoe at a CNN news reporter on television was not going to help. Neither was yelling at the car radio on my commute home. My anger was nourished by the fear.
I tried to put my mind's focus on other things this weekend: going to a play on Friday; and on Saturday, catering for the artists at the International Body Music mini-fest at Berkeley's traditional music institution, Freight and Salvage.
There were forty artists, all "hyphen-Americans" representing various cultures — African-American, Mexican-American, Eastern European-American, and East Indian-American — representatives of the society that we have become. Pieces of our American multi-ethnic fabric. It was an evening of percussive, jazz, dance and traditional music all done without instruments.
After our pre-show meal everyone circled up to be together before curtain. The house was packed. As the Festival's co-director Evie Ladin said: "The world is in a shit storm right now, and the people out there need us to lift them up."
People were looking for the same kind of relief I was from the last week's xenophobia and each and every one of the artists stepped up. No one held anything back.
The finale was a gathering of all artists from their various ethnic traditions leading the audience out of the auditorium into the lobby for a wide open celebration of clapping, stomping and chanting for the audience and the artists. There was nothing but smiles in that lobby. The show was medicine.
Looking back now, this show was a living snapshot of what our core American values are and what the Cincinnati Examiner editorial referred to: inclusion and appreciation of the differences and similarities of our human experience on this planet. We're all in one country that is a part of this one world.
I told my best friend Rhodessa about the show. As of right now she is flying east for Thanksgiving to visit her family in Georgia. Before she left to get on the plane, she said to me the same thing Evie said: "The world is in an uproar. Time now to give our friends, family and community our best and with love."
We have so much to be thankful for: we're safe, definitely food-secure, and we have a community of friends and family to help us shoulder our burdens and re-assure us with love and support. For us, the only war going on right now is for our minds and hearts to believe in a fear that could not only spoil, but end tomorrow. Even with that we can choose not to play.
When we open our mouths to pray in thanks this week, let's work to open minds and hearts as well — ours and others. Love, fear and lies don't mix. Love cannot exist with lies and fear cannot exist with love. Love conquers them both. Easily.
Happy Thanksgiving, everyone!