Getting from one place to another quickly is imperative for many at this time of year. After all, less time in transit means more time to enjoy a brief holiday respite with friends or family. That's one way Venus is probably correlating with some of your own life right now.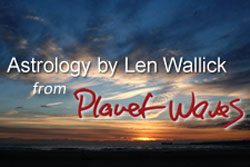 Even if you are not among the tens of millions on the road or in the air recently, it's very possible you might feel as though you have been. The world itself is moving rapidly.
Venus itself is currently moving around the zodiac circle at a relatively brisk pace, and getting faster by the day. Its ingress to Sagittarius Wednesday represents the second sign change for Venus this month.
It was only about three and a half weeks ago, on Dec. 5, when Venus plunged into fixed, watery Scorpio. Fittingly, a lot of emotional moments (a water sign thing) have presented themselves in rapid succession
There has been a lot of enthusiasm (an emotional mindset that often corresponds with Venus), which some have indulged (an activity related to Venus) in full. By the same token, many have felt it necessary to resist getting carried away (a fixed sign thing). Yet others have been compelled to simply endure (another fixed sign correlation) one form of trial or another during the rapid transit of Venus through Scorpio.
Venus in Sagittarius (from Wednesday until Jan. 23) will implicitly be a whirlwind tour as well, but another sort of trip entirely. Instead of a predominantly emotional background to the abundant values and receptive virtues of Venus, you will probably find yourself being more instinctively proficient than usual.
Given how Sagittarius is ruled by magnanimous Jupiter, the instinct that distinguishes between right and wrong (conscience) is likely to be especially sharp. When you add in the fact that Mercury will be retrograde from Jan. 5 to Jan. 25, you might even want to prioritize conscience over intellect for the next four weeks or so — especially when you need to make a quick decision.
Indeed, Venus will soon be moving faster than Mercury (which is slowing down on the way to turning around). All the more reason to default towards doing what's right. By way of determining what's right, of course, you will want and need to take others into account, in addition to your own interests.
As a matter of fact, when you consider the spiritual associations often to attributed to Sagittarius, the term "enlightened self-interest" could come to be more understandable and vital for you than ever.
In order to practice enlightened self-interest in the environment implied by Venus in Sagittarius, be constantly mindful of how your actions, words, even thoughts might conceivably boomerang right back at you rather promptly. Then, make your choices with the assumption that such a rapid return on your 'investments' in the world are indeed probable.
At least one thing is for certain. Venus will not be in Sagittarius for very long. If you want, you can simply choose to go on living your life without any consideration for either the perils or potentials of its rapid passage. You could simply allow things to happen to you with the assurance that "this, too, shall pass."
But consider the extent to which you might be able to to expand, open and pioneer new vistas of conscientious interaction with the world. Why would you simply want to stand by when you will implicitly be able to get from one place to another in your life with such effect?
Offered In Service