STOCKHOLM — PlanetWaves.net has received the prestigious Worstie award for the worst website design of the year, it was announced yesterday. Since word of the award went viral, traffic to the site has soared, and Planet Waves, Inc. stock more than quadrupled in value, going from $2.48 a share to $11 a share in overnight trading.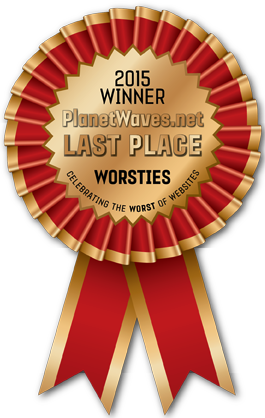 The quirky website, which cannot decide whether it's really about astrology, politics, sex or Chiron, edged out aggressive competitors including DepressedSingles.com, FrozenFood.info and DoucheBagTherapy.org, for the honor of being the world's very worst website, based on composition, look and feel.
"This award has nothing to do with content," said Dyno Nobelski, chairman of the panel of judges who bestowed the honor. "If it did, Planet Waves would not have done so well. They excel in original content, fact checking, and even art," he said. "Who the heck has heard of an astrology website with fact checkers? What is this, Der Spiegel?"
Nobelski added, "Fortunately, they are terrible at everything else. We were really impressed by the shitty color scheme used by the designers, as well as overall mayhem, a sense of cluttered disorder and ridiculousness reaching into every corner of the work. This was an extremely thorough job."
"Clearly, these people used the very worst marketing strategists in existence. They must have gone to the ends of the Earth to find them," said Jim Wyndham Marshall McLuhan, who sits on the advisory panel to the Worsties. He is a distant cousin to the famous media theorist, and author of The Meat and Potatoes Book. "We need to find those consultants. They really suck, and could help make the Internet a lot worse place, which would be good for everyone."
"At Planet Waves, they've managed to do everything wrong, that you can possibly do wrong," said New York web designer Jean Wang, who is located on Park Avenue. "I don't really have any words for it. Maybe one of my copysmiths can come up with something touching, but like, wow."
"This is special," said Mark Zuckerberg, the founder of Facebook and Millennial consultant to Planet Waves. "For years we've had to come to terms with having the worst website. But now thanks to discovering Planet Waves we feel so much better."
"We spent millions to come up with those horrendous shades of blue. Planet Waves has stumbled upon a far worse, more disconcerting color combination." Zuckerberg added. "We're sincerely impressed."
"Mr. Coppolino has been investing heavily in pastels and colored pencils recently," said his artist rep, Pierre LePoo III. "You should see some of the hellacious color combinations he's coming up with lately. It's not really possible to actually look at his sketch pad, it's so disturbing."
Since receiving the award, Planet Waves has experienced unprecedented success, with traffic and sales soaring, and more people entering comments than ever. Other websites have begun to adopt the look and feel.
"That shitty Planet Waves look is catching on wildly," said the rock star Bono, who helps fund the awards. "You know that expression, 'It's so bad it's good'? Well, Planet Waves has given that real meaning."