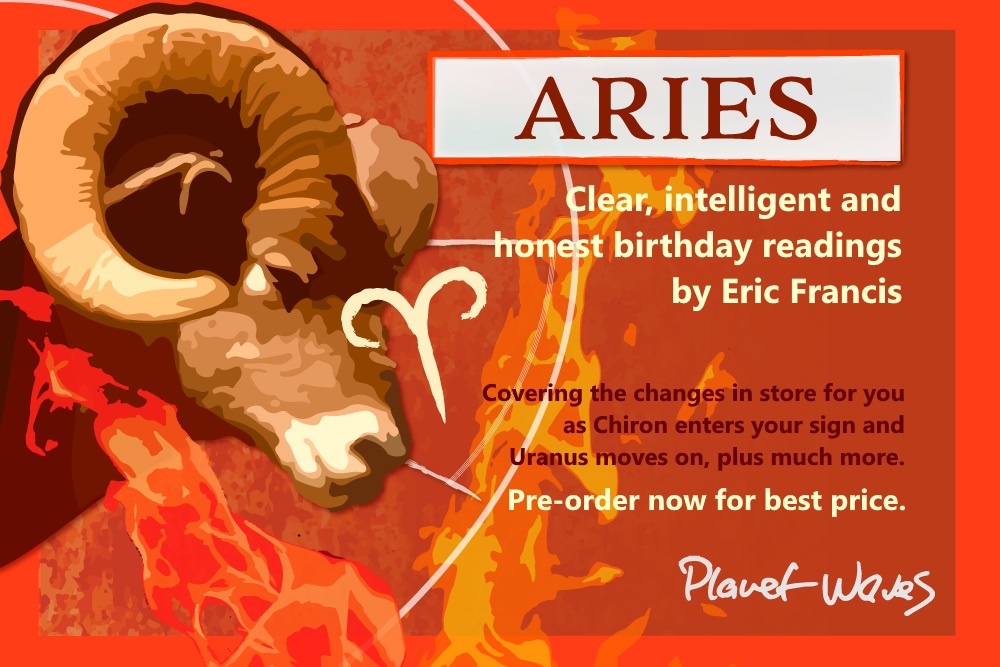 Insights for a Year of Change: Your Aries Birthday Reading
"Many many many thanks for your always wonderful insights!"

— Andrea Argenta
Dear Friend and Reader:
Happy equinox! With all the major sign changes happening, the next year is sure to be memorable for us all. Yet for Aries in particular, the twelve months ahead promise to be truly extraordinary. You'll therefore want the best possible insights to help guide you through — and Eric's 2018-19 Aries Birthday Reading will do just that.
One of the biggest changes is Chiron entering Aries on April 17, kicking off a process that's likely to help you view yourself — and your potential — in an entirely new light.
Yet for Chiron to produce its gifts, you need to bring awareness about where you are. In your birthday reading, Eric will point you in the right direction, in friendly, accessible language that will inspire and empower you.
"I'm blown away by the accuracy in this reading."
— Susan Campbell
Our customers often tell us that Eric understands the truth of their sign like no other astrologer. Whether you're Aries Sun, Moon or rising, or you know and love an Aries, the 2018-19 Birthday Reading will be an essential tool for navigating the times ahead.
Pre-order here for the initial price of just $33. If you're new to Eric's readings and would like to check his accuracy, you may access last year's reading here, and the Aries Book of Your Life reading (last year's annual edition), at no cost.
With best wishes,

Amy Elliott
---
Aries (March 20-April 19) — Mercury stations retrograde in your sign today, just as a powerful aspect approaches between the Sun and your ruler Mars. This might feel like conflicting messages; though it needn't if you take the long view, and recognize that the spotlight currently on you is no transitory beam. You are laying the foundation for lasting progress. From that perspective, a few weeks at a relatively slower pace is at worst a minor blip. It can actually be far more advantageous: this retrograde phase appears to represent the wisdom of listening; specifically, how one can gain invaluable information by doing so. Therefore, consider this a research project, and take soundings from as many sources as you can. – by Amy Elliott. For your Eric Francis horoscope this week, please see this link.
Taurus (April 19-May 20) — There's an emphasis right now on the areas of your life connected with your spirituality and your deeper thoughts, which seem to be undergoing a long process of re-evaluation. You may be starting to feel impatient: surely you can be done with this by now? Aren't all these complications unnecessary? Yet thinking along these lines would be doing an injustice to the capacity of your mind, which is considerable. You deserve the opportunity and the space to meditate on these matters, and to base your conclusions (at least, those you reach for the present) on what makes sense to you, and takes into account all facets of your knowledge, including your instincts. Honor your abilities, and don't be satisfied with a half-done job. — by Amy Elliott. For your Eric Francis horoscope this week, please see this link.
Gemini (May 20-June 21) — Mercury, your sign ruler, is stationing retrograde in your house of friendships and the wider community. This is a sphere of life that's important to you, and now is a good time to evaluate whether you're getting the most from your social connections. For example, you may need to step away from too much work, and have more fun. You can sometimes get caught up in your own thoughts, and you need enough latitude to unwind fully. Then there's the larger question of whether you feel sufficiently involved in your community; it's possible you could do with increasing your civic participation, especially at the municipal level, where an individual voice can arguably make the most difference. Consider using yours. — by Amy Elliott. For your Eric Francis horoscope this week, please see this link.
Cancer (June 21-July 22) — This would probably be a good time to review your career trajectory, especially if some elements have not turned out quite as expected. Some previously unknown truths may emerge (or perhaps have already done so), and there's a clear indication that you might need to re-evaluate a specific belief that you've held, as new information comes in. Things could seem a little dreamy or unreal for a while as this shift takes place. One thing you should definitely guard against is a loss of confidence. The chances are you actually have far more potential than you've yet imagined, and time will bear this out. Don't be afraid to talk with someone you can trust; there are plenty of people who have your back. — by Amy Elliott. For your Eric Francis horoscope this week, please see this link.
Leo (July 22-Aug. 23) — You appear to be bored and somewhat restless, which is apparently causing you to reconsider the direction of your life as a whole, your philosophy and your aspirations. You likely feel this is long overdue, and perhaps it is. That said, be wary of any temptation to a midlife-crisis-style conversion. It's certainly not impossible that you could find enlightenment through giving away all your possessions and spending the rest of your life living in a cave, or by getting a hot new set of wheels and conquering a narrow mountain road — but let's face it; the probability isn't huge. Do yourself justice, and take time to build a philosophy that's both durable and flexible enough to serve you in the long term. — by Amy Elliott. For your Eric Francis horoscope this week, please see this link.
Virgo (Aug. 23-Sep. 22) — Mercury stationing retrograde suggests you're in two minds where your abilities are concerned. On the one hand, you seem to possess an abundance of creative ideas, which you're bursting to put to use. On the other, your confidence might not be in its highest state; this may be preventing you from communicating your thoughts, due to fear of some negative result. If that is in any way true, pluck up the courage to speak anyway. In your community and relationships, your unique voice forms an essential part of a picture that would otherwise be incomplete. Learning to use it more fully will probably require time and self-reflection; that is a testament to the importance of the effort. You won't regret making it. — by Amy Elliott. For your Eric Francis horoscope this week, please see this link.
Libra (Sep. 22-Oct. 23) — It's difficult not to form expectations where other people are concerned, especially those we love. In part this is due to the dominant social tropes regarding monogamy and what's known as the 'relationship escalator', wherein one progresses in an orderly fashion from the first date through to marriage and children. This is, of course, a valid path — as is any other — but if it sounds rather dull, you might be on to something. More importantly, vexations can arise when it turns out our own hopes are different from someone else's. If this emerges for you, it would be wise not to act impulsively on your immediate feelings. Instead, consider whether you might reach an agreement; and remember that being open helps. — by Amy Elliott. For your Eric Francis horoscope this week, please see this link.
Scorpio (Oct. 23-Nov. 22) — Despite Mercury retrograde often having a slowing effect and causing one to re-tread old ground, it can also open new concepts in a way that's refreshing. These next few weeks may be an opportunity to add a little spice to your daily routines; or at least to pull yourself back from getting stuck in a rut, which it's all too easy to do. The only thing you might need to be conscious of is ensuring you don't ignore the wishes and needs of others. You don't have to bend to any diktat; but no-one is an island, and taking other people's views into consideration is not only kinder, but usually wiser. You'll probably hear an idea or two that would otherwise not have occurred to you. Don't be afraid to open your mind or your ears. — by Amy Elliott. For your Eric Francis horoscope this week, please see this link.
Sagittarius (Nov. 22-Dec. 22) — Your sign isn't usually known for getting stuck in habits or rituals that aren't serving. What can sometimes happen, however, is that an idea runs away with you, to the extent that you may find yourself digging in your heels and wanting to see it through at all costs. This week's astrology presents a chance to consider walking back some of your decisions — especially in the realm of creative projects — and reviewing how you approach making new ones. Thinking things through at every step can help immensely; as can checking in with other perspectives to ground yourself in what is real, and what isn't. Eventually you can then proceed, knowing you're on a path that almost certainly will not give way. — by Amy Elliott. For your Eric Francis horoscope this week, please see this link.
Capricorn (Dec. 22-Jan. 20) — This week you have a prime opportunity to review material from the past and, in doing so, bolster your confidence to a degree of security you may not yet have known. You're already in a position where you can feel validated to an unusual extent, though lately you may have been feeling unsure. It could take a while for your mood to shift, but this is not necessarily a bad thing; it'll give you time to be thorough, and to build your self-belief on the most solid foundation possible. As part of this exercise, acknowledge and accept the love of your community, in whatever form that exists. Don't be afraid to ask for help: there is likely no shortage of people willing to provide it. — by Amy Elliott. For your Eric Francis horoscope this week, please see this link.
Aquarius (Jan. 20-Feb. 19) — Mercury is stationing retrograde in your house of communications. Watch how you interact with others over the next few weeks; and, if possible, consider how this has turned out in the past; both when your methods have led to misunderstandings or mistakes, and also what has worked well all round. This is an opportunity to refine your practices, and experiment with new styles of contact that may produce consistently better results for everyone. Note that the 'for everyone' part is important. If needs be, ask for feedback on what you can do to make sure those who love you best can get their messages across; this includes compliments, to which you could probably do with listening more closely at times. — by Amy Elliott. For your Eric Francis horoscope this week, please see this link.
Pisces (Feb. 19-March 20) — There's no-one quite like a Pisces for a generous spirit that affords compassion in abundance to everyone — with one important exception. Can you guess who that might be? I suspect you probably can. If you've been particularly hard on yourself lately, you now have the chance to establish a more congenial relationship with who you are. The fact is you care deeply about what you give to the world, and sometimes your desire for perfection can lead to unrealistic expectations of yourself. This Mercury retrograde is offering you a glimpse of how accepting that you're human, and allowing yourself to be so, can actually enrich the vital work you do. It's time you receive your own share in the warmth of your love — no exceptions. — by Amy Elliott. For your Eric Francis horoscope this week, please see this link.