Today's Oracle takes us to the Taurus monthly for December 24, 2010.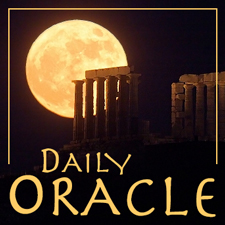 Though most descriptions of your sign cast you as practical, grounded and organized, you have one of the dreamiest minds around. This is due to the influence of the watery signs on your chart. It's why you can find yourself getting caught in fantasy, and it's why material things often take so long for you. The story of your astrology for 2011 and well beyond is about gaining clarity. Most of that clarity is to your emotional nature. You are sensitive; the solution is about enhancing and focusing your sensitivity rather than toning it down. Though it may seem odd to say, your true liberation will come from fully honoring your inner life. That will set you free to act with confidence in the world. One of the most exciting aspects of your journey through the next four seasons involves figuring out that you create who you are by allowing your gifts and talents the opportunity to come forth. At times this may feel like a 'path' of discovery, but that's an illusion of time. By focusing your intentions and your desires, you tap into what is already within you on deeper levels than you've accessed before. You can do this whenever you want. You have no reason to depend on who you were yesterday no more than you must put off any goal into the future. Part of your inherent creativity is the ability to come up with a new idea today, and another one tomorrow. And you can. Yet the thing about having a lavish imagination is that it truly helps to be disciplined about it. As part of that discipline, I suggest you transform your perception of everything you've considered a fault into an asset. For example, if you consider yourself a procrastinator, you can discern the thing you're most motivated to do at any given time — such as choosing the thing on your 'to do' list that's the most fun. If you do that consistently, you will not only get everything done; you will be able to go beyond the feeling of 'having to get it done'. If you are a raging idealist and don't think the world is ready for you, then test out your own belief and try something specific and see what happens. The trend of your life is moving away from theorizing and into action; away from guilt and into pleasure; away from being concerned about risks and toward being a kind of test pilot of the soul. As you experiment in all these ways, remember: manifestation always proceeds from an idea into tangible form. That idea is based on knowing what you want, and choosing that. The one thing that stands between the idea and its expression is, most often, what you believe. So if you want to make real changes, change what you believe. Notice self-defeating beliefs, and adopt new ones. It's easier than you currently believe.
---
The Saturn-Pluto conjunction is separating, but still strongly influencing our experience. While this event will happen two or three times in the lives of most people, this particular instance is a moment of convergence and reckoning for the world and for us as individuals.
Eric has completed recording RESPECT, the 2020-2021 Planet Waves annual readings, to cover the momentous astrology of the coming year-plus. You can read more about the project, and order the readings for instant access, here.