Today's Oracle takes us to the Aquarius weekly for April 14, 2006.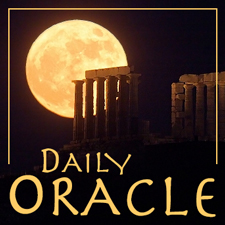 You need to keep working for that balance between productivity and emotional serenity. For a long while, the two have seemed like the properties of an entirely different cosmos. In one world, there is peace, rest and nourishment. In another there has been a revved up level of movement and aggressive work. In truth the answer is less about balance and more about integrating these seemingly opposite halves of your recent life. Adjust your work environment to support you better. Seek help with difficult tasks, or begin them before they intimidate you. But most of all, be a leader in your work space. Colleagues and partners are counting on you.
---
My autumn readings, called In These Times, offer a place of refuge, an opportunity to suspend self-judgment, and my careful reading of the charts. I offer you reasons to be motivated, and strategies for handling the strange complexity of society at this time. To this work, I bring all of what I have learned as a journalist, editor, astrologer, spiritual student and man of the world; and I offer it to you for an affordable price. Read more here.