Today's Oracle takes us to the Scorpio monthly for October 26, 2010.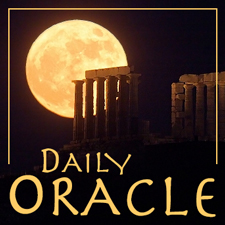 It may be odd for an astrologer to associate Scorpio and the concepts of virginity or celibacy — but in general what some call 'sacred sexuality' would not be a stretch for you. This is a term that's used more often than it is understood, and part of your mission now is to give the concept personal meaning. Deep beneath all the ideas, illustrations and suggestions of books about tantra (a term that, in modern usage, is a byword for conscious, meaningful erotic exchange) there is a spirit of devotion. That can involve devotion to service, it can involve healing and most of all it involves the unfettered honoring of pleasure as a natural, wholesome experience. Devotion is like tending a flame, and it's vital to recognize that the flame exists inside you before it can exist anywhere else. We all have our hang-ups, we have our doubts, we have those places that we're afraid to go. I suggest that you choose to be undeterred by any of these things, and focus your energy and thoughts on burning your flame as hot as you need to in order to burn off your doubts, body shame and religious guilt. Experienced in this spirit, sex ceases to be a consumable item and takes on new meaning as something that honors something inherent about what a person is: a perfect expression of nature and the intelligence that we often mistake for divinity.
---
It is difficult to feel good these days; it's challenging to focus on your growth and self-care, or even to relax. We are pulled out of ourselves constantly, and often distracted from our core purposes. IN THESE TIMES, the Planet Waves autumn reading, will help.
CURRENTLY AVAILABLE FOR PRE-ORDER