Today's Oracle takes us to the Gemini monthly for May 1, 2005.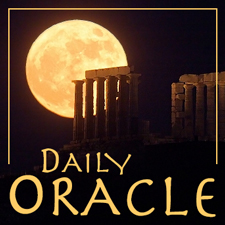 Life is more about who you are than what you do. This is particularly true now when there is so much to do and so much to be. You'll need a basis upon which to make decisions and plan your actions. The primary reference points must be within you rather than in the world. An obvious example is a choice that is based on whether something 'looks good'. What is not so obvious is that motives of appearance often disguise themselves. And it's a little tricky when the inner reference points either look like worldly goals or are so subtle we don't quite trust them. So you will need to be discerning but I don't think that's going to be anything less than a true pleasure and journey of actual self-discovery. For now it's a fair enough starting point to live like you're free to be anyone or do anything you want.
---
My autumn readings, called In These Times, offer a place of refuge, an opportunity to suspend self-judgment, and my careful reading of the charts. I offer you reasons to be motivated, and strategies for handling the strange complexity of society at this time. To this work, I bring all of what I have learned as a journalist, editor, astrologer, spiritual student and man of the world; and I offer it to you for an affordable price. Read more here.