Looking back at 2014 might tempt you to live in a geodesic dome, forever banning 90-degree angles from your life. It was a year when Jupiter, Mars, Venus, Mercury, the Sun and the Moon took turns elaborating on the backbone of Uranus and Pluto — in a functionally continuous square aspect with a legion of periodic T-squares and one exceptionally long-lived grand cardinal cross.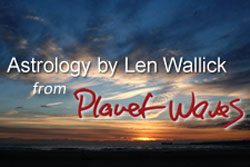 Whew! It was enough to make you cut corners. So you must not be cross. Indeed you must be amused, and amazed at the fact that the last major lunar aspect of 2014 will be a first quarter Moon.
Not just any first quarter Moon, mind you. At 1:31 pm EST (18:31 UT) Sunday, the Moon in early Aries will have opened a separation of 90 degrees from the Sun in early Capricorn just one week after a profound solstice and New Moon conjunction of the luminaries all rolled up in one.
In other words, the last lunar first quarter of the year will be an opening square from cardinal signs — the template through which all other opening cardinal squares (including Uranus and Pluto now) are interpreted.
It's not like opening square aspects are bad. They augur and argue for good — the good that comes of strength, growth, evolution and life's way of finding a way.
It's just that variety is the spice of life. It's been rumored (although not conclusively proven) that even great sex gets old after a long period of unrelenting abundance.
Yet, if Sunday's last quarter Moon indicates anything, it implies that we are not done yet in any sense of the word.
We are not done with square aspects, whether major and rare or minor and frequent. You are not done getting stronger. We are not done growing. Our kind is not done evolving, and life on Earth is not done finding a way to keep on keeping on.
Looking at it that way, you might not want to cut corners after all, as we all turn a corner together after Christmas, and before New Year's Day 2015 — along with the luminaries, Sun and Moon.
Offered In Service
Len is available for astrology readings. You can contact him at lenwallick [at] gmail [dot] com.