Dear Friend and Planet Waves Reader:
For the second week running, a major terrorist event happened on a Thursday night. This occurred right after last night's edition went to press.
News reports are saying that someone drove a huge truck along the Promenade des Anglais in Nice, France, last night at about 10:30 pm local time. The street was closed for Bastille Day celebrations, and the driver of the truck managed to kill at least 84 people — again, according to news reports.
The way that we are now interconnected through devices and media networks spreads the pain, anguish and insanity of this fast.
Just about the entire Western world went to bed last night thinking about this. We'll see little else in the news for the next three days.
France, which was on the mend after two horrific recent incidents, is now once again in a state of shock.
The chart that I published in last night's edition was loaded for this event: the Moon was about to move through the aspect Mars quincunx Uranus, which was exact early Thursday and has been in effect for well over a month — though Thursday was the last peak.
When this event happened, the Moon was about a degree from Mars about to make the conjunction; the chart is a bomb. You can see the Moon-Mars conjunction high in the sky in the chart, as people in France could see it in the sky.
Today and through the weekend, the Sun is moving through the pattern, in the form of Sun square Uranus and Eris. This can be charged-up and agitating, and it can also bring breakthroughs. Yet I can tell you this, and it doesn't take a genius, though it may take an empath: we are all exhausted from this nonstop violence and all the political rhetoric that surrounds it.
Mars is now separating from the Uranus-Eris conjunction, which represents the easing of one source of provocation. Mars is also trine Chiron, which opens up a tap into healing energy, particularly around warfare.
Yet the Uranus-Eris conjunction, which has been brewing for years, still has two more contacts to make, one later this year and another earlier next year. We have just entered this new era. The conjunction is an ongoing process, and it involves claiming back self-awareness from this massive tribe that humanity has become.
Someone wrote on my Facebook page today that, believe it or not, the world is less violent per capita (that is, per person, on average) than it was 500 years ago. He said this is true despite the horribly violent 20th and 21st centuries.
I've heard that before. One little problem is that there are a heck of a lot more capitas than there were 500 years ago.
Consider this. In 1500 there were about 500 million people on the planet.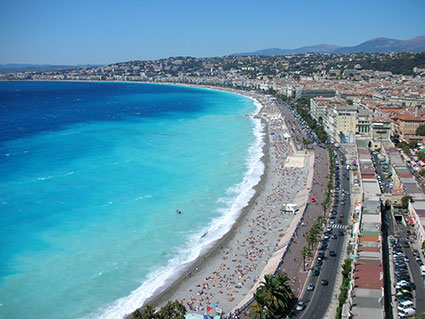 Seafront in Nice, France.
Today there are about seven billion people, an increase of 14-fold. And now most of those people share a common electronic nervous system, feeling the pain of every incident instantly.
Just a short time ago in places like Paris, a fun evening was lighting a fire and throwing in cats. Public executions were commonplace. We don't do those things most places anymore.
Yet there is domestic violence, there is gang violence even in small towns, and there are a heck of a lot of shootings and suicides every day, especially here in the United States. There is plenty of rage suppressed below the surface, held down by sedatives, by boredom and by various forms of disconnect and trance. It's no wonder that people are afraid to let go of even a little inhibition.
Here is the problem as I've come to see it. The decrease in violence in recent centuries — to whatever extent that is true — has followed a trend toward introspection and self-awareness, which Eric McLuhan and his cohorts posit is the direct result of literacy; in particular, widespread use of the book as a tool for conveying knowledge.
Literacy cultivates self-awareness by pushing the subject-object divide, which is necessary to recognize what is written on the page. That consciousness, in return, also reveals how a person is separate and distinct from the world. Book literacy in particular also provides contextual knowledge: the ability to frame issues and see them in relationship to one another. It allows for a complex rather than simplistic worldview.
Since the advent of broadcast media, particularly in the last 90 years (one Uranus-Eris cycle ago), this has been collapsing. Tribal awareness is taking the place of individual awareness. As Eric McLuhan said in Planet Waves last week, tribal awareness is fragile; offend the tribe, which is easy, and the whole tribe comes after you.
Further, younger people are not reading books. Even astrology students are barely reading books. Everything is on the 'net, short form, summarized, tweeted, and maybe discussed a bit,. rather than carefully studied, and so on.
Even if there is less violence than there was 500 years ago (pre-mass literacy and therefore inner awareness), whatever literacy there may be today is greatly watered down and in a sense inverted by all this tribalism that's going on, which has radically increased under digital conditions.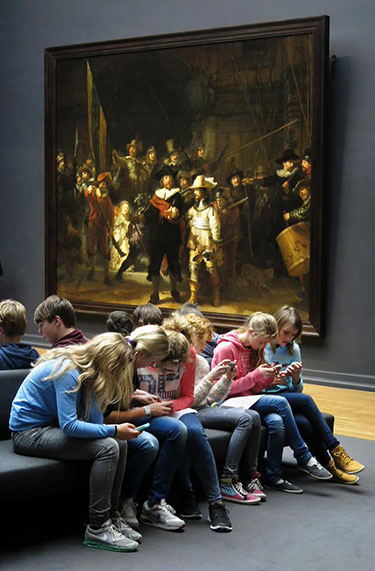 Kids on their phones with Rembrandt's Nightwatch above. We need to be paying more attention to the impact of digital media on consciousness. It's not what we think it is. This photo was not staged, according to its creator, Gijsbert van der Wal.
This has come with a rise in fundamentalism, be it Islamic or Christian. Just this week, the Republicans proposed, among other grand ideas, teaching the Bible as part of history class in school.
It's also arrived with brainwashing the past three-ish generations that sex is a moral abomination, in the form of abstinence indoctrination; so we have lost, in many people, yet another mode of introspection. New Republican proposal: declaring porn a public health crisis.
Therapy has has also gone the way of the dodo bird: now it's all about mood-altering pills. Again, less introspection, self-awareness and self-responsibility. The Republicans can bleat all they want about individual responsibilities and rights, and it starts to sound like southern slave owners screaming about liberty.
So we may just be seeing the beginning of this trend. The very inner core strength that we need to have for this not to happen is being cut away, washed away, corroded and eroded. Combine this with polarization, a rise in mental illness and the availability of weapons (and trucks), and we do have an issue on our hands.
It may take less effort and awareness to get out of this than we think. That's not an invitation to do less, though; rather, it's a reminder that our small gestures count. It will help if we stay available rather than pull in and hide. That is, tap into the inner awareness that you've trained over the years and make it available.
Many, many people have spiritual training that it's now time to put into use. Start with your family, your co-workers and your friends. Pay attention to children, critters and hurting people. Notice the ones who are not speaking up. Guide the conversation to a productive place. Make your personal choice in favor of something else. Visualize and do what you can to make your personal world a saner and more peaceful place.
Above all, I think that what we need to learn is that our lives are precious, worth living and worth living well.
Thanks for reading. I plan to be back next with Planet Waves TV on Sunday afternoon. I'll be present on my Facebook page if you want to correspond.
With love,