Dear Friend and Reader:
But before we get into that — overnight Tuesday to Wednesday there was a positively huge coronal mass ejection, which is to say, an explosion on the Sun. The image below is an actual photograph of the event (taken from video shot by the Solar and Heliospheric Observatory). The Sun is illustrated by the small circle at the center; the solid blue ring is blacking out the zone that's too bright to photograph, and the burst to the upper left is the ejection before it got very large.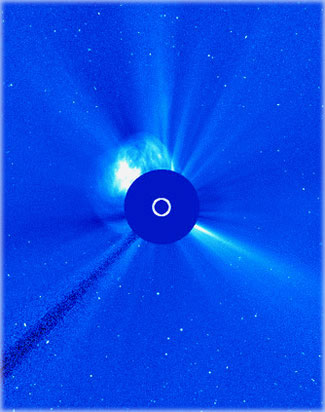 Solar flare, which eventually expanded to engulf the Earth this week. The size of the Sun is shown in the small white circle at the center of the image. Photo by the Solar and Heliospheric Observatory — your tax dollars doing something besides paying for another war.
In fact it got so large it washed over the Earth. Under the right circumstances, one of these things can take out part of the power grid; it's happened before. The solar radiation storm triggered by this ejection was rated as an S3 class — "mainly a nuisance to satellites, causing occasional reboots of onboard computers and adding noise to imaging systems," according to SpaceWeather.
If you could hear it, all that energy would sound really cool crashing into the magnetic pickups of an electric guitar. I often wonder about the effect of solar storms on consciousness. So far, I haven't been able to discern anything stranger than normal in human behavior, compared to what I observe with many planetary events, but anything that can fry a power plant on Earth or a satellite-based computer has to have some influence on the brain. When I imagine how that might feel, the aspect Mercury conjunct Uranus comes to mind, which happened to be exact at the time of the solar burst and is still in effect now.
That conjunction is an exact alignment of Mercury, the Earth and Uranus, so think of it as a direct line of energy bringing all three ideas together, focused through Mercury — the planet of mind. It could feel like a not-so-subtle jolt of energy, sustained long enough to notice it. In Aries, there is a kind of aggression involved, and there does seem to be some hostility reaching a new peak lately. I'll come back to that in a moment — first let's look at the current Mercury retrograde cycle, which includes a series of three Mercury-Uranus conjunctions.
Visit the discussion page for this article.
Mercury Retrograde — March 12 through April 4
Mercury stations retrograde in Aries Monday at 2:49 am EST. Currently it's in what some astrologers call 'storm phase' — when it slows down and changes apparent directions. Mercury retrograde in Aries is a warmup for the vernal equinox on March 20, when the Sun will enter Aries and join retrograde Mercury, plus Uranus, Vesta, Eris and Ceres.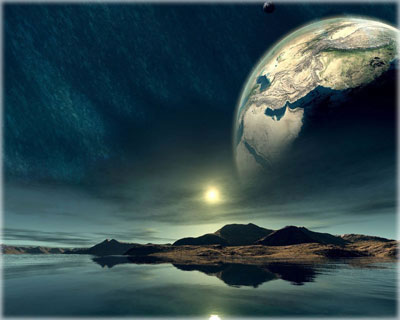 Artist's conception of a view of Uranus as it might appear from from one of its many moons. Uranus does not have land masses and the Sun is drawn waaaay too large for that distance, but it's an evocative image and gives a cool sense of perspective. The image is from free wallpaper, and a high-res copy is available.
No wonder (borrowing a phrase) there's all this loose talk of war; bombing Iran is being sold to us as an inevitability. Yet I guess what you hear depends on who you're listening to. Better ideas than war are not only possible but inevitable under this series of conjunctions, which seem designed to keep as many people awake as possible. If nobody notices, it would not be the first time humanity has slept through the alarm clock.
Uranus, the first planet discovered by science, is a slow-mover, taking 84 years to go around the Sun. It's movement produces noticeable effects. That's the planet that ingressed Aries (and thus touched the Aries Point) the very day of the Fukushima earthquake, last March 11. It's the quicker-moving side of the Uranus-Pluto square, what I've been calling the "2012 aspect" that lasts from this year through 2015 (really, with effects lasting much longer). Uranus-Pluto aspects shake the world, and in many ways, recreate it. (You can learn more at my free audio, The Top Five Events of 2012.)
Think of Uranus as representing the creative breakthrough, or alternately, an erratic quality. It can represent the idea that's ahead of its time; it can just seem weird. You know your reaction to someone who lacks a well-groomed Uranus: there's something charming about them, but the quirky, pushy quality can turn you off, they can be a bit too reactionary and they don't know when to chill out. Think of the person who is shamelessly convinced the CIA is following them from the pizzeria to the taco place to the record store.
When Uranus is expressing itself effectively, the result can be a nonstop fountain of ideas, innovative perspectives and an inventive mind that can have a similar eccentric quality, but now it's useful and friendlier if still a bit high-strung. Yet in Aries, this can take on a militant quality. We can see this clearly in the tenor of the current political discussion, which is all full of Marsy piss and vinegar that the wannabe fascist fringe is directing mainly at women these days.
Mercury makes two additional conjunctions to Uranus in Aries: the next is March 18 with Mercury retrograde, then the third is April 22 with Mercury direct. Think of this as a process of evolving an idea, and in Aries, an idea about yourself. Mercury retreats from hot, brash Aries into the cooler, softer waters of Pisces, letting go of some of its heat before stationing direct. Then it re-enters Aries and makes its third conjunction to Uranus — and a few days later, makes a square to Pluto. April is when we really start to feel the fact that it's 2012, and Mercury passing through the Uranus-Pluto square will make this extremely obvious — especially as a media event. But there will be a sobering quality as Mercury finally makes its square to Pluto on April 25.
About What Martha Said
Let's consider how this might feel, and how we can orient ourselves on the process. Remember that old idea from depth psychology about how when shadow material is not consciously acknowledged, it will wreak havoc below the surface, causing chaos and disease? On the other side of that, when we contact, feel and express some of that darkness, authentic healing is possible.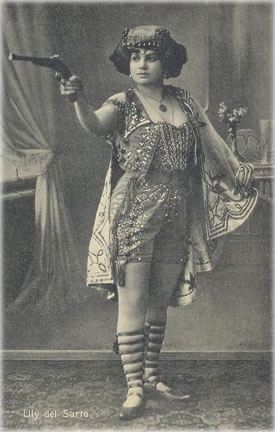 Our colleague Martha — no wait, it's the renowned Elly del Sarto; postcard c. 1910.
Last week, Martha Lang-Wescott described Uranus square Pluto as "unbidden empty narcissism surging from the depths of Pluto and all of its psychological scars. People can get distracted by the twinkles and the erratic behavior of Uranus and overlook Pluto," which addresses deeper material and is a more urgently necessary agent of growth. That erratic behavior includes the conduct of various political movements that want, in effect, to ban women from being people and who are creating a huge distraction in the process.
"There is the show and the excitement of Uranus [in Aries], and then there's this underbelly of the concealed drives of Pluto [in Capricorn], such as greed. Uranus presents as the perfect distraction — all this technology stuff — when Pluto is often acting invisibly. There's also the attraction to the dangerous element of Pluto charisma. Nessus accents that quality of Pluto." [Nessus is the minor planet at the midpoint of the Uranus-Pluto square; I covered this in last week's issue].
Hence, the argument about Rush Limbaugh's verbal attack on Laura Fluke (who testified about birth control before congress, and who Limbaugh called a prostitute and a slut) is the side show. His comments and all the controversy they create are a distraction from actual issues, when the more important developments are represented by whatever is taking place over at the Pluto in Capricorn side of the equation. This would include the deep psychological scarring that's beneath all of the fire and fury, as well as subversive activity on the corporate-government front. (I'll come back to this soon, but when Mitt Romney or the Supreme Court says that corporations are people, that's a very serious problem; it's the essence of the problem.)
Capricorn in this context can represent the disproportional influence of so many institutions that try to run our lives. It can represent unresolved family baggage that we know we're dragging around. Pluto's movement is trying to get us to do something about it — and to see the connection between our family material and how susceptible we are to deception by corporate entities. The movement of Pluto can represent the deep inner drive to bring some life back into those regions of ourselves. Yet be aware Pluto will wreak havoc when it's not worked out consciously and given an opportunity to express itself in a healthy way — and that is part of what we're seeing right now.
Several readers have suggested that this latest cycle of misogyny and pleasure-bashing is really just an old idea being exposed and thrashing around before it dies. Perhaps, but the only thing that can replace it is getting the discussion of sex out of the political arena. The political arena provides a shield for people who are both hateful and those who are on the 'correct' side of the issue who don't want to speak about sex in anything other than a defensive way. [I cover this in the new edition of Planet Waves FM.]
Once we find a home for the discussion outside of the news, a congressional hearing or the committee room of some backwater state legislature, we will need to talk about healing the sexual and emotional injuries we've sustained after being exposed to a society that seems bent on sex-negativity; we'll need to make contact with sexual desire as being part of an impulse to grow and evolve; and we will need to challenge the veil of guilt and shame and open up about the pleasure aspects of sex. Sex and the relationships that support it cannot be themselves if they are constantly shamed. They will be shamed until we realize that the shaming and guilt are a fraud, and until we claim our right to be alive.
Mars is Still Retrograde
Mars has been retrograde since late January and it will remain so through April 13. We need to work this energy carefully. When Mars is retrograde and tries to act like it's not, it can shoot itself in the foot. Apropos of Mars retrograde in Virgo (a sign illustrated by a young woman, called jungfrau in German), one historical fun fact is that the last time we had an all-in-Virgo Mars retrograde was in 1965 — the year the Supreme Court ruled in Griswold v. Connecticut, which legalized birth control. Now suddenly that decision is being questioned — granted, by a bunch of religious nut cases who get a lot of airtime on TV.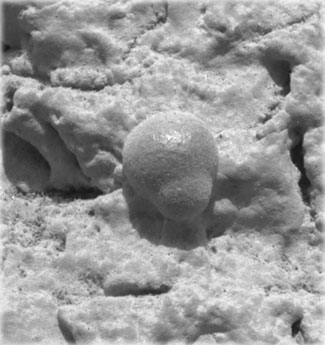 Microscopic photo taken by Opportunity rover showing a gray hematite concretion, indicative of the past presence of liquid water on the planet's surface. The rover has been operative on Mars for nearly 3,000 days, though the original specs called for a 90-day mission. The project is organized by Jet Propulsion Lab at Caltech.
There have been other Mars retrogrades partly in Virgo, but the last one entirely in Virgo happened the last time this issue came up for discussion. In true retrograde fashion, we are getting a visit to the past, a review of ideas we've seen before, and an opportunity for introspection.
Mars in Virgo has that element of healing desire. The desire part comes from Mars and the healing piece from Virgo. The retrograde feels like making contact with all of the psychological complexities associated with desire. Think of how 'uncomfortable' people can get when you want them, or how 'uncomfortable' you can get when someone expresses desire for you.
What's that about, anyway? Despite all of our protestations, do we want sexy without the sex (i.e., nothing but a constant tease), sex without the intimacy, intimacy without the risk, and deep experiences without them having any real influence on us? Sometimes that's what it seems like.
We might well ask what it is that we're avoiding with this whole dance. Lots of people would prefer to suppress an entire culture or the whole world just so they don't have to deal with their own biology, their own feelings, their unresolved problems. That's what I believe is happening when we see politicians go on their rampages, and we watch them get away with it. This drama serves anyone on any side of the issue whose deeper goal is to avoid some inner truth. It's easy to scream and yell. It's more challenging to be with your own pain, or to admit the pleasure that you want, and to confront the possibility of what you might do if you weren't constantly distracted from your creative potential.
Yeah — what would you do?
Lovingly,

Visit the discussion page for this article.

The past day or so we've been experiencing the Full Moon. One interesting thing about that is that the whole world has one experience, a consequence of it being a celestial event; something beyond the Earth. We, as in all of us here, have also been awash in the remnants of a solar storm that took place overnight Tuesday to Wednesday, resulting from a mass coronal ejection from a sunspot, with the energy bursting out to many times the size of the Sun.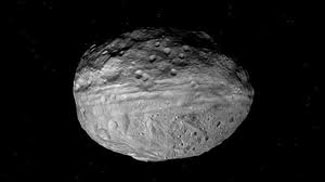 Vesta photographed from the Dawn probe in 2011.
And that energy rains all over us. As fast and as uncontrollably as our technology is moving, or the speed of our minds or activities, the Sun in all its passion and Moon in all its silence embrace the Earth between them and there is some collective awareness that something is happening, happening to all of us, in the background though it may be. A burst of energy comes from the Sun, and we're reminded that our power grids can be taken down in a matter of moments.
Because the Sun is in Pisces — the last sign — this was the last Full Moon of the astrological year. The Sun is now moving through the last 10 degrees of Pisces, called a decanate or in older terms, the last face of the zodiac. The astrology to watch is how close Mercury is to stationing retrograde — in Aries. It's in a bold part of the zodiac, the first few degrees, and Mercury is conjunct two other points — an asteroid called Vesta, named for the goddess of fire; and Uranus, representing a kind of fire of his own — the fire of the mind.
Continue reading.

As the far-Right's War Against Women heats up, the backlash is getting feistier, too. Mother Jones writer Hannah Levintova has compiled a list of tongue-in-cheek bills proposed by legislators of both sexes aiming to show just how absurd — though no less dangerous — the attacks on women's health are getting. For example, Georgia state Rep. Yasmin Neal wrote a bill outlawing most vasectomies because they leave "thousands of children … deprived of birth."
On a more grave note, Democracy Now! reports that there have been a number of developments in the Republican-backed campaign against reproductive rights nationwide. Virginia's Republican Gov. Bob McDonnell has signed into law the controversial bill forcing women seeking abortions to have an ultrasound. The Georgia state senate has approved measures that would ban abortion coverage under the state employees' healthcare plan and prevent employees of private religious institutions from demanding contraception coverage under their insurance.
In New Hampshire, legislators passed a similar measure to exempt religious institutions from including contraceptive coverage in their insurance plans. And Utah lawmakers have passed legislation that would make their state the first to ban public schools from teaching contraception as a way to prevent pregnancy or sexually transmitted disease. The measure would also bar teachings on homosexuality or other issues of human sexuality, with the exception of abstinence before marriage.
One question for you: Isn't it strange that this is happening now?

In Wisconsin, state senator Glenn Grothman (R-West Bend) is proposing a bill (Senate Bill 507) that would formally consider single parenthood — "nonmarital parenthood" — a contributing factor to child abuse and neglect if passed into law. The bill's language therefore also takes aim at same-sex and unmarried couples. Grothman is an ally of Republican Governor Scott Walker, against whom procedures for a recall election are still underway following his actions last spring to strip collective bargaining rights from unions. According to Grothman, being a single mother is a choice women make, and he says, "we should educate women that this is a mistake." Grothman also commented of 'unwanted' or 'mistimed' pregnancies that "I think when you have an epidemic of this great proportion, people are not so dumb that it's surprising when they get pregnant," and, "I think people are trained to say that 'this is a surprise to me', because there's still enough of a stigma that they're supposed to say this." Opponents are quick to note that one of the articles in the bill states that 41% of children in the U.S. are born to single or unmarried parents. According to Human Development and Family Studies Professor Dave Riley, however, family type has far less impact than the family process. This is something that polyamorous people have noted for decades. What counts is an environment respectful of children and with some semblance of stability. Marriage per se is no guarantee of that.

Mercury stations retrograde on Monday. This means that in your intimate contact with others, you'll want to listen carefully, stop and think before replying, and if something doesn't quite make sense, back up a step and ask about it. Mercury in Aries dancing around Uranus may be game for some new ideas; be bold and propose something.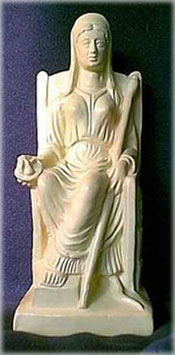 Fire Goddess Vesta.
Mercury and Vesta, conjunct in Aries, are making a fire trine to Juno in Sagittarius. Let's start with Mercury and Vesta together. The brightest asteroid, Vesta is named for the goddess of the hearth, though there's a deeper layer to the story. The flame she's tending is the core creative and sexual flame, giving this asteroid a connotation of erotic priestess.
Core sexuality is usually a veiled dimension, but Mercury is coming along and picking up the subject, and delivering it like a message. Note the proliferation of sex in the news right now, and though it's been a bit warped, there's still awareness — and something bigger in the air, and that something has a touch of taboo. One core expression of Vesta is devotion, which can be to pleasure, to healing or to holding space.
Uranus is in the equation — it's right next to Vesta and Mercury is making contacts with both over the next week or two. Uranus brings the factor of the unexpected, the unusual, the spontaneous — and in Aries it's glowing with the idea of self-awakening. This will come through the exchange of words, so keep your ears on and your mind open and be willing to say what you've never said before.
Juno in Sagittarius is trine this conversation. Madame Jealousy herself is in harmony with something original happening, and she's in Sagittarius, in full expression in her more dignified role as the Queen of Heaven.
The fiery temperament of the moment is grounded by the physical expression of Venus and Jupiter in Taurus. Stay close to your senses, and follow them as you tune in to the deeper psychological material of Pluto in Capricorn, which is calling for some love and healing; and a source of healing waters in Pisces, coming from Neptune and Chiron. The beauty of riding with the current is that you stay in the moment.

Buddy Up at UAC With Planet Waves Readers
If you're planning to be at UAC and are looking for a roomie, we may be able to help, by connecting people who are interested in sharing a hotel room. Drop a note to info@planetwaves.net and we will put you in contact with other people who reply.
Featured Class of the Week: Donna Woodwell, my co-presenter for the astrology marketing intensive, May 23 (extra fee, very good information, more info here):
Using the Internet to attract clients and build your astrology business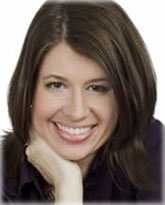 That's Donna!
Not only is the Internet a great place to meet new clients, it's getting easier (and cheaper!) to use successfully. Astrologer and Internet entrepreneur Donna Woodwell will demonstrate free and low-cost ideas to use social media and other online tools to increase traffic to your website and convert those visitors into clients.
During this three-hour workshop, you'll learn techniques and tools you can go home and implement immediately, including how to:
• Discover your authentic voice and use it to build your unique marketing niche
• Build remarkable websites with enticing content that attracts readers
• Engage clients in social media including Facebook, Twitter, LinkedIn and more
• Add sizzle to your content with audio and video media
• Harness free Internet advertising resources such as Yelp, Google Places and Amazon
• Spread the love with your email marketing newsletter
• Measure your marketing success with Google Analytics and other tools
Whether you're just starting your astrology business and looking for clients, or are a seasoned pro who wants to learn more about the web, this workshop contains something for you.

Pisces 2012 Extended Birthday Report Ready
Dear Friend and Reader:
This week I recorded the 2012 extended Pisces audio birthday report. I just started doing these in 2010, and this completes the first full run of all 12 signs. In addition to Pisces Sun, it will also provide good guidance for those with Pisces rising and Moon. The presentation is one hour of astrology in two sections, plus a 20-minute tarot reading. (Capricorn and Aquarius came out last week. Note, if you have an All Access pass, it works for each of these reports.)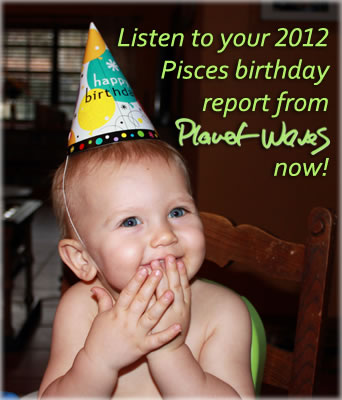 Fish Boy Arlo, photographed by his mom — Chelsea.
In this report I cover the recent arrival of Neptune and Chiron in your sign, and describe the energetic shifts of having these two distinguished, slow-moving points in your sign for the foreseeable future (Chiron till 2019 and Neptune until 2025). My intent with this reading is to help you orient on the new quality that you're likely to experience both as an inner journey and as many shifts in your outer environment. This report both elaborates on the Reality Check annual edition and enters new territory.
These are deep influences that will, over time, transform your life and your perception of yourself. They're distinctly different from the energy of Uranus in Pisces, which ended one year ago, after seven years.
Chiron and Neptune in your sign will help you bring out your true nature, and establish a kind of inner contact that you may have read about in books on spirituality. Yet there is a cautionary note: Neptune in Pisces will influence you to exist in a world apart. Fortunately, the realistic, high-focus energy of Chiron in your sign for the next seven years will provide an access point to both your quest and your healing mission.
I also take a close look at Mars retrograde in your opposite sign Virgo, which is leading you to rethink the way you do your relationships and the role that others have in your life. The retrograde is an extended question that will help you make decisions about what you want, what is appropriate and how to arrange your boundaries. What's beautiful is the sense of inner strength that you can now bring to the table; the feeling of substance and a new measure of stability, regardless of what others are going through.
I also look at the Uranus-Pluto square as it will influence your financial dimension of existence — both planets are passing through different sectors of your chart associated with money and the flow of resources. The revolution of this aspect is how you think of, acquire and use all forms of material resources.
There is more; no need to go into it here. The reading comes with resources including the Pisces ingress chart, a photo of the tarot spread, and access to the 2011 annual (Light Bridge) for Pisces, so you can review certain factors from the recent past that may have a bearing on your life now.
Here is the link to order. The fee for this product is $19.95 including everything, with unlimited access (it never expires) and you can download the audio sections as an archive so you can listen in iTunes.
Lovingly, your Pisces astrologer


How (and How Not) To Talk About Sex
In this week's edition of Planet Waves FM, I look at the Virgo Full Moon, and some of the material that might be associated with this event in your life. I relate it to Mars retrograde in Virgo, which to me is about the healing of desire.
One thing we're getting with this Mars retrograde is plenty of opportunity to do just that — particularly as sex keeps getting run up the flagpole day after day in the midst of the Republican primary race. I propose, however, that having the discussion of sex in congressional hearing rooms, the news and the Supreme Court is a huge distraction, and I recommend ways we can get the conversation into more intimate settings. At the end of the program I announce an essay contest that anyone (or rather, everyone) can win — check for details. The prize (for the first 10 coherent entries) is a copy of Betty Dodson's new DVD.
I mention a sex education website — SoloTouch.com — where you can read 50,000 stories that prove that you're not weird. I recommend a book, Eros Denied by Wayland Young, and I suggest you peruse Betty Dodson's site, not for the end of the sex conversation but rather for an excellent point of beginning.

This section also includes the upcoming publishing schedule! The March monthly horoscope (long edition) was published Wednesday evening, Feb. 22. Inner Space Monthly was published Tuesday evening, Feb. 28. We published Genevieve Hathaway's Moonshine Horoscope for March on Tuesday, March 6. The next Planet Waves monthly will be the April edition, which will be published on the evening of Wednesday, March 21. This will include coverage of the spring equinox. There will not be a regular Friday edition that week; Priya Kale will stand in for Eric Francis for the weekly horoscope of Friday, March 23.

Friday, March 9, 2012. Weekly Horoscope #894. | Eric's Zodiac Sign Descriptions
Aries (March 20-April 19) — Mars is still retrograde. You seem to have been reminded of that fact boldly this week, as some arrangement didn't quite turn out as planned. It seems like everything in your life comes back to a reminder to pay closer attention to the kinds of details that you normally can take for granted or overlook. In fact though your reputation casts you as dashing and inattentive, focused only on the future, one of the reasons why you can be so bold is that you do have a knack for making sure the finer points are covered. Yet now there seems to be no limit to the number and variety of details that the universe is capable of producing. You may as well slow down. Although all those small elements seem so effective at holding up progress, in reality each question, issue or puzzle that you resolve is specifically an element of progress. The solutions will arrange themselves into something you recognize, and if you look carefully you may discover that this is the constellation of thought you were missing — the one that holds the answer that was right there all along but which you couldn't see. The name of the game is pattern recognition.

Taurus (April 19-May 20) — You may be getting the message to be yourself; in fact it's never been easier. Yet there's a second theme coming through, which is the experience of being yourself and then experiencing some fear or backlash of guilt as a result. That's unlikely to stop you, though you obviously would prefer that reaction not be there. Where it comes from is another question, and knowing the history may help you resolve the matter. However, it really comes down to a decision about what part of your mind you want running your psyche — and you do choose. Uncomfortable as this may be, I will say this. There are plenty of people who get cocooned into a crypt by that reaction of every surge of real self being met by some shadowy reaction. It's enough to make most people stop proceeding in the direction of their reality just so they can avoid the discomfort of doing so. At the moment, anyway, you don't need to have that problem. I think you're discovering that opening up your options is better protection than shutting them down.

Gemini (May 20-June 21) — Now is the time to be a politician, and I mean that in the best sense of the word: someone who can work any situation for maximum benefit, who can work the crowd and who is in control of their image. I suggest you boldly advertise what you think is your best idea, and give those discussions time to propagate. Gradually certain specific goals you have will gain popularity, and those will in turn fit a larger pattern that will follow the scheme of bigger plans. If you're working with others, don't delegate the part of your plan that involves public contact. You're the one for that; you're the one with the charm and the charisma. In particular you have the gift of being able to engage anyone in any conversation, which has a way of building trust. More to the point, you're the one with the idea. Even if someone tries to persuade you to have second thoughts or give equal weight to alternatives, trust where you're going. The so-called alternatives will make handy places from which to adapt improvements and enhancements to your far-superior plan.

Cancer (June 21-July 22) — In the current political debate over sex there is the underlying assumption that sex isn't spiritual. Have you noticed that? Making pleasure a moral issue in any way denies not only that it has some inherent right to exist, but that you're somehow questionable as well. That might be true were we to define 'spiritual' as 'that which does not approve of sex' (or the emotion of desire). But if we define spiritual as 'all that's natural and real' and factor in the spirit of freedom that's supposedly our guiding principle as a society, that would clearly point to other conclusions. You're someone for whom these connections are inborn, intuitive and interesting — sex is so much better when the natural associations are allowed to be what they are. There are all kinds of control agendas afoot right now, and your role is to subvert their action within your own life. Whether you tap into the highest levels of ethics or the most elementary common sense, liberty means leaving one another be. It also means you're free in the midst of any debate, and not merely free to be powerful; I mean free to choose your pleasure.

Leo (July 22-Aug. 23) — Others are far less inscrutable than they seem. The feeling that you're looking at someone who has the capability to transform or change their appearance does not change the underlying substance of who they are. Take that as guidance to bring out the most authentic qualities you have, including your goals, and use every tool at your disposal to put your plans into action. Think through your highest goals, particularly in a professional situation. The seemingly most ambitious and valuable ones are those most likely to succeed; that's the way your chart is set up right now. You may have to override some annoying inner message in order to think big, though it's clear which one is true. If you want to give any nagging fears a voice, cut back on waste and do one last check-over of the details, thank your anxiety for doing its job and go back to arranging the world on the largest scale you can imagine. Your best plans aren't really individual; many will benefit from your success, which I know you find appealing.

---

Introducing the Planet Waves 2012 Spring Report by Eric Francis

Note: We plan to have this report ready for distribution by this evening. If you've purchased, please check your email for the note.

Spring 2012 is the wildest season I've ever seen in 18 years of doing around-the-clock astrology [listen to short audio preview here]. It fits the 2012 pattern of 'everything, all at once', even making that sound like an understatement. I am working on the report even as we edit this issue, and it's coming out beautifully — every sign is coming through loud and clear and distinctive.

We have retrogrades of all three inner planets involved — Mercury, Venus and Mars. There is a rare Venus transit of the Sun — an exact conjunction of Venus and the Sun that you will be able to see if you have a clear view during daylight hours (you will need special equipment to protect your eyes). There are eclipses of the Sun and the Moon. And then, just four days after the Cancer solstice, we have the first exact square of Uranus and Pluto.

In honor of putting all this action to work for you, I'm preparing a special Spring Report for all 12 Sun signs and rising signs, as well as an introduction to the astrology that will be useful to everyone. This is a package of all 12 signs for one price. I'm designing it so that you can actually put many of the signs into use — for example, Virgo will be able to use the Gemini report as a career reading. Pisces can use Virgo's report as a relationship reading, and so on. I give suggestions at the end of each sign, and will do a detailed description so you can get maximum use from this product.

We're offering it at a special pre-sale price for current subscribers and customers — all 12 signs for $19.95. Once the report comes out, it will go on general sale for $24.95. The report will be ready later tonight, well before the spring equinox — and it's amazing. Here is the link to pre-order. Thanks for signing up.

---

Virgo (Aug. 23-Sep. 22) — You cannot change your beliefs as easily as you can choose to believe what you know is true. This converts the matter to one of choice rather than something you're subject to. As you do this, feel the power of your authentic passion as you crack open the influences that were inflicted on you in the past, and notice what's inside them. Beneath all the control drama is what that control was supposed to be keeping in check — your drive, your independent spirit and your sense of autonomy. Remember that if you ever happen to feel any guilt about being, or wanting to be, autonomous. Notice whether you can trace any emotion to some religious value or teaching — and keep that thought conscious. You might ask yourself how it happened that someone else's belief became so influential in your life, if only to serve as something that prevents you from taking action. On the deepest levels, this really is about control. You're taking back control of your life from those who would try to constrain not just you, but everyone. This happens one person at a time, and it has to start from inside, which means with you.

Libra (Sep. 22-Oct. 23) — Recent losses, episodes of stress and various disruptions may now be revealing themselves for the gifts they contain. Yet you may not quite be trusting yet, so take your time and listen carefully. It's true that one or perhaps many aspects of your relationship situations is a work in progress. Yet beneath that is a stable foundation you can build on, and depend on. Make sure you notice this, because it's the real gift of your involvements with others — the ways that are a demonstration of your common ground and the common values that you share. If you have one reason to feel safe despite the looming sense that one change after the next is acting on you, this is the one. Be confident that your addition to the environment is wholly positive, and is perceived that way by the people you care about. Simply put, you can ignore your doubts and treat your fears merely as psychological or spiritual subject matter to work through and learn from. Whether you're accepting the gifts that come to you or viewing any changes as an adventure, there's neither room nor need for fear in your life.

Scorpio (Oct. 23-Nov. 22) — The thing to go for is not acceptance or approval — it's the full indulgence in your creative process. There is no audience, or you don't need one; what will serve you best is the spirit of experimentation. Imbibe experience as if it's a form of nourishment. Embrace your mistakes as turning points that can send you in new directions you never would have noticed otherwise. While you're exploring, you may notice there's a critical voice in your mind, that seems to be shining on you like a projector, complete with soundtrack. However, I would propose that if you notice the critics in your mind, remember that's exactly where they are. You cannot necessarily silence them, but what you can do is make a conscious choice what voices you listen to. Meanwhile, others around you are available to offer their full support — not as an audience but as peers and potentially as collaborators. Their perception of you is more likely to be the accurate one. I doubt you could think of any ulterior motive they could have, other than to endorse your happiness and affirm your existence.

Sagittarius (Nov. 22-Dec. 22) — Your work speaks for itself, that's true, but don't expect that to be persuasive when it comes to others investing in you. Far from being 'not worth it', the issue is that people rarely recognize quality when they see it. As the one who is being true to your values, make sure that you're the one who is the dependable investor in yourself. Think of this as a process of building the image and the reality of self-sufficiency. While it's true that there is no actual autonomy, there does exist a state where you're more dependent on in-house resources than you are on those external to your direct influence, and that is the longterm direction your life is taking. Obviously resources will flow in your direction; that's the nature of business and art. Yet the ones you want are the ones you don't have to pay back. What you're creating is yours outright, and I suggest you embark on a Buddhist meditation of seeing the value of what you do from a detached place, so you have a chance of recognizing that more objectively. When something turns into cash from any other form, that is a conversion of energy — the actual 'making' of that value is what happens long before that.

Capricorn (Dec. 22-Jan. 20) — One dimension of Pluto in Capricorn is that energy of concentrated lust and soul reaching deep into you and turning over fresh, humid and fertile parts of your psyche. That crust you used to live in just doesn't fit anymore, though the better news is that you figured out it simply isn't practical. Now that you have freedom of mobility and a craving for life, look at what's being offered to you. Notice the opportunities for creative pleasure that you're drawing to yourself. Don't misread that one; they are not merely 'coming your way' — rather, your inner momentum and willingness to explore a different facet of yourself every day are acting like an energy magnet. Therefore you can trust what's traveling in your direction, and you never have to give up your power of choice whether you want a certain experience or not. Remember that nothing is stopping you, there are no shoulds or should nots — only action and its results. At the moment, your astrology says that pleasure is prudent.

Aquarius (Jan. 20-Feb. 19) — It's good you've pulled back from the edge, and that the last few weeks seem to have gone without serious incident. Regardless of how unstable your life has been for how many weeks, seasons or years, this is a moment of settling down for you. Do what you can to make your home more your own; that will be a therapeutic exercise because it involves experimenting with a commitment. You might also open your mind to decisions about where the right place to live is, if you're not in love with your present location. Whatever it takes to build your confidence, security and sense of grounding, I suggest you do. Time in the kitchen will be more restful than sleep. Make a list of your favorite foods, and go out and get them. This kind of grounding is good for your soul, and it'll be good for your productivity. One discovery you can get into your body is that when you feel good, your life is easier. That's easier than the other way around, and gives you clear direction where to invest your energy.

Pisces (Feb. 19-March 20) — The beauty of this time in your life is that you have the strength and experience to stand up to even the most complicated or pushy people. That they might have 'good intentions' no longer distracts you from your strength and focus, which by the way have their roots in your learning from past mistakes. I don't think you've ever been clearer with yourself that errors in your history are no longer necessary to repeat. Your feeling that you have substance to work with, and to give you a distinct feeling of presence, validates something real, something you suspected. I suggest you proceed as if you expect people to take you seriously. Assume your ideas will be given real consideration. Remember that you've been through very nearly everything, and have repeatedly solved issues and learned to turn any circumstance to your advantage. That was then. What you have now is an abundance of both creativity and focusing power. Just remember to use them both at the same time, and to apply them to everything.