Dear Friend and Reader:
There is a lot of fire in the sky, with significant clusters of planets in Leo and Aries aspecting each other along with minor planets in Sagittarius. That's a lot of movement and flow in the realm of spirit; it could be easy to get lost in 'inspiration' without taking action, but for one thing: the fire planets are making some squares to planets in other signs.
This will help with getting some traction by giving you something to push against to make things happen in your daily life. Namely, the squares from the Leo planets to Saturn in Scorpio are setting the theme this week.
We have the Sun in mid Leo and Mercury, retrograde Venus and Jupiter clustered in late Leo. It's those clustered planets that are forming conjunctions to each other and squares to Saturn. What this creates is a pair of dual imperatives: to expand and move forward on the one hand, and to cut back or set limits on the other.
I explored this theme in depth in yesterday's Monday Astrology Diary. Between today and Friday, Venus and Mercury make their exact conjunctions to Jupiter and squares to Saturn, heightening the personal, tangible expressions of the astrology. For example:
— Career and creative opportunities get a green light right now (exercise your talents!), but be wary of impulsively rebelling against legitimate financial limitations. (Speaking of living creatively, Eric's 2015 Midyear Reading explores the topic in depth, whether you feel like 'an artist' or not; see the bottom of the page for details.)
— See the big picture, but mind the details — especially in business. It's also a good time to tune into any patterns running through your perceptions and experience.
— If you find yourself reevaluating a relationship (including your relationship to yourself or to your inner child, thanks to Venus being retrograde), notice if you're being rigid with your standards. It's one thing to identify a toxic situation; outside of that, negative perceptions are rarely the whole story — but you can learn why you're drawn to that perspective and then consciously work to see the bigger picture.
— If you interact with the public in any way, work that realm. Lean toward lavishing all categories of your relationships (including to yourself) with compassion and communication.
At the end of the week, Mercury ingresses Virgo, bringing some stability of mind, and Mars ingresses Leo, infusing even more energy and courage into your experience. I'll have more to say about those events later in the Thursday issue.
Since Eric is on his first true vacation in five years (much needed and well-deserved, as you can imagine), there will not be a Planet Waves FM broadcast this week. However, there are a number of excellent Planet Waves FM interviews in the archives that stand the test of time, which you may want to check out or revisit, including Eric's extended conversation with esteemed astrologer Robert Hand.
Meanwhile, on the Planet Waves website, our regular columnists have been busy. Fe Bongolan has taken on the question of racism in Raymond Tensing's shooting of Samuel Dubose.
Sarah Taylor's tarot reading contrasts who you believed you were, and how you are beginning to experience yourself now. Amanda Moreno's exploration of body love asks, what has your body been telling you?
This week's sex-and-relationships column offers three items loosely tied together by the Leo themes of animals, play and strength in surrender. Judith Gayle listens through the political and media babble to bring us back to being open to yes, and helping each other.
And have you read Madame Zolonga's answers to readers' letters about astrological questions? Her column publishes Wednesday afternoons, which means I often forget to include her in this letter. But her replies are clever, fun and will teach you some astrology as you read; you might even see yourself in a reader's situation and come away with some valuable insights. You can find an index of Madame Zolonga's columns here.
As mentioned, I'll be back in the Thursday issue with a look toward the weekend. And as always, Len Wallick's column will post to the website this afternoon.
Yours & truly,



Amanda Painter
Planet Waves (ISSN 1933-9135) is published each Tuesday morning and Thursday afternoon in Kingston, New York, by Planet Waves, Inc. Annual basic subscription rate: $97/year. Core community membership: $197/year. Editor and Publisher: Eric Francis Coppolino. Web Developer: Anatoly Ryzhenko. Office Manager: Lauren Gdovin. Astrology Editor: Amanda Painter. Astrology Fact Checker: Len Wallick. Copy Editor and Fact Checker: Jessica Keet. Client Services: Amy Elliott. Media Consultant: Andrew Marshall McLuhan. Research, Writing and Editing: In addition to those listed above, Planet Waves is produced by a team consisting of Fe Bongolan, Judith Gayle, Kelly Janes, Amanda Moreno, Carol van Strum, Len Wallick, Lizanne Webb and Chad Woodward.
Early praise for the 2015 Midyear Reading, available now:
The reading not only got what I am actually experiencing, but truly helped me name what I have been dreaming about! I am just beginning to realize that these are things I've always wanted. You helped de-code the language of the twins inside. – Fe Bongolan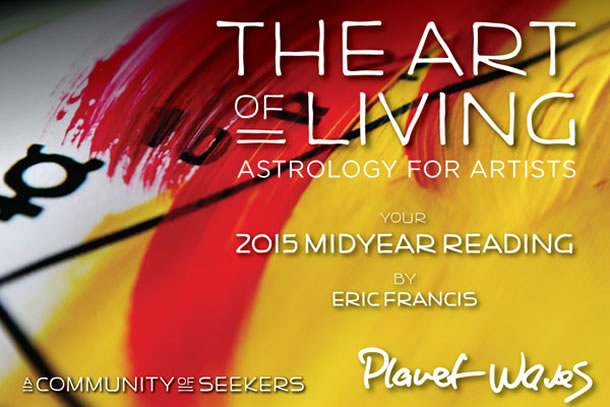 The 2015 Midyear Report is now available for instant access — The Art of Living / Astrology for Artists. The theme is how to live artfully; how to turn your life into a creative project; and how best to integrate conscious creation into your life, as a way of life. This is a 12-sign audio reading plus an introduction which moves elegantly through the astrology of the second half of the year — Venus retrograde, the two additional Venus-Mars conjunctions, the two additional Venus-Jupiter conjunctions, and Jupiter ingressing Virgo. You may order here. Note, this fantastic project is a fundraiser for Planet Waves. Thank you for signing up. You will love it. By the way, I describe the project in detail, along with my personal commitment to the subject matter, in the last segment of this recent Planet Waves FM. — efc