Across the Aries Point
Welcome to your Four Winds Report for Tuesday. Though the Sun has a good couple of weeks longer in Pisces, today both Mercury and Venus will cross into Aries, bringing a bit of extra warmth and vigor into the zodiacal atmosphere.
The Aries Point (the border between Pisces and Aries) is well-known on the pages of Planet Waves, such as this article from the archives. The 'personal is political'; wider events serve to remind us that we are not islands, but part of a greater community.
– With love from the Planet Waves editors
Today is Tuesday, March 6, 2018
Hebrew date is 19 Adar 5778
Islamic date is 18 Jumada-II 1439
Mayan Tzolk'in Day is 7 Imix'
Mayan Long Count is 13.0.5.5.1
Julian Day is 2458184
Today's Birthdays: Michelangelo (1475-1564), Cyrano de Bergerac (1619-1655), Elizabeth Barrett Browning (1806-1861), Lou Costello (1906-1959), Wes Montgomery (1923-1968), Gabriel Garcia Marquez (1927-2014), Valentina Tereshkova (1937), Kiri Te Kanawa (1944), Mary Wilson (vocalist; 1944), David Gilmour (1946), Kiki Dee (1947), Rob Reiner (1947), D. L. Hughley (1963), Alan Davies (1966), Connie Britton (1967), Moira Kelly (1968), Shaquille O'Neal (1972), Beanie Sigel (1974), Chris Tomson (1984).
"Age has no reality except in the physical world. The essence of a human being is resistant to the passage of time. Our inner lives are eternal, which is to say that our spirits remain as youthful and vigorous as when we were in full bloom. Think of love as a state of grace, not the means to anything, but the alpha and omega. An end in itself."
— Gabriel Garcia Marquez
This Week's Horoscope for Pisces by Eric Francis Coppolino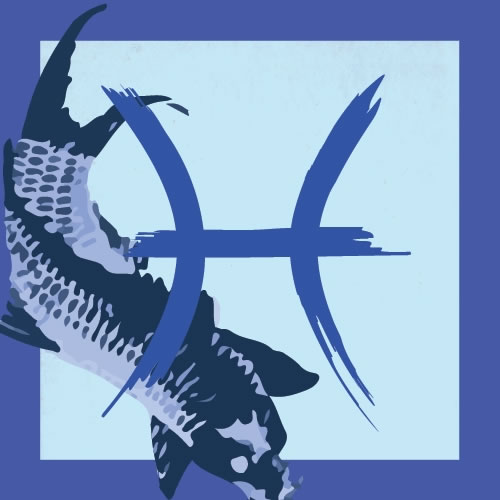 Your chart is still reverberating from last week's Full Moon in your opposite sign Virgo. The Sun is now at the midpoint of Pisces, and is still close to Neptune, which is providing you with energy and motivation. And as of Monday, there remains a triple conjunction of Mercury, Venus and Chiron in your sign. You have plenty to work with, and you're deeply connected to your inner sources of ideas and inspiration. Beginning this week, planets will be shifting into Aries, which represents your ability to finance your life and your projects, and also your sense of belonging in the world. The two are closely related. While Pisces is sometimes depicted as the sign least able to function in the world, a careful look at your solar chart makes a rather different point. Everything about you, including your sensitivity, your love of beauty and your clairvoyant quality, are all perfectly suited to grow and thrive in the world at this genuinely strange time.
You may read all 12 signs here.
Moon Phase: Moon is in Waning Gibbous phase and enters Last Quarter phase on March 9 at 3:20 am PST / 6:20 am EST (11:19:42 UTC).
Next New Moon is in Pisces on March 17 at 6:11 am PDT / 9:11 am EDT (13:11:29 UTC).
Next Full Moon is in Libra on March 31 at 5:37 PDT / 8:37 am EDT (12:36:45 UTC).
Moon Sign: Moon is in Scorpio and enters Sagittarius on March 7 at 2:03 pm PST / 5:03 pm EST (22:02:45 UTC).
Sun Degree: 16-17 Pisces.
Planetary Stations and Sign Changes
Mercury enters Aries at 11:34 pm March 5 PST / 2:34 am EST (07:34:15 UTC).
Venus enters Aries at 3:45 pm PST / 6:45 pm EST (23:45:21 UTC).
Interesting Selected Aspects | Data by Serennu
— Venus trine Varuna at 11:13 am PST / 2:13 pm EST (19:13:11 UTC).
— Mercury square Pholus at 3:47 pm PST / 6:47 pm EST (23:46:41 UTC).
— Mercury conjunct Salacia at 6:40 pm PST / 9:40 pm EST (02:39:48 March 7 UTC).
— Mercury trine Thereus at 8:49 pm PST / 11: 49 pm EST (04:48:35 March 7 UTC).
Subscribe to Planet Waves — sign up here | Visit Our Website at this link
If Your Birthday is March 6
(The Day of the Beauty Lovers) | Pisces Birthday Reading | All Other Signs
You choose who you want to be. Do not blame society's so-called norms or expectations; fate is not an issue. You hold the vision for your life, and that is what sets you in the direction you will travel. If you don't have a vision, look up for someone you aspire to — or an idea of what is right for you. Live your truth sincerely, and stay connected.
Current Pisces Weekly Horoscope

Your chart is still reverberating from last week's Full Moon in your opposite sign Virgo. The Sun is now at the midpoint of Pisces, and is still close to Neptune, which is providing you with energy and motivation.

Current Pisces Monthly Horoscope

You're probably getting the message to up your game on the financial front, though the first thing to remember about finances is that they're connected to everything. In astrology there are two houses connected to the money that you earn.
Written in the Planets
With Mercury and Venus leaving languid Pisces today and entering Aries, you can expect the pace of communication and reaction to pick up. Yet, if you find yourself gripped with any sudden passions or impulsive thoughts, there's still enough Pisces activity to make empathy accessible. You might find it especially useful to notice whether your patterns of thinking and responding remind you of your parents — or, better yet, remind you of how they used to respond to their parents. Thoughts and feelings about sex and desire — and how it gets framed culturally — could be especially provocative.
---