The Only Thing Missing From This Almanac Is Your Daily Horoscope
Every day, you read the Four Winds report, to get a sense of the current energies. There's just one thing missing — your daily horoscope. Written for you, every day of the week, your Planet Waves daily horoscope is designed to give you the clue you need, that little edge to make your life go smoother.
One well-placed line from an astrologer can make all the difference in your life. We now have two editions of the Four Winds Report — one with, and one without your daily reading. You may be one of the readers who wait for years for me to offer you this — and now you can have it. Horoscope Lover membership gets you direct mailing of each day's reading, plus the weekly reading on Sunday night, and the monthly reading the last Thursday of the month. Sign up at this link.
with love,


Today is Thursday, July 20, 2017
Hebrew date is 26 Tamuz 5777
Islamic date is 26 Shawwal 1438
Mayan Tzolk'in Day is 12 Eb'
Mayan Long Count is 13.0.4.11.12
Julian Day is 2457955
Today's Birthdays: Taicho (682), Petrarch (1304-1374), Gregor Mendel (1822-1884), Max Lieberman (1847-1935), Olga Hahn-Neurath (1882-1937), John Reith (1889-1971), Verna Felton (1890-1966), Tadeusz Reichstein (1897-1996), Dobri Dobrev (1914), Edmund Hillary (1919-2008), Lola Albright (1924-2017), Cormac McCarthy (1933), Alistair MacLeod (1936-2014), Diana Rigg (1938), Natalie Wood (1938-1981), Judy Chicago (1939), Carlos Santana (1947), Oscar Elias Biscet (1961), Chris Cornell (1964-2017), Terri Irwin (1964), Stone Gossard (1966), Sandra Oh (1971), Vitamin C (1972), Omar Epps (1973), Judy Greer (1975).
"Love is the crowning grace of humanity, the holiest right of the soul, the golden link which binds us to duty and truth, the redeeming principle that chiefly reconciles the heart to life, and is prophetic of eternal good."
— Petrarch
Moon Phase: Moon is in Balsamic (waning crescent) phase and enters New phase on July 23 at 2:45 am PDT / 5:45 am PDT (09:45:30 UTC).
Next New Moon is in Leo on July 23 at 2:45 am PDT / 5:45 am PDT (09:45:30 UTC).
Corresponding Full Moon in Aquarius is on Aug. 7 at 11:10 am PDT / 2:10 pm EDT (18:10:33 UTC).
Moon Sign: Moon is in Gemini and enters Cancer on July 21 at 1:09 am PDT / 4:09 am EDT (08:09:20 UTC).
Sun Degree: 28-29 Cancer.
Planetary Stations and Sign Changes
Eris stations retrograde at 1:52 am PDT / 4:52 am EDT (08:52:08 UTC).
Mars enters Leo at 5:19 am PDT / 8:19 am EDT (12:19:24 UTC).
Thereus enters Leo at 6:54 pm PDT / 9:54 pm EDT (01:54:38 July 21 UTC).
Interesting Selected Aspects | Data by Serennu
— Mars conjunct Varuna at 1:34 am PDT / 4:34 am EDT (08:33:53 UTC), and Thereus at 3:00 am PDT / 6:00 am EDT (10:00:15 UTC).
— Sun square Typhon at 6:09 am PDT / 9:09 am EDT (13:09:20 UTC), and Uranus at 5:25 pm PDT / 8:25 pm EDT (00:25:29 July 21 UTC).
— Mercury trine Eris at 5:41 pm PDT / 8:41 pm EDT (00:41:01 July 21 UTC).
Subscribe to Planet Waves — sign up here | Visit Our Website at this link
If Your Birthday is July 20
(The Day of Ups and Downs) | Cancer Birthday Reading | All Other Signs
If you make healing your top priority, many other facets of your life will come into focus. Healing what, exactly? Anything that has lingered around unresolved; any matter that needs attention; and in particular, how you relate to your spiritual and emotional needs. You are being called to go deeper into your self-understanding, and to be scrupulously honest with yourself.
Written in the Planets
There's a busy sky today, including Mars being the first of a line of planets to enter Leo. Things may seem rather turbulent, though this setup could be particularly useful for creative projects, or simply for fun and adventure. Either way, try to find constructive outlets for your energy; and be on the watch for anything that looks like an opportunity, with a view to taking it up if possible.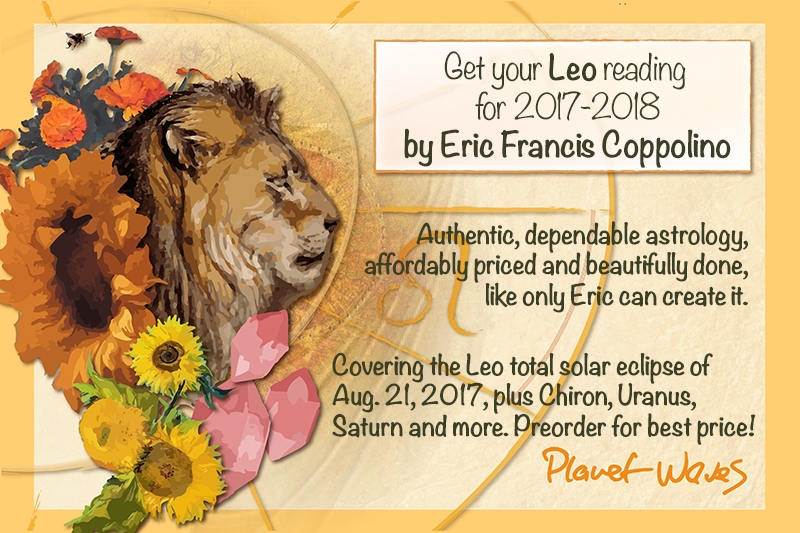 "Ah Eric — just listened to your reading. I was moved to tears by your closing words. Your passion, deep care and love always shine through; and you have the gift of all great teachers, of making one feel that one is being personally addressed, respected and taken care of."
— Liz Glanville
This is a seminal year for Leo Sun, rising and Moon, with two New Moons in your sign, the second one a potent solar eclipse. All the more reason to take hold of the reins and steer this dynamic energy in the direction that works for you.
Your 2017-18 Leo Birthday Reading by Eric Francis will be exactly the support you need to navigate through these exciting transits. It's now available for pre-order at the lowest price of just $33, so be sure to grab a copy — whether for yourself or the Leo you love — before that increases.
"Thanks for reassuring this Leo, who is having a year 'for the books'! You get to the core of things."
— Barbara Peaslee, on a previous Leo reading