The Only Thing Missing From This Almanac Is Your Daily Horoscope
Every day, you read the Four Winds report, to get a sense of the current energies. There's just one thing missing — your daily horoscope. Written for you, every day of the week, your Planet Waves daily horoscope is designed to give you the clue you need, that little edge to make your life go smoother.
One well-placed line from an astrologer can make all the difference in your life. We now have two editions of the Four Winds Report — one with, and one without your daily reading. You may be one of the readers who wait for years for me to offer you this — and now you can have it. Horoscope Lover membership gets you direct mailing of each day's reading, plus the weekly reading on Sunday night, and the monthly reading the last Thursday of the month. Sign up at this link.
with love,


Today is Wednesday, July 12, 2017
Hebrew date is 18 Tamuz 5777
Islamic date is 18 Shawwal 1438
Mayan Tzolk'in Day is 4 K'an
Mayan Long Count is 13.0.4.11.4
Julian Day is 2457947
Today's Birthdays: Claude Bernard (1813-1878), Henry David Thoreau (1817-1862), Eugene Boudin (1824-1898), George Eastman (1854-1932), George E. Ohr (1857-1918), Anton Arensky (1861-1906), George Washington Carver (1864-1943), Margherita Piazzola Beloch (1879-1976), Amedeo Modigliani (1884-1920), Buckminster Fuller (1895-1983), Oscar Hammerstein II (1895-1960), Pablo Neruda (1904-1973), Andrew Wyeth (1917-2009), Delia Ephron (1944), Cheryl Ladd (1951), Piotr Pustelnik (1951), Lee Byung-hun (1970), Kristi Yamaguchi (1971), Malala Yousafzai (1997).
"Not until we are lost do we begin to understand ourselves."
— Henry David Thoreau
Planet Waves FM: Toward An American Revolution
Madness is unfolding by the hour with the Trump campaign/administration's ties to Russia coming out into the open. We now know that campaign chairman Paul Manafort, Donald Trump Jr., and Jared Kushner all met with a representative of the Kremlin to talk about dirt on Hillary Clinton. Yet watching this slow-motion train wreck does not help us heal the world. The chaos that's leading to it is coming from somewhere, or something, and in tonight's edition, Eric tries to get at just what that something is. (Play this episode here.)
Moon Phase: Moon is in Full phase and enters Disseminating (waning gibbous) phase tonight at 8:07 pm PDT / 11:07 pm EDT (03:07:35 July 13 UTC).
Next New Moon is in Leo on July 23 at 2:45 am PDT / 5:45 am PDT (09:45:30 UTC).
Corresponding Full Moon in Aquarius is on Aug. 7 at 11:10 am PDT / 2:10 pm EDT (18:10:33 UTC).
Moon Sign: Moon is in Aquarius and enters Pisces today at 8:51 am PDT / 11:51 am EDT (15:51:17 UTC).
Sun Degree: 21 Cancer.
Planetary Stations and Sign Changes
Moon enters Pisces at 8:51 am PDT / 11:51 am EDT (15:51:17 UTC).
Interesting Selected Aspects | Data by Serennu
— Ceres opposite Orius at 7:00 am PDT / 10:00 am EDT (13:59:50 UTC).
— Sun conjunct Cyllarus at 3:49 pm PDT / 6:49 pm EDT (22:49:35 UTC).
— Mercury opposite Okyrhoe at 6:15 pm PDT / 9:15 pm EDT (01:14:43 July 13 UTC).
Subscribe to Planet Waves — sign up here | Visit Our Website at this link
If Your Birthday is July 12
(The Day of the Persuasive Presence) | Cancer Birthday Reading | All Other Signs
Always remember how important your friends are. Never burn a relationship just because you get offended for a second. In this world, all you really have is your life and the people who care about you. Once you find them, develop the relationship and never miss an opportunity to extend your goodwill. Strengthen the world by weaving community.
Written in the Planets
Although the Moon is waning, plenty of other astrology this week is high-energy or is urging a response of some kind. With the Sun and Mars in Cancer, emotionality is definitely part of the picture. Yet the Moon, ruler of Cancer, begins the day in Aquarius — a fixed air sign known for its emotional detachment, its stubbornness (thanks to traditional ruler Saturn) and its originality (thanks to modern ruler Uranus). Keep your antennae up for intuitive lightning bolts and let them energize you, rather than kicking up resistance related to 'what you're used to'. Once the Moon enters Pisces later today (see above for times), empathy, sensitivity and imagination may swim around a little more freely. If you're already feeling tender, know where you might need to shore up psychic boundaries or work to stay grounded.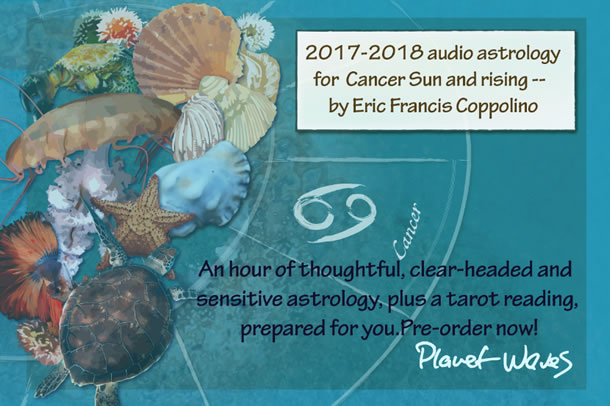 I've now completed your Cancer reading, which is infused with the energy of the Full Moon conjunct Pluto. I describe this in detail, taking it back to the beginning of Pluto in Capricorn. As the reading developed organically, it built up an intensity I was not expecting, ultimately describing the relationship between you and the very wide world that surrounds you.
The reading consists of two, 35-minute downloadable sessions. They can also be played on any device, or added to iTunes.
You will get instant access when you order this reading, which will be followed by a tarot card reading sometime in the next week to month. Here is an audio sample.
Thank you for trusting me as your astrologer.
lovingly,