The Only Thing Missing From This Almanac Is Your Daily Horoscope
Every day, you read the Four Winds report, to get a sense of the current energies. There's just one thing missing — your daily horoscope. Written for you, every day of the week, your Planet Waves daily horoscope is designed to give you the clue you need, that little edge to make your life go smoother.
One well-placed line from an astrologer can make all the difference in your life. We now have two editions of the Four Winds Report — one with, and one without your daily reading. You may be one of the readers who wait for years for me to offer you this — and now you can have it. Horoscope Lover membership gets you direct mailing of each day's reading, plus the weekly reading on Sunday night, and the monthly reading the last Thursday of the month. Sign up at this link.
with love,


Today is Tuesday, Aug. 8, 2017
Hebrew date is 16 Av 5777
Islamic date is 16 Zul-Qi'dah 1438
Mayan Tzolk'in Day is 5 Chuwen
Mayan Long Count is 13.0.4.12.11
Julian Day is 2457974
Today's Birthdays: Sara Teasdale (1884-1933), Ernest Lawrence (1901-1958), Paul Dirac (1902-1984), Sylvia Sidney (1910-1999), Mel Tillis (1932), Dustin Hoffman (1937), John Gustafson (1942-2014), Margaret Urban Walker (1948), Keith Carradine (1949), Diddu (1955), The Edge (1961), Kool Moe Dee (1962), Anastasia M. Ashman (1964), Joely Collins (1972), Roger Federer (1981).
"No one worth possessing
Can be quite possessed."
— Sara Teasdale, "Advice to a Girl", Strange Victory (1933)
Moon Phase: Moon is in Full phase and enters Disseminating (waning gibbous) phase on Aug. 11 at 5:39 am PDT / 8:39 am EDT (12:38:55 UTC).
Next New Moon is in Leo on Aug. 21 at 11:30 am PDT / 2:30 pm EDT (18:30:06 UTC).
Next Full Moon is in Pisces on Sep. 6 at 12:03 am PDT / 3:03 am EDT (07:02:43 UTC).
Moon Sign: Moon is in Aquarius and enters Pisces today at 2:56 pm PDT / 5:56 pm EDT (21:55:45 UTC).
Sun Degree: 16-17 Leo.
Planetary Stations and Sign Changes
Moon enters Pisces at 2:56 pm PDT / 5:56 pm EDT (21:55:45 UTC).
Interesting Selected Aspects | Data by Serennu
— Mercury trine Pallas at 9:37 pm Aug. 7 PDT / 12:37 am EDT (04:37:28 UTC).
— Vesta trine Chariklo at 12:17 am PDT / 3:17 am EDT (07:17:16 UTC).
— Sun square Deucalion at 10:53 am PDT / 1:53 pm EDT (17:52:56 UTC).
— Venus opposite Chariklo at 8:37 pm PDT / 11:37 pm EDT (03:37:39 Aug. 9 UTC).
This Week's Horoscope for Leo by Eric Francis Coppolino
Monday there is an eclipse of the Moon in the angle of your chart that describes your relationships, and the environment that surrounds you. Suddenly it seems that environment is changing in significant ways. Mostly this will come in the form of letting go of old friends and getting some new ones. It's essential to go through this every once in a while, especially if your goals, your sense of purpose, or your idea of who you are becoming are changing. Essentially, you need friends who are not threatened by your willingness to change and grow. There's no way to overstate this necessity. You are indeed evolving rapidly; and having people around you who in some way object or are made nervous by that fact is a perfect way to thwart your own progress. If someone really cares about you, they will honor your need to grow.
You may read all 12 signs here.
Subscribe to Planet Waves — sign up here | Visit Our Website at this link
If Your Birthday is Aug. 8
(The Day of the Roleplayers) | Leo Birthday Reading | All Other Signs
Financial matters will take on a new level of spiritual significance. You might say that money is the meaning of life, but not in the way that most people think. Your resources are a vehicle for your most sincere intentions, and you must become a master of them. Doing the right thing is more important than personal gain, though both are possible at once.
Written in the Planets
Plan deliberately. That is, go step-by-step, and with a firm grasp on what already exists in some concrete way, and what is currently physically possible because of that. Listen to the wisdom of your body — such as your energy level when you think of certain tasks; any weird sensations when you encounter something you're not 100% on board with; physical signs of stress or excitement. Mercury in Virgo is slow and powerful, preparing to station retrograde on Friday. Today it makes a trine to Pallas in Taurus. The more tangible your sources of wisdom and strategy, the more stability you create for your thought process as you move forward from yesterday's lunar eclipse.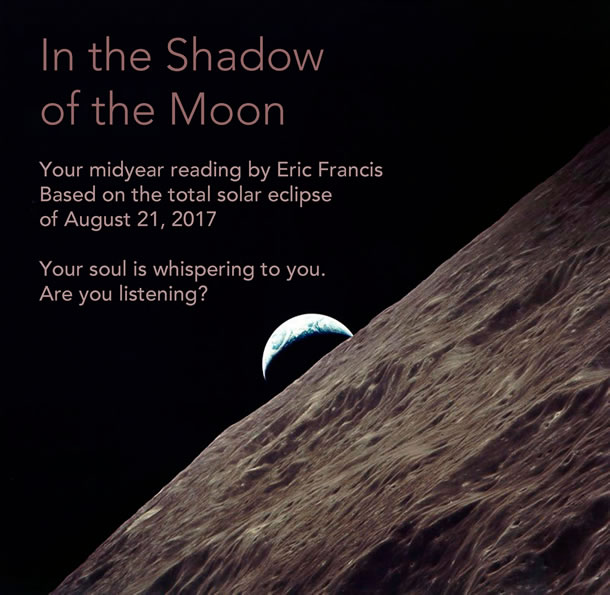 In the Shadow of the Moon, the exciting 2017 Midyear Reading by Eric Francis, has just been published. The video readings for all 12 signs cover the Great American Eclipse of Aug. 21 and well beyond. We'll be increasing the price again very soon, so don't hesitate to
order your copy here
. You can also now choose your
individual signs here
.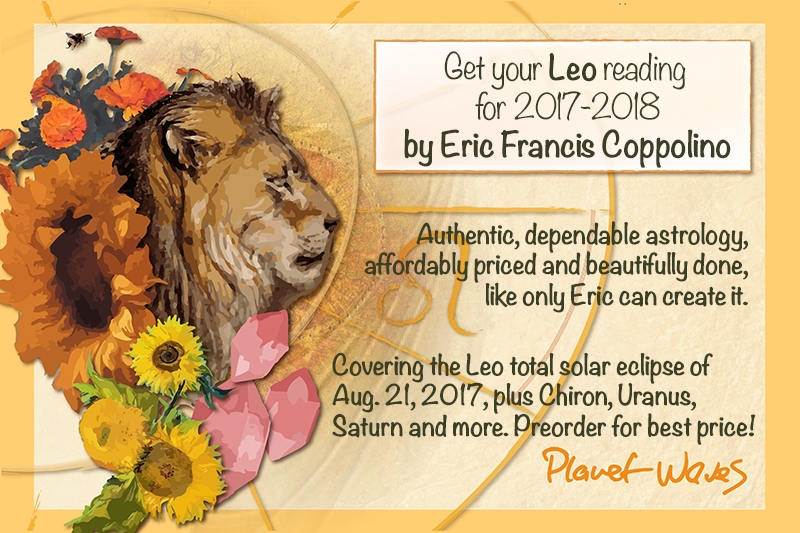 "I have just listened to your Part 1 and Part 2 readings and I am amazed at how accurate it has been. Like you have a telescope watching me shed a skin and transform into a totally changed person in the last 10 years."
— Pauline Jones
If you have a Leo Sun, rising sign or Moon, how are you feeling about your vision for your life, and in what ways are you ready to take action toward it? With a partial lunar eclipse on Monday in your opposite sign Aquarius (your relationship sign), the door opens to one stage of potential transition. In two weeks, on Aug. 21, a total solar eclipse in Leo signals the second stage of whatever life-shifting process you're engaged with.
The reverberations from these two eclipses will keep rippling out and developing through the next six to twelve months — and Eric's 2017-18 Leo Birthday Reading is designed to guide you through it all.
"The past few years have been very difficult on many levels and it has been the readings I get through you that keep me going. Always, absolutely right on, every one of them."
— Rhonda