The Only Thing Missing From This Almanac Is Your Daily Horoscope
Every day, you read the Four Winds report, to get a sense of the current energies. There's just one thing missing — your daily horoscope. Written for you, every day of the week, your Planet Waves daily horoscope is designed to give you the clue you need, that little edge to make your life go smoother.
One well-placed line from an astrologer can make all the difference in your life. We now have two editions of the Four Winds Report — one with, and one without your daily reading. You may be one of the readers who wait for years for me to offer you this — and now you can have it. Horoscope Lover membership gets you direct mailing of each day's reading, plus the weekly reading on Sunday night, and the monthly reading the last Thursday of the month. Sign up at this link.
with love,


Today is Wednesday, Aug. 16, 2017
Hebrew date is 24 Av 5777
Islamic date is 24 Zul-Qi'dah 1438
Mayan Tzolk'in Day is 13 Kawak
Mayan Long Count is 13.0.4.12.19
Julian Day is 2457982
Today's Birthdays: Arthur Cayley (1821-1895), Gabriel Lippmann (1845-1921), Mary Gilmore (1865-1962), T. E. Lawrence (1888-1935), Fess Parker (1924-2010), Charles Bukowski (1920-1994), Ann Blyth (1928), Diana Wynne Jones (1934-2011), Robert Squirrel Lester (1942-2010), Kevin Ayers (1944-2013), Bob Balaban (1945), James "J.T." Taylor (1953), James Cameron (1954), Angela Bassett (1958), Madonna (1958), Steve Carell (1962), Emily Robison (1972), Bob Hardy (1980), Arden Cho (1985), Evanna Lynch (1991).
"Don't put limitations on yourself. Other people will do that for you. Don't do that to yourself. Don't bet against yourself. And take risk. NASA has this phrase that they like, 'Failure is not an option.' But failure has to be an option. In art and exploration, failure has to be an option. Because it is a leap of faith. And no important endeavour that required innovation was done without risk. You have to be willing to take those risks."
— James Cameron
Planet Waves FM | This is Now: Total Eclipse of the Sun
In tonight's edition of Planet Waves FM [play episode here], Eric surveys the world as we approach Monday's total solar eclipse. However, we also travel back in time to August 1999, when a comparable event was approaching: the infamous grand cross total solar eclipse of Aug. 11 that year. For many reasons, they are comparable times in history: the anger, the nuclear issues, the influence and impact of the internet.
Moon Phase: Moon is in Last Quarter phase and enters Balsamic (waning crescent) phase on Aug. 18 at 2:50 am PDT / 5:50 am EDT (09:50:22 UTC).
Next New Moon is in Leo on Aug. 21 at 11:30 am PDT / 2:30 pm EDT (18:30:06 UTC).
Next Full Moon is in Pisces on Sep. 6 at 12:03 am PDT / 3:03 am EDT (07:02:43 UTC).
Moon Sign: Moon is in Gemini and enters Cancer on Aug. 17 at 9:13 am PDT / 12:13 pm EDT (16:12:53 UTC).
Sun Degree: 24-25 Leo.
Planetary Stations and Sign Changes
No changes today.
Interesting Selected Aspects | Data by Serennu
— Sun trine Eris at 4:55 am PDT / 7:55 am EDT (11:55:30 UTC).
— Sun conjunct True Node at 3:12 pm PDT / 6:12 pm EDT (22:12:10 UTC).
— Mars square Echeclus at 4:21 pm PDT / 7:21 pm EDT (23:21:02 UTC).
Subscribe to Planet Waves — sign up here | Visit Our Website at this link
If Your Birthday is Aug. 16
(The Day of High Voltage) | Leo Birthday Reading | All Other Signs
Your current heading is close to the direction you need to be going. You only have to make minor adjustments, based mostly on feeling than on some detailed thought process. The main thing you need to tweak is making sure that you have multiple sources of income rather than just one or two. You serve many purposes; this will be easier than you think.
Written in the Planets
Today the Leo Sun makes a grand fire trine with Eris in Aries and Ixion in Sagittarius. Even though it looks more like a 'triangle of fire' than a 'ring of fire', the principle is the same; and it's up to you not to burn out of control. A few things look like they will help you light your spark constructively. One is to remember that no matter how tempting it might be to use subterfuge or provoke others to attain a goal, that's not how true leadership works — and it's not very compassionate or heart-centered behavior. Lest you think you could never be so tempted, Ixion is a reminder that anyone is capable of anything. The second thing is to remember that we each have our own personal 'sword of Damocles' above our heads, and abusing power is a sure way to meet it. Finally, let yourself be pushed by your deeper healing goals. Using those tools takes more work than what might feel like 'the easy way' today, but it's worth it. Always.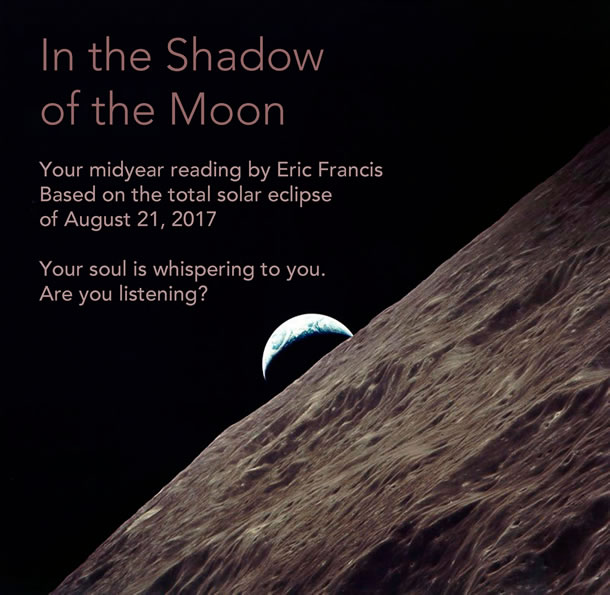 In the Shadow of the Moon, the exciting 2017 Midyear Reading by Eric Francis, has just been published. The video readings for all 12 signs cover the Great American Eclipse of Aug. 21 and well beyond. We'll be increasing the price again very soon, so don't hesitate to
order your copy here
. You can also now choose your
individual signs here
.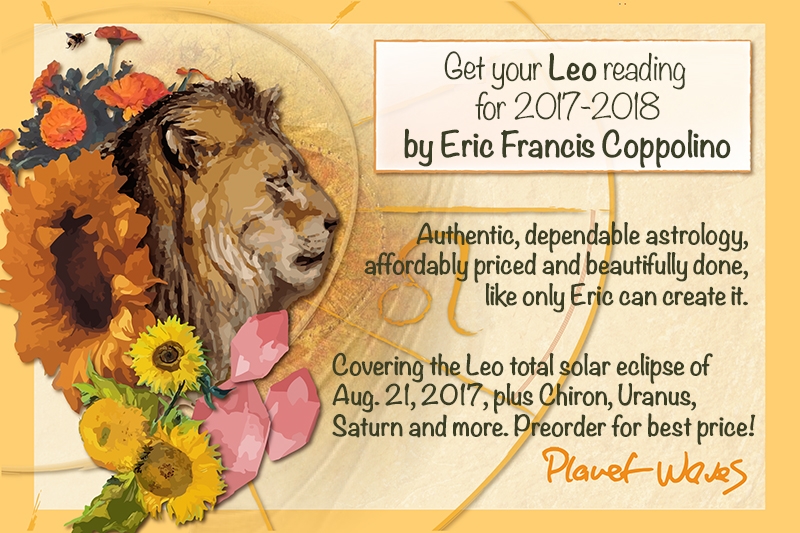 To the Leo Eclipse and Beyond!
On Aug. 21, a total solar eclipse in Leo signals the second stage of whatever life-shifting process you're engaged with.
This is a unique year for you, Leo. In addition to the current eclipses (and the double New Moons in your sign), your birthday reading will cover such astrological heavyweights as Chiron finishing up its journey through your 8th house; ever-surprising Uranus; and Saturn leaving your fellow fire sign, Sagittarius — plus more.
Are you navigating changes in your relationships or family paradigm? Do you find yourself at a career crossroads? Are you seeking clarity, encouragement and new perspectives on your creativity, self-esteem, sexuality or healing process? You'll find ideas and reassurance in this reading.
"I have just listened to your Part 1 and Part 2 readings and I am amazed at how accurate it has been. Like you have a telescope watching me shed a skin and transform into a totally changed person in the last 10 years."
– Pauline Jones
Your reading is now priced at $44; so you'll want to order your 2017 Leo Reading very soon. This reading is designed to work for anyone with Leo Sun, Leo rising and even Leo Moon — and makes an amazing gift.