Democracy Now! — Thursday, March 10, 2016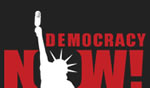 Ahead of the Florida primary elections, one of the most important in the country, Sanders and Clinton squared off after Sanders defeated Clinton in a surprise outcome in Michigan.
We are honored to offer this broadcast as part of our affiliation with the Pacifica Network.