Welcome to Planet Waves. Our memberships, readings and classes are designed to give you the ability to inform and empower yourself, and to find healing and help where you need it most. Please feel free to browse, research samples and enjoy our open content. If you have any questions, you may reach us by email at
cs@planetwaves.net
. We are always happy to help.
With love from the Planet Waves staff.
---
Featured | In the Shadow of the Moon: Your 2017 Midyear Reading by Eric Francis
News events the past month have demonstrated that the Great American Eclipse has had a global effect, and a profound impact on the United States — and that's apparently not over. This same astrology is having many personal effects as well, shaping your life and presenting you with challenges and options.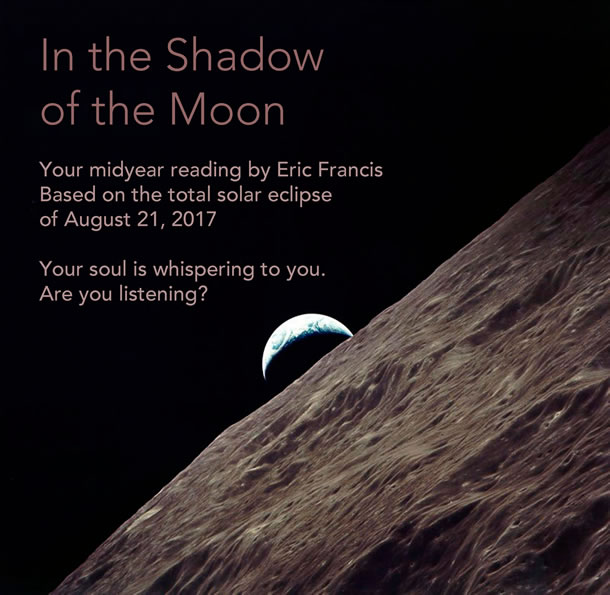 We have an easy-to-use tool that will help you suss out what those influences are about: this includes both the eclipse and forthcoming transits extending well past 2018.
Astrology happens.
When you have an understanding of its meaning, you're at a distinct advantage.
When you don't know, information that could help you is not available. That's why Eric works so diligently to make astrology clear, easy to follow and easy to apply to your life.
If you have not yet purchased Eric's Midyear Reading for 2017 — In the Shadow of the Moon — you may find that it's exactly what you're looking for. It may even be just the thing you had no idea you needed — especially if you thought this set of readings for the 12 signs was only about the recent eclipse. It is not. The 2017 Midyear Reading looks into the next few months and even into 2018 — outlining the major planetary sign changes coming up and what that means for you.
Chiron will be exiting Pisces and entering Aries; Saturn bids adieu to Sagittarius and comes 'home' to Capricorn; and Uranus will leave Aries behind and light up Taurus for a few years. No matter what your Sun, Moon or rising sign might be, these shifts to the astrological landscape will have a specific impact in your life.
So what are you waiting for? Louis Pasteur wrote that fortune favors the prepared mind; when you prepare your heart and soul at the same time with the 2017 Midyear Reading by Eric Francis, the door of opportunity tends to open that much wider.
This reading is now available for instant access to all 12 signs. You may order the full reading here or choose your individual signs here.
Note:
If you're a Backstage Pass or Galaxy Pass holder, this reading is included with your membership. If you would like to make a token contribution toward the project,
you may use this form
. This is not a purchase — it's a donation. Thank you for your generosity.
---
Latest Birthday Readings for Your Sign
Superb, relevant, thorough astrology for the price of a restaurant meal
| | | |
| --- | --- | --- |
| Leo 2017-18 Birthday Reading | Virgo 2017-18 Birthday Reading | Libra 2017-18 Birthday Reading |
| You knocked it outta the park with this reading. I can't wait to go over it again. Every time it seems that you understand the energies at such depth. Bravo. — Cat | I don't think I have read anything so achingly beautiful in my whole life as this Virgo reading. Masterpiece! Much GRATITUDE. Big LOVE. — Rev. Jody Lotito Levine | I feel Eric has an amazing gift and I am extremely fortunate to be the receiver of this information. It felt that Eric was talking directly to my soul. — Rebecca Blessing |
---
Seasonal 12-Sign Readings by Eric Francis
| | |
| --- | --- |
| 2017 Annual: The Book of Your Life | INVOLUTION: 2017 Spring Reading |
| | |
| --- | --- |
| | |
| The same astrology that is scattering the sense of what a person is, is also taking us to a deeper level, one where we can recall our wholeness of character and integrity of spirit. Eric's intention as reader of the planetary patterns and author of your reading is to remind you of the beauty of existence, of your deepest sense of purpose, and to speak directly to your core being. | Revolution is in the air, but a little something seems to be missing: introspection. The electronic environment is sucking everything down the digital drain. Yet the same aspect that describes this — the rare and rebellious Uranus-Eris conjunction — also describes the potential for profound personal reinvention. The revolution is within, and INVOLUTION is your guide. |
---
Astrology and More — Classes with Eric Francis
I have recently become more inspired to pursue and study astrology more seriously. When I saw Eric would be teaching a class on retrogrades, I knew that he would more than likely be the best source for this knowledge. [And he was!!] Thank you Eric for continuing to have these classes! They are wonderful.
— Stacey Katz
You can now order any of Eric's classes, past or present, using the links below — either as bundles or by themselves. The most recent class was Business, Finance and Astrology, which took place Saturday, June 3. You may order that here.
All classes include a full recording of the session, a thorough and informative resources page, and an opportunity to continue the discussion once the class is over.
---
I'm proud (yet humbled too, if that makes sense) to be a member of the Planet Waves community. You can not pay enough anywhere for the quality — and quantity! — of astrological journalism found at Planet Waves. I devour everything; because of it the world and my own universe makes more sense. I've been a student of astrology for more than four decades, yet every day I learn something new and important on PW. — Lesley Doetsch Phillips
| | |
| --- | --- |
| | The Horoscope Lover membership is our most basic level, available on a monthly recurring basis or for one year. That gets you the Monday Morning Horoscope, Planet Waves FM and the Thursday full edition by email, with limited access to the website — as the name suggests, useful if you're mainly interested in the horoscopes. |
| | Our standard membership is the Core Community Membership. This gets you the Monday Morning Horoscope, Planet Waves FM and the Thursday full edition by email; plus unlimited access to the website and archives. Sign up for one year or six months, or on a monthly recurring basis. |
| | The Backstage Pass gets you everything under the Core Community Membership, plus all 12 birthday readings and the Spring and Midyear reports, and discounts on everything else. Backstage Pass and above gets priority on personal consultations with Eric. You can sign up for one year, or on a quarterly or monthly recurring basis. |
| | Finally, we have the Galaxy Pass. This is our VIP membership for serious investors; a special all-inclusive package that gets you unlimited access to all Planet Waves materials, plus $150 consulting credit and privileged, personal contact with Eric and the team. You can sign up for one year, or on a quarterly or monthly recurring basis. |