Welcome to Planet Waves. Our memberships, readings and classes are designed to give you the ability to inform and empower yourself, and to find healing and help where you need it most. Please feel free to browse, research samples and enjoy our open content. If you have any questions, you may reach us by email at
cs@planetwaves.net
. We are always happy to help.
With love from the Planet Waves staff.
---
Featured | In the Shadow of the Moon: Your 2017 Midyear Reading by Eric Francis
On Monday, Aug. 21, 2017, the Moon will pass in front of the Sun, blocking the Sun and casting a shadow over the Pacific Ocean. As the Moon moves and the Earth turns, the shadow will pass just south of Portland, Oregon, traveling southeast, reaching maximum intensity near Memphis, Tennessee, passing through South Carolina and then out into the Atlantic.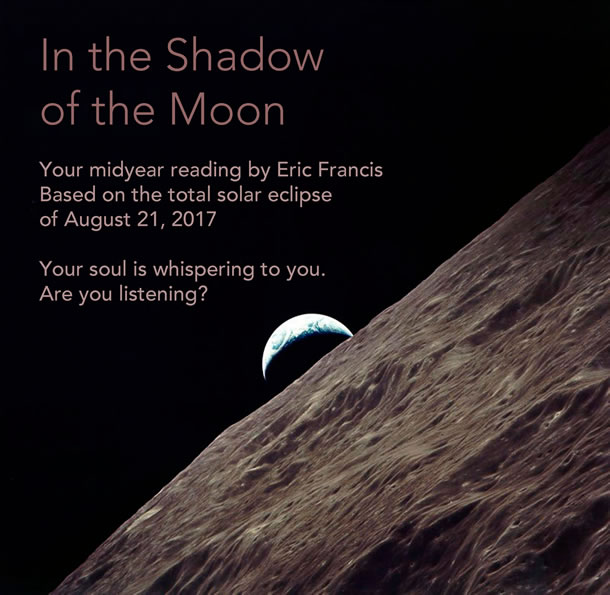 This is the first eclipse to touch both coasts of the United States since 1918, though that one had maximum intensity over the Pacific Ocean south of Alaska, not on land.
The Aug. 21 event will be the first eclipse to make landfall exclusively in the United States dating back to 1776. In that sense, it's an unprecedented event, arriving at an unprecedented time in U.S. history.
Everyone paying attention knows that our nation needs some kind of shift. We need healing. Some think it has to be political, others spiritual, others social and economic. There are many different notions regarding in what direction these changes need to go. That might be the one thing that all sides agree on: change is necessary.
In astrology, eclipses represent watershed events. They can arrive with sweeping changes, and represent before and after moments.
This works personally, and it works collectively — and it's especially true for the place where the individual and the collective intersect.
Said another way, eclipses represent collective events that can have deep personal influence. They represent change. And with the shadow falling across the United States, change is imminent. It's an open question what kind of change we get, and what kind we create.
This reading is now available for instant access to all 12 signs. You may order the full reading here or choose your individual signs here.
Note:
If you're a Backstage Pass or Galaxy Pass holder, this reading is included with your membership. If you would like to make a token contribution toward the project,
you may use this form
. This is not a purchase — it's a donation. Thank you for your generosity.
---
Latest Birthday Readings for Your Sign
Superb, relevant, thorough astrology for the price of a restaurant meal
| | | |
| --- | --- | --- |
| Gemini 2017-18 Birthday Reading | Cancer 2017-18 Birthday Reading | Leo 2017-18 Birthday Reading |
| I've been proud to commend you to friends and family, several of whom now subscribe. Keep up the fine work and long may it spread and grow. It means so much to us all. — Phil Brachi | What an amazing reading! I do believe that Eric upped the ante on his reading skills for this Cancer birthday reading. It is insightful, intuitive, spiritual, and practical. — Dee McCrorey | You knocked it outta the park with this reading. I can't wait to go over it again. Every time it seems that you understand the energies at such depth. Bravo. — Cat |
---
Seasonal 12-Sign Readings by Eric Francis
| | |
| --- | --- |
| 2017 Annual: The Book of Your Life | INVOLUTION: 2017 Spring Reading |
| | |
| --- | --- |
| | |
| The same astrology that is scattering the sense of what a person is, is also taking us to a deeper level, one where we can recall our wholeness of character and integrity of spirit. Eric's intention as reader of the planetary patterns and author of your reading is to remind you of the beauty of existence, of your deepest sense of purpose, and to speak directly to your core being. | Revolution is in the air, but a little something seems to be missing: introspection. The electronic environment is sucking everything down the digital drain. Yet the same aspect that describes this — the rare and rebellious Uranus-Eris conjunction — also describes the potential for profound personal reinvention. The revolution is within, and INVOLUTION is your guide. |
---
Astrology and More — Classes with Eric Francis
I have recently become more inspired to pursue and study astrology more seriously. When I saw Eric would be teaching a class on retrogrades, I knew that he would more than likely be the best source for this knowledge. [And he was!!] Thank you Eric for continuing to have these classes! They are wonderful.
— Stacey Katz
You can now order any of Eric's classes, past or present, using the links below — either as bundles or by themselves. The most recent class was Business, Finance and Astrology, which took place Saturday, June 3. You may order that here.
All classes include a full recording of the session, a thorough and informative resources page, and an opportunity to continue the discussion once the class is over.
---
I'm proud (yet humbled too, if that makes sense) to be a member of the Planet Waves community. You can not pay enough anywhere for the quality — and quantity! — of astrological journalism found at Planet Waves. I devour everything; because of it the world and my own universe makes more sense. I've been a student of astrology for more than four decades, yet every day I learn something new and important on PW. — Lesley Doetsch Phillips
| | |
| --- | --- |
| | The Horoscope Lover membership is our most basic level, available on a monthly recurring basis or for one year. That gets you the Monday Morning Horoscope, Planet Waves FM and the Thursday full edition by email, with limited access to the website — as the name suggests, useful if you're mainly interested in the horoscopes. |
| | Our standard membership is the Core Community Membership. This gets you the Monday Morning Horoscope, Planet Waves FM and the Thursday full edition by email; plus unlimited access to the website and archives. Sign up for one year or six months, or on a monthly recurring basis. |
| | The Backstage Pass gets you everything under the Core Community Membership, plus all 12 birthday readings and the Spring and Midyear reports, and discounts on everything else. Backstage Pass and above gets priority on personal consultations with Eric. You can sign up for one year, or on a quarterly or monthly recurring basis. |
| | Finally, we have the Galaxy Pass. This is our VIP membership for serious investors; a special all-inclusive package that gets you unlimited access to all Planet Waves materials, plus $150 consulting credit and privileged, personal contact with Eric and the team. You can sign up for one year, or on a quarterly or monthly recurring basis. |