To see a World in a Grain of Sand
And a Heaven in a Wild Flower,
Hold Infinity in the palm of your hand
And Eternity in an hour.
— William Blake (from "Auguries of Innocence")
The big picture of astrology right now is that the big picture is changing. We are in a relatively long transitional phase for the sky, and probably for your life as well. The extended transition will consist of a succession of smaller tableaus and shorter periods. Each are somehow related to, even may possibly contain, the big picture on a smaller scale.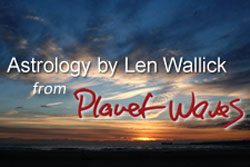 Implicitly then, one way to deal successfully with a larger issue or a longer period now is to break it down. The indicated protocol is to take one thing at a time, each at its appropriate time.
Fortunately, astrology appears to have emblematically broken things down for you, at least in time. Longer timeframes have recently defined themselves more clearly, and each contains a shorter transitional period within. 
Currently, one of the longest well-defined timeframes in astrology has to do with Uranus and Pluto. For years on end, Uranus in Aries alternated retrograde periods with Pluto in Capricorn so as to return to precisely 90 degrees of separation (the definition of a square aspect) seven times. This particular series of square aspects gets part of its meaning because it follows the conjunctions of Uranus and Pluto, which shared the same degree of Virgo three times about 50 years ago during the eventful transitions of the 1960s. 
Well before and between their seven exact squares over the last several years, the angular relationship from Uranus to Pluto remained close enough to precision to be considered functionally continuous. That continuity has been astrology's big picture for this decade so far, manifested in the big picture of what has changed for you and how those changes have tracked with what has been going on in the world at the same time. 
As of today, the square from Uranus to Pluto is still exact to the degree, and will arguably remain functional for a couple years more. Nonetheless, a point of no return to any further precise square aspects has been reached. That is how it's not the end of an era — not yet. It's the beginning of a transition from one era to the next, a signal for you to commence in kind.
Within the transitional period from one era to the next implied by Uranus and Pluto, Saturn is now in the midst of taking months on end to transition from a long continuous time in Scorpio to a long continuous period in Sagittarius.
As was the case with Uranus and Pluto remaining in continuous square aspect for so long, Saturn's change of sign is being prolonged by a retrograde. Even now, apparent reverse motion is taking Saturn back to Scorpio for a short visit after the first of two incursions into Sagittarius.
Since Saturn correlates with form, order and structure, there is the implication that the new historical era the world is transitioning into (following the last of the Uranus-Pluto squares) is in the process of defining itself while Saturn oscillates back and forth between signs. This indicates that redefining who you are is the key to transitioning from one era of your life to the next.
During the prolonged period Saturn will require to finally begin more than two continuous years of residence in Sagittarius, the Sun will move through several seasons, breaking the process of gradual transition down even more. You should therefore take each new season as a step toward redefinition.
Finally, concurrent with the most recent change of season (on March 20), you entered what will probably be an eventful transitional period for consciousness. It began with last Friday's conjunction of Sun and Moon for a total solar eclipse, and ends with a total lunar eclipse when the Sun and Moon oppose on April 4. Hence, the first step toward redefining yourself should begin by somehow raising the level of your consciousness.
Breaking the journey between eclipses down further is what distinguishes this first week in that period. There are two astrological events this week bracketing what issues you should be dealing with now, so as to better grasp and deal with larger issues of longer duration. One event is near the beginning of the week, the other near the end.
Amanda Painter broke the first event down for you in her column yesterday: the Pisces conjunction of Mercury and Chiron.
As Amanda delineated, Mercury briefly sharing the same degree of Pisces with Chiron earlier this morning carries specific implications about what you believe about yourself and where those beliefs come from. Since Mercury's apparent motion is relatively fast right now, it would be appropriate for you to be both mindful of what you have been conditioned to believe and willing to move on from it. Thus, rising to a new level of consciousness requires you to first let go of the old level.
The event near the end of the week — the lunar first quarter this coming Friday — symbolically illustrates what releasing any attachments to conditioning would entail.
Every first quarter Moon is the template for any separation of 90 degrees following a conjunction. That would include the currently transitioning square from Uranus to Pluto. Looking at things that way, you could fairly say that the lunar first quarter this coming Friday represents the proverbial grain of sand, in which you could find much of this entire decade broken down into one relatively small and more manageably scaled event.
As it has been since the season changed following the total solar eclipse last Friday, the Sun will be in Aries for this coming Friday's lunar first quarter. The Sun in Aries (where it is exalted) implies all forms of conscious declaration that begin with the phrase "I am."
The Moon, in turn, will be 90 degrees away in Cancer for the lunar first quarter as this week draws to a close. The Moon in Cancer (where it rules) represents all forms of emotional assertion that begin with the phrase "I feel."
The separation of 90 degrees between a conscious declaration of what you are and an an emotional assertion of how you feel indicates tensions between the two. As is always the case with square aspects, that tension can only be resolved by action. In this case, that means acting to release any emotional attachments to what you are so as to transition to something else.
In other words, set yourself free. It's a small thing. It's a brief moment. Nonetheless, in such small things new worlds are conceived. In such brief moments eternity is found.
So there's the gist of your astrology this week. To see heaven implied in the wild flowering of a new season and to realize (make real) the infinity a mortal hand can hold.
You can do it. It's the reason you are here now. No action will be too small so long as it is conscious. No effort will be wasted so long as it is made anew.
Offered In Service                      
Len is available for astrology readings. You can contact him at lenwallick [at] gmail [dot] com.