Dear Friend and Reader:
People are in shock. I've been communicating with friends and readers in my community, and online, and that's the prevailing emotion. You might want to take a dose of arnica and let that guide you back into your body as you regain your composure.
Depending on one's level of political sophistication, and intuition, and sensitivity to history, you may understand the nature of the predicament we are in.
There has been yet another coup by the political right wing in the United States. This is not any kind of new trend. It keeps happening. Every last shock event ends up pushing the country deeper into the political right.
Now, with all three branches of government about to be in the hands of this new Republican "big tent" coalition, as diverse as a Knights of Columbus lodge meeting, there are no checks and there are no balances as the framers of the Constitution intended them. I guess a few senators could put holds on various laws and nominations, but that's not very powerful. Bernie Sanders and Elizabeth Warren can take turns reading from the phone book for four years. That might do it.
Conservatives should be happy. Against all odds, your candidate won, and won both houses of Congress. If all goes according to plan, the Supreme Court will be a conservative institution for yet another generation.
We've already seen the gradual tearing down of many protective barriers once put in place by previous generations: on voter rights for blacks in the south, reproductive rights for women everywhere, on corporate involvement in politics, on sane concepts of gun regulation, and on and on.
I get that there are political views other than my own. I also get that one of those views is that there is no balance necessary: that one viewpoint can and must be the dominant one, in all instances. This view holds that there's no room for compromise, and that compromise is unacceptable and even dangerous. Those willing to compromise have it used against them as a weapon.
Meanwhile, we're about to have a climate change denier as head of the EPA — right in the moment when we need to act, as individuals and as a society, against an actual global threat. We are about to have a Supreme Court that knows they better get a move on and knock down Roe v. Wade while they have a chance.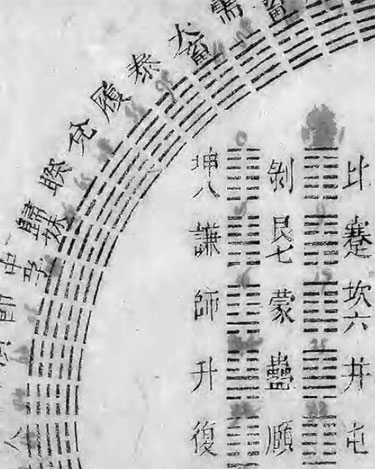 Sample of old rendering of the I Ching.
The police are already too powerful, and too many people are getting shot. There are already too many guns, and too-easy access to guns. Press freedom is undermined not so much by government action but rather by corporate policy, which is not covered in the Constitution. Corporations are already too powerful, and a scant few now control 90% of what you see, hear and read, everywhere from your Facebook feed to the billboards along your local highway.
We have a guy with direct ties to Russia being briefed in all of the deepest military and espionage secrets of the United States. I assume that they'll reveal one thing I'm aware the new president is briefed on, which is the UFO situation. Maybe Trump will tweet about Roswell and we'll finally have some fun.
The fact that any political candidate lost the "popular vote," meaning the actual vote, and will not only take office but head a government where there are no checks and no balances, is a serious problem. I don't care who that candidate, or now president-elect, is. A president who did not receive the most votes has no moral obligation to the people he or she supposedly serves.
The viewpoint that there should be checks and balances, contrasted with there being one group in charge of everything, are not equivalents. Not moral, legal, social, logical, or any other kind of equivalents. The first job of any open society is to protect the rights of the minority viewpoint, because the majority viewpoint (or the one in power) does not need protection. It already has the power. And now it's about to have the power in extraordinary concentration at a truly sensitive time in history.
If nothing else, we have a potential moment of awakening, or moment of clarity, as it's called in AA. We have hit a political bottom. Yes, the winners do not think so — though they have merely bought a product. They have not unwrapped it yet to see what's inside.
For those who are awakening, It's time to throw off the grogginess of early morning, and to get sober about the challenges we face. If you are a conservative, and you're happy about what has happened, I reckon you may need as much soul searching as anyone else.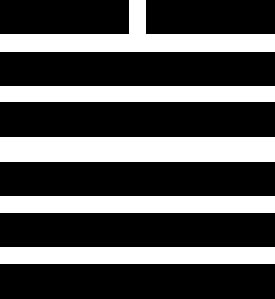 Hexagram 43 is composed of two trigrams: above TUI, the Joyous, Lake, and below, CH'IEN, the Creative, Heaven. What is interesting is that water is seeming to float above heaven, though this also describes how below every lake is the Earth and below the Earth, more of the heavens.
If you believe in the United States of America, and you believe in its ideals and its Constitution, what future do you see for your society, and what, to you, is the meaning of freedom?
One of my editors tonight asked, "Part of the problem is there seems to be so much that has to change on all sorts of issues it's like being faced with a room full of clutter. You have to start somewhere — but where?"
We start with ourselves, and the people closest to us. No matter how much shock you're in, it will help if you listen. You're not going to change anyone's mind, so you may as well not waste your energy. It will be better spent inviting people to unravel their complaints. Yes, you may be listening to people who just won the big prize — total control of government — and are still unhappy. You may have plenty to say back to them. Instead, you might ask their vision for society, and for their own lives. Be patient, and remember what you hear.
You are now in that moment where you get to choose whether you're going to be part of the solution. Give yourself a chance to grieve, and take some responsibility for how we got here. Then I suggest you commit to the long haul. Think of how we're going to get information and skills into the hands of millennials and their kids.
I'll handle the Full Moon below in a separate item. For this letter, I will leave you with the wisdom of the I Ching, from Hexagram 43: Breakthrough-Resoluteness.
In a resolute struggle of the good against evil, there are, however, definite rules that must not be disregarded, if it is to succeed. First, resolution must be based on a union of strength and friendliness. Second, a compromise with evil is not possible; evil must under all circumstances be openly discredited. Nor must oour own passions and shortcomings be glossed over. Third, the struggle must not be carried on directly by force. If evil is branded, it thinks of weapons, and if we do it the favor of fighting against it blow for blow, we lose in the end because thus we ourselves get entangled in hatred and passion. Therefore it is important to begin at home, to be on guard in our own persons against the faults we have branded. In this way, finding no opponent, the sharp edges of the weapons of evil becomes dulled. For the same reasons we should not combat our own faults directly. As long as we wrestle with them, they continue victorious. Finally, the best way to fight evil is to make energetic progress in the good.
Catch you Tuesday.
Yours in friendship,