New! Audio on how these readings work, and about the solar house system.
Dear Friend and Reader:
Vision Quest is my 2016 annual astrology reading, covering all of the signs and rising signs. The written interpretations were published two weeks ago, and the audio readings are now well underway.
What is different about this year's annual is the time I'm taking to do it. I retooled the schedule, allowing myself two months to write the chapter-length, book-quality readings that just published. Now, I'm taking the month of January to do the audio interpretations, which go deeper into the astrology, covering additional topics and adding new insights.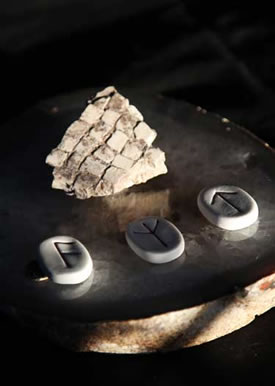 Sample rune reading from Vision Quest.
I'm also offering an artifact/rune reading for each of the signs, which takes us off the grid of astrology and into a more primal realm of symbolism. I am using tools such as power animals, minerals and ancient artifacts to illustrate and elaborate these recordings. All art will be presented with a high-resolution option for printing as an altar piece or background screen.
All of the audio readings come with custom-created music by the Vision Quest ensemble, and those who purchase all 12 signs get a double CD download included free. These tracks include meditation music, drum grooves and ambient music.
No matter how many online readings you've had, you will discover that this work exceeds them all, in quality, texture and relevance of theme.
Vision Quest is not so much Sun-sign readings as it is a set of contemporary, immediately relevant spiritual tools, based solidly in astrology.
Taken together, the project is like a weekend-long workshop with a book-length volume of writing to go with it (5,000 words per sign), complete with original art and music. It is designed to be imbibed slowly, and to have lasting relevance.
I cover aspects into 2017, though more accurately they address a key turning point in personal and social history. I'm aware from many reader comments that readings in this 17-year series have a perennial quality, lasting for years. If you want to experiment with that, you may travel back in time and explore all of the prior editions at no cost.
How am I able to do your readings without your natal chart? Ahhh, that's something of a mystery. Let's say that I've found a way into astrology that bypasses the natal chart and goes to the level of collective soul.
Reader comments on the 2016 readings have been extraordinary and heartfelt.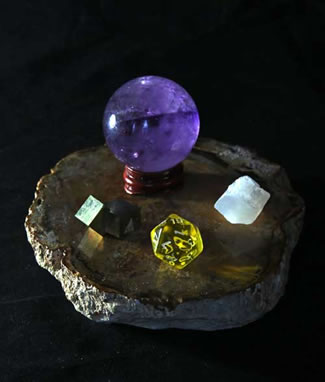 Symbols come in many forms, including numbers, shapes and minerals. These help expand the story told by astrology. All photos will have a high-res option.
D.H. wrote in recently, "I am an Aries with Cancer rising and a Gemini moon, and I have to say that the Cancer reading resonates very, very strongly with me (I have not yet enjoyed the Gemini reading)."
She continued, "Thank you, Eric, for helping with the order/chaos and leadership themes. I do feel that this Cancer reading was written specifically for me. I am still working on integrating it with the Aries reading, but I suspect that is what the journey is about at this point in my life. Maybe I will have to call on you at some point for a personalized reading once you get all the audio files done and have a well-earned rest."
Dorothy Rodriguez wrote, "Eric, your gifts are priceless to me. Everything you wrote immediately resonated within and opened me to lay claim to needed changes and so much more."
She continued, "You've created this beautiful model with your annuals: the readings, art and music — loved it all and deeply moved by the impact of it. Really looking forward to the audio/artifact readings! Sure to be a treasure to turn to again and again. Thank you, Eric, for your work, and to all of your staff who help to bring such insight, beauty and guidance every day."
Anna Marie wrote to me and said, "I just finished listening to your reading, teaching the solar house system, and re-reading the Vision Quest for Gemini. All I can say is I am so stoked. Not only are you giving us a reading, but a teaching that is invaluable. Thank you so very much, Eric. You rock!"
My readers and clients say it better than I ever could. I invite you to sign up at the still-discounted price prior to publishing the audio readings (expected before Imbolc, in late January or soon after). You can access all 12 here, or individual signs here.
With love, your astrologer,