Dear Friend and Reader:
This week we're on an amended schedule due to it being a holiday week in the U.S. We will have Planet Waves FM on Tuesday and your monthly horoscope on Wednesday.
Meanwhile, today the Sun enters Sagittarius. This is the sign of mutable fire; it's light, airy, bouncy and adventurous.
The Sagittarians we know and love are likely to have at least a smidge of that energy about them, carrying it like a refreshing breeze. This contrasts clearly with the dark and introspective character of Scorpio, the previous sign. Eric says that in the transition from Scorpio to the sign of the Archer, "We go from the night world of psychology and emotion to the day world of spiritual journeying and the quest."
To say that this has been an intense journey through Scorpio is an understatement. Sagittarius will help open up your perspective and lead you outside yourself.
Many say that Sagittarius is the sign of the "Higher Self," as Eric discusses in this musing on the sign from 2001:
"Who is this Higher Self? It is that version of us who we become who we knew we always were. It's the person we grew into and at the moment of growing in, we feel that we had the potential all the time. The 'lower self', you could say, is the aspect of who we are that believes in limitations that are not there, who does not see or pursue the possibilities and has a limited sense of its own potential. The Higher Self is that potential being within us, which usually needs to be accessed through some kind of growth process…and yet he or she was there all along, watching us, and waiting for us to notice."
As the Sun travels through Sagittarius this month, it will contact several points including the Great Attractor, Saturn, Pholus and the Galactic Core. We'll have coverage on those events as they arise.
Thank you very much for being a part of Planet Waves. Eric will be back with Planet Waves FM Tuesday evening at the scheduled time.
With best wishes,



Amy Elliott
Planet Waves Client Services
PS — For daily astrology in detail, you can sign up free to our Four Winds Daily Almanac.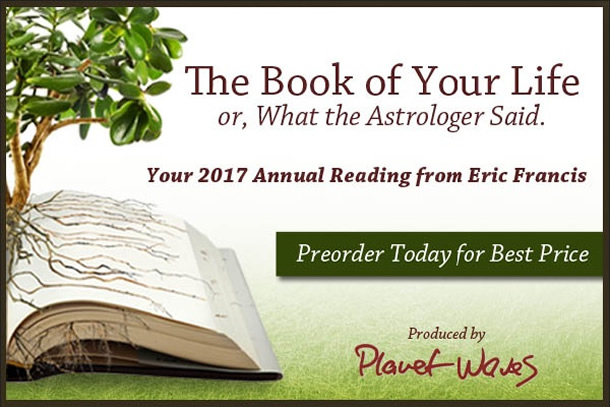 The Book of Your Life — Astrology for a Changing World
"Eric, your annual readings are always beautiful and useful. I recommend them to anyone thinking about purchasing. You guide but also ask the listener to engage with their lives. Humans don't just get transformation for free and you are very precise in telling us where to look."
— Shelley Stearns
We often hear from readers how Eric's interpretations of the current astrology and environment have been the only thing that makes sense in a volatile and uncertain world. The support of useful guidance is becoming more necessary than ever before, and Eric's annual readings provide that thoroughly, accurately and in a way that's easy to follow.
If you've been inspired and bolstered by our regular horoscopes, you're going to love these richly informative written readings for all 12 signs. Pre-order your copy today.