Saturn stations retrograde just short of 5 degrees Sagittarius shortly after 11:02 am EDT (15:02 UTC) Saturday. When it shifts into about five months of apparent reversal, Saturn will not convey the same sort of symbolism contained in the astrology of preceding days.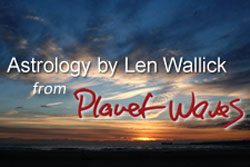 Saturn has not the same energy that Mars brought to a merger with Uranus in Aries yesterday. Nor does Saturn's turnaround imply as immediate a change as does Mercury's ingress to Pisces tonight (following two long months of Mercury pinging back and forth in Aquarius).
That's because Saturn's apparent motion is far slower, and its expression in your life far more glacial than planets closer to the Sun.
Nonetheless, Saturn both abides as long and accrues as surely as the months, years and decades through which its correlations become solidly apparent for you. Hence, you would do well to observe on Saturday when Saturn puts the "stationary" in "retrograde station" to begin a deliberate, final return to Scorpio.
Notice what happens on Saturday that is different in some way from the rest of this week. Make a record of those differences somehow. Save your observations to review after Saturn finally retreats away from the degree of Sagittarius where it has lingered so long — and when, in direct motion, it eventually comes back.
The timeframes go something like this: Saturn entered Sagittarius late last year (Dec. 23 for most of you reading here) for the first time since 1988. As is often the case with outer planets (and was the case for Saturn in 1988) it was only the first entrance, as if to reconnoiter and report back to Scorpio before finally committing to Sagittarius for more than two years.
After the Dec. 23, 2014 ingress Saturn made impressive progress for a slow planet before moving into the 5th degree (alternatively expressed as 4+ degrees) of Sagittarius on Feb. 9. After that, Saturn's apparent motion slowed down so much it has been in that same degree ever since.
That's because Earth has recently been coming around the bend of its orbit on its own long way to eventually pass between Saturn and the Sun. Earth laps Saturn every year. Not because our planet moves faster than Saturn (at least not so much faster as to account for the perceived difference). Rather, because we have the inside lane — the shorter path around the Sun, making us only appear to move faster than Saturn.
It's the same distortion of perception conferred by our current position relative to Saturn that will make Saturn appear to retrograde (move in reverse) beginning Saturday. If you have ever passed a train on a track parallel to the highway your automobile is traveling on, you know the illusion well. As your auto overtakes the locomotive and its entourage, the train first appears to slow, then go backwards until your vehicle has left it behind.
Because Saturn is so far away from us, both the apparent deceleration before evident reversal and the acceleration backing away from the point of retrograde station are very, very slow. Hence, Saturn will not leave the degree of Sagittarius occupied since Feb. 9 until April 17. After that, things will pick up.
Saturn returns to Scorpio through the back door in the middle of June. After that, Saturn will regress to the 29th degree (28+ Scorpio). At that point another long period of all but standing still will precede a resumption of direct motion as August begins.
Midway through September, Saturn will enter Sagittarius through the front door a second and final time for this go-around through the signs. Finally, as this year draws to a close (on Nov. 9 to be exact), Saturn will return to the point where its 2015 retrograde began.
That's how you should make plans for November. Even though Saturn will not long abide in the same degree of Sagittarius at that time, it almost certainly will have accrued its correlations to any observations you may make this weekend. It will be worth the effort, and worth the wait to witness what Saturn's retrograde has wrought and what it means for you.
Ideally, the time and effort invested this year will inspire you to both abide with and contribute to what Saturn accrues during its retrogrades in years yet to come. If you can bring yourself to do only that, Saturn will thereafter be more truly yours.
Offered In Service
Len is available for astrology readings. You can contact him at lenwallick [at] gmail [dot] com.