Aries (March 20-April 19) — Any financial plans you make would best be long-term. You have some excellent ideas and opportunities, though you need to do more due diligence. Information and timing are marks of the truly successful person. There are likely to be ideas far beyond what you are currently thinking, if you can project yourself a few years into the future. What I suggest you remember is that you have what you need. Not only are the basics covered, you're unusually resourceful. For those who aspire to great success, it's good to remember that there's such a thing as enough.
Taurus (April 19-May 20) — You are the person who decides when you're ready to make any decision you want to make. It's also easy to second- and third-guess yourself. You need to know when your intuition is speaking and when you're just not feeling confident. In such a moment, it's best to be patient, and to make a point of being helpful to others. Offering your skills and ideas to people you care about could be the thing that provides you with experiences you need to get clarity. Mercury moves in your favor on the 22nd, by which time you will have the missing information you seek.
Gemini (May 20-June 21) — You have deep insight into yourself at the moment, though you may be wondering what someone else wants. Is this person interested, or not? Are they offering you something, or expecting something from you? The best idea would be to ask openly: politely, willing to hear any answer. Yet it's also important to give people a chance to make up their mind, and to change their mind. This is the mark of maturity: remembering that people are free, and what they are most free to do is choose. Merely admitting this could quell much of the personal drama in the world.
Cancer (June 21-July 22) — Most people you know love and adore you, and that's all you need. It's easy to take one negative opinion as the one that matters most, though I assure that it's not. When you're open about your ideas, you can expect a few mixed reviews — the happy artist, entrepreneur or visionary welcomes them. Though your sign is represented by a crab, you're not really the thick-skinned type. The graciousness and generosity that people are offering you would be the envy of many. Take all opinions on board long enough to consider them. You will learn from all of them.
Leo (July 22-Aug. 23) — This month looks like the tipping point in a professional matter that's been evolving for a while. Consider every conversation you have as some form of a lucky break. If you feel that someone is fortunate to meet you, ask yourself why exactly that is — and know the specifics. Success implies responsibility. You might earn more, and then you might also have to work longer hours and take worries off the minds of your bosses. Be grateful for that. When someone trusts you enough to grant you authority of any kind, take it as a blessing and work twice as diligently.
Virgo (Aug. 23-Sep. 22) — The opportunity you get may not be exactly what you want, but it could be pretty darned close. Notice that the career steps you take are a journey and not a destination. Then you'll see that the progress you need to make in the future is as important as the progress already made. Anything that offers you most of what you want is a good thing. You are indeed blessed, and you're moving in the right direction. If your mantra is 'there's no such thing as perfection', it'll be easier to see just how close you are. Time is on your side.
---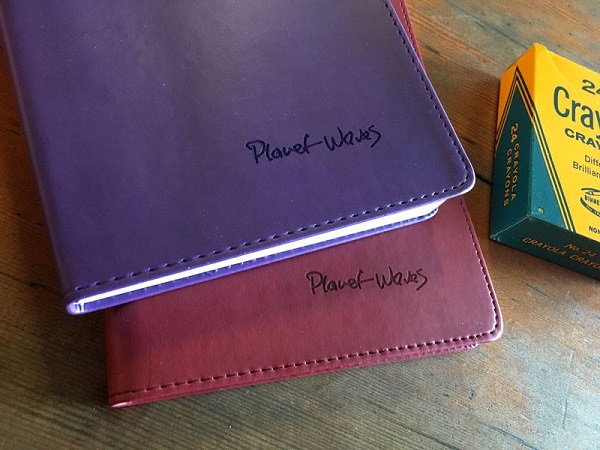 Planet Waves custom journals have arrived. We are offering these to people who renew or extend their Core Community membership for one year. They're available in red, purple, blue and black, while supplies last. I've also made hand-painted ones for those who renew or extend their Backstage Pass. To learn more, write to cs@planetwaves.net or call (206) 567-4455.
---
Libra (Sep. 22-Oct. 23) — Now is the time to have your relationship review conversation. Set aside expectations and come from a place of how much you value someone you care about. Commitment is one thing, but honoring someone's presence in your life, as demonstrated with genuine appreciation, is what you're looking for. Some topics may require a conversation that extends over a few weeks. Be patient and work your way to the heart of the matter. Any subject involving money needs to be handled in a genuinely ethical way. Toss out gender roles — everyone must do their bit.
Scorpio (Oct. 23-Nov. 22) — You may not feel you have much to offer, though I would propose that the opposite is true. Like many things in life, it's worth testing logic the reverse of what the world asserts. Generosity will teach you how much you have. Try this and see. Clinging only amplifies the feeling of not having. But there is something else: if you spend money only on what you truly value, you will see the true value of money. Every time you buy something, ask yourself questions that would have made our grandparents proud: Do I really need this? Do I even want it?
Sagittarius (Nov. 22-Dec. 22) — Yours is the sign that wants to fly toward the air like an arrow with one destination. But now both Mars and Saturn are moving backwards through your sign, which is compelling you to stop, rethink, reconsider and revise many of your life plans. You might feel like your life is one long episode of Curb Your Enthusiasm. Yet this is the time for careful review of what you want. The planets are conspiring to remind you that desire plus discipline is the winning formula for life. Be patient and work that equation daily, and you will be unstoppable.
Capricorn (Dec. 22-Jan. 20) — We live in an age of anxiety. It really is true, there's so much that can go wrong. But of all the possibilities, consider how much goes right. The current story of your charts right now is that of understanding and addressing fear. We might first ask whether this is the emotion you need to run on, considering that there is a much better possibility. When you encounter a fear over which you have no control, the best thing to do is give it up to a higher power. This is a pragmatic, easy and effective spiritual practice.
Aquarius (Jan. 20-Feb. 19) — The planets are suggesting that your goal is not to be popular, but to get the job done. You're clearing the way for some important future plans. This involves fewer other people than you might think. Do your thing, go about your plans, and ignore any unsolicited reviews or feedback. You know you're working with a decent idea, but you might not recognize just how good it is. What you're doing has the power to change the world. For now, proceed slowly, carefully and with intention, sharing your plans with others only on a need-to-know basis.
Pisces (Feb. 19-March 20) — You live on your reputation, but this has to come from the inside out. Ultimately you must bank on being known for who you really are. Current challenges related to your calling are pushing you to access all your talent, all the time. What should be amazing to you is how much you can do, and how resourceful you are. This time in your life will teach you more about your own gifts than perhaps any other so far. You have a lot to discover. As Hunter S. Thompson said, when the going gets weird, the weird turn pro.