Planet Waves is running a membership drive.
Read more in Solstice Fire and the Art of Service, by Eric Francis.

You may be rich or poor, you may be blind or lame — you may be may be living in another country under another name, but you're gonna have to serve somebody.
— Bob Dylan
The Capricorn Full Moon shortly before 10:20 pm EDT tomorrow (02:19:33 UTC Thursday) will be the first of two Full Moons in July. Subdivisions of the civil calendar don't usually mean a lot to astrologers. Even so, based on its aspects and timing, the Full Moon tomorrow appears to be as just much in service to measures of civil history as to the epochs implied by astrology.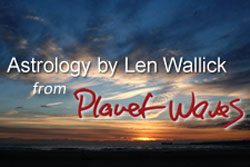 In her Planet Waves column yesterday, Fe Bongolan adroitly brought us up to date with a synopsis of your place in service to this time in civil history. Tomorrow, the Capricorn Full Moon completes the picture from astrology's perspective. 
For astrologers, tomorrow will initiate more than a civil month. Also starting with the Capricorn Full Moon will be a series of meaningful aspects from the luminaries (Sun and Moon) to what one might call planets of history: Uranus, Neptune and Pluto.
Unlike the so-called personal planets (Mercury, Venus and Mars) and trans-personal planets (Jupiter and Saturn) the cycles of Uranus, Neptune and Pluto repeat over periods of time longer than the average human life expectancy. Granted, many in this day and age do indeed survive long enough to see Uranus make one full circuit of about 84 years around the Sun, and through all 12 signs of the zodiac. No human that we know of, however, lives to see Neptune (nearly 165 years) or Pluto (almost 248 years) complete even one orbit. 
Nonetheless, the Cancer Sun in opposition to the Capricorn Full Moon tomorrow implicitly supports a suspicion long held by many now living. It's the perception that you are living now to fulfill a unique place in history. It's the idea that your choices in this life will unavoidably serve to have more influence than any who have gone before when it comes to determining the fate of our kind.
Indeed, if there is anything to astrology, both your conscious and less-than-conscious awareness of your place in service to history will have expanded considerably by the time of the Aquarius Full Moon on July 31. Appropriately, it all begins tomorrow with the Sun and Moon opposing each other in simultaneous aspects to Neptune.
Neptune is big, both literally and figuratively. From all appearances, Neptune's symbolic influence has increased immeasurably since it first entered Pisces in April of 2011. Everywhere you look, both the upside of Neptune (which includes both inspiration and creativity, among other qualities) and its downside (which includes delusion and deception, among other liabilities), have ramped up to unprecedented and pervasive levels.
Tomorrow, the Cancer Sun will be in a precise water trine (a separation of 120 degrees) with Neptune. At the same time, the Capricorn Moon will be separated from Neptune by precisely 60 degrees, for a sextile aspect. Trines and sextiles imply amplification, emphasis and support. The trine is inferred to be both easier and potentially more dangerous than the sextile because of how it alludes to unimpeded (and therefore unregulated) flow.
Hence, the Sun (which represents waking consciousness, among other things) will be implicitly in thrall to Neptune, inferring both a trend and your part in service for at least a month. Your role is to be an intentionally conscientious governor of your own inspirations and impulses alike. It will be up to you not to get carried away.
Even if it seems like a good idea at the time, excess and extremism will almost certainly not serve the greater good. For every ounce of enthusiasm flowing through you, it will be advisable to bring an equal weight of intention and discretion. Such cautions will apply particularly to any situation where alcohol and fireworks come together this weekend. Interestingly, the Moon appears to be part of the solution.
Usually, it's the Moon that's associated with unconscious impulses. Given a Sun in emotional Cancer opposed by a Full Moon in Capricorn, it's very possible the tables might be turned. Such a possibility is enhanced by the Capricorn Full Moon's exact (to the degree) sextile to Neptune.
Sextiles, just like trines, do have a sense of reciprocation. Unlike trines, however, the flow implied by a sextile is more deliberate and conditional. Sort of like a grant or scholarship, sextiles tend to correspond with rewards based on merit, encouraging further effort (as opposed to the trine being analogous to winning a lottery).
Hence, let your own sense of whether something feels right (or wrong) inform your service in July. Also, if possible, allow things to develop at their own organic pace. The idea is that you can then be present to phases as part of a whole, rather than allowing a passing phase to be construed as conclusive and holistic.
After their concurrent reciprocal aspects to Neptune at the time of their opposition to each other, the Sun and Moon will move on to spend the first part of July moving through similarly significant aspects to Pluto and Uranus. As such, it looks to be a month when history will be served in such a way as to rival or exceed the events of June.
As part of the defining theme we call the Art of Service, Planet Waves will be there for you. We will be there with hard information. We will be there with astrological perspective. Were will be there with support for your best choices and with encouragement for your best outcomes.
What we ask in return for our conscientious practice of the Art of Service to history — and to you — is some reciprocation on your part. We pledge that, insofar as you are capable, becoming a Core Community member or giving the gift of a Planet Waves subscription to somebody you care about will go a long way to put you on the upside of history.
Even if you cannot provide financial support at this time, some encouragement and morale support for the service Planet Waves provides to the world as an advertisement-free oasis would sure be appreciated. Refer somebody else to us for a read of the wealth of materials we provide gratis — and perhaps a peek at the for-pay services that support the whole endeavor.
Given that you will implicitly have to serve somebody in July, you could do a lot worse than to devote part of your service to Planet Waves. Make July the month you make the difference you were born to make. Help us help you.

Offered In Service               
Len is available for astrology readings. You can contact him at lenwallick [at] gmail [dot] com.