Today's Oracle takes us to the Scorpio weekly for Oct. 3, 2008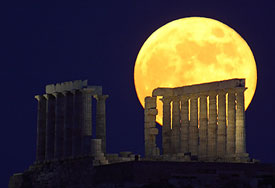 Mars has entered your sign, and once again you may be asking yourself what, exactly, you were so worried about. Fear, like all emotions, comes in layers, and when the layers come off there can be a wave of feeling. You're currently between two of those layers. On the next one, you would appear to be working out a mental puzzle about your recent experiences in a relationship, though you thought the situation had run its course. We all experience those times when we forgot to ask an important question, and this seems to be the case — only the person you forgot to ask was yourself. Ask away, and note the answers that you get. Those are not necessarily the truth, and I suggest you go through them carefully, over the next couple of weeks, rather than acting on them all at once.
This is an ancient horoscope and by some miracle it is still relevant today. Experience the astrology as it happens, written by me weekly and twice monthly, plus your Moonshine horoscope by Len Wallick. Here is how to sign up — and what you get.