Today's Oracle takes us to the Taurus weekly for December 7, 2007.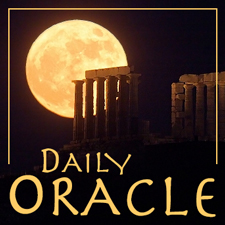 You can feel the circumstances and needs from the opposite viewpoint, and you may be discovering that it's not so opposite after all. That is the interesting thing about role-reversals — they reveal what we have in common more than they reveal what is different. The floor remains open for further discussion of the possibilities, and you may be piecing together the fact that your gain benefits everyone; another person's gain benefits everyone; your mutual gains are good for all. You can at this juncture afford to set aside some of your conservative tendencies and explore possibilities that would have made you nervous to even think about not so long ago. That is the benefit of authentic confidence rather than its fa?ade or image.
---
The Saturn-Pluto conjunction is separating, but still strongly influencing our experience. While this event will happen two or three times in the lives of most people, this particular instance is a moment of convergence and reckoning for the world and for us as individuals.
Eric has completed recording RESPECT, the 2020-2021 Planet Waves annual readings, to cover the momentous astrology of the coming year-plus. You can read more about the project, and order the readings for instant access, here.