Today's Oracle takes us to the Libra monthly for November 29, 2013.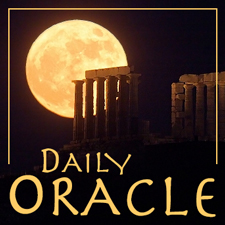 Events of this month can serve either as a hologram or miniature model for what you can do with yourself during the coming year or, alternately, as an example of what you do not want. There's likely to be some mix of the two, though I am inclined to think that you are about to discover the benefits of actually asserting yourself. I suggest you do this in your own style (well, that's always what you do) but don't let the concept of style include any form of passivity, compromise before the conversation, or getting snagged up in your contemplation/indecision thing. The idea here is to be bold and take a chance. This is where what I will call the reverb factor comes in. When you assert yourself, you're likely to get a little echo back, in the form of some disapproval from someone. This verges on being a universal phenomenon, and it's a potential stumbling point for those at a new phase of experimenting with their will and influence. The problem is that it's enough to keep most people in their shell, silencing their opinions or otherwise refusing to ruffle feathers. Yet overcoming this seems to be the whole point of your astrology this month, and the phenomenon lasts well into next summer. Start the ruffling now and you'll get some valuable practice.
---
The Saturn-Pluto conjunction is separating, but still strongly influencing our experience. While this event will happen two or three times in the lives of most people, this particular instance is a moment of convergence and reckoning for the world and for us as individuals.
Eric has completed recording RESPECT, the 2020-2021 Planet Waves annual readings, to cover the momentous astrology of the coming year-plus. You can read more about the project, and order the readings for instant access, here.