Today's Oracle takes us to the Pisces monthly for Dec. 25, 2007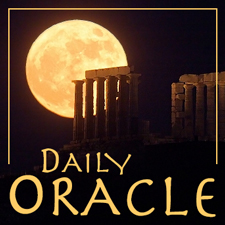 If you tell yourself the truth, you can do just about anything else you want. That is the price you will have to pay in order to go to the next level or stage of your life; the price of freedom. This is a small tariff for some people, and the highest there is for others. Which is it for you? While you're sizing that up, you can also size up the price of any other way of living, and there are several options, to be sure. Of course, the real price of the truth is that which is not true. For some people that is no price at all; for others, it would represent the collapse of their entire existence, at least psychologically. Now, as a Pisces, you need your fantasies, and you need your dreams. But you need them in moderation, like any drug or substance (including art and music) that provides a pathway beyond the rational world. Yet what you need the most, if astrology means anything, is to break the partitions that separate your visions for your life — and for the world — from your simple desire to make them happen. It's like you typically get stuck right at the point where you can take something out into the world where it can do some good. You know what you create is worthy of attention and that it would be good for the world. You also know how hard it is to penetrate into that space where the past is not so heavy that it crushes or confines that which is new and seeking to take root and grow. Now, believe it or not (and I don't blame you if you don't, yet) you are about to see what kind of impact is possible, particularly where the stalwart structures of society need a little…shall we say…encouragement to update their files. Society can mean your friends, your family, your professional vision and most of all, your personal vision for how you will fit into the world. There is an extremely good reason you must be honest with yourself at every opportunity: you will be handling power that can be dangerous if you are not.
The Daily Oracle offers a horoscope selected randomly by our Intelligent Archive Oracle program, unique to Planet Waves. It's also a database of my horoscopes going back to the late 1990s. You can use the Intelligent Archive Oracle to answer questions and give you ideas for how to handle problems and situations you cannot see through. This feature is available to our All Access and Core Community members. See this link for more information.