Today's Oracle takes us to the Sagittarius monthly for January 2008.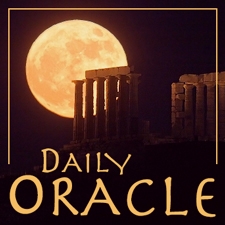 You have the property of setting things into motion; you must accept that you may never see the results of any process you start. Most of them are either invisible to perception or occur too far from the reach of your senses to register consciously. Some will bear fruit in a measure of years that exceeds the length of a human lifetime. And some, you don't notice because you're not doing that elusive thing known as paying attention. Yet set things into motion you do, and you do it effectively: for good, or for ill. You have always known this, but the time has arrived to live as if it were true. If you are some kind of 'cause' in the process of cause and effect, keep the experience as conscious as possible, so that you can make choices while you have the opportunity to do so. See if you can notice the results, be they immediate or extended over time, and observe the vast constellations of forces that have come together in order to manifest anything. Look back and observe what you have inspired, facilitated or ignited and be grateful that some of it actually worked. See if you can make amends for that which did not work so well, or that which harmed anyone at all. Remember that you are only getting a small sample of what you could be seeing, but as the next four seasons progress, it will be more than enough to inform you as you make some radical revisions to your values system. There is something from the past, some old idea that you are dragging around, that is about to get torpedoed. As visionary as you are, there is an attribute of your values that could be described as antique. Now, it is true that anyone who is authentically a radical needs to have a strong footing in tradition. Yet it is also true that a tradition is not a tradition unless it is alive. The way things were done in the past is not an excuse for anything; the reason things were done in the past is an excuse for even less.
The Daily Oracle offers a horoscope selected randomly by our Intelligent Archive Oracle program, unique to Planet Waves. It's also a database of my horoscopes going back to the late 1990s. You can use the Intelligent Archive Oracle to answer questions and give you ideas for how to handle problems and situations you cannot see through. This feature is available to our Galaxy, Backstage and Core Community members. See this link for more information.