Today's Oracle takes us to the Aquarius monthly for March 24, 2016.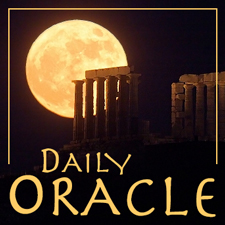 Be mindful of your need to plan things out. You have enough momentum in your life, and sufficient resources, to wing it for a while. Planning and strategy have a defensive quality, which can cut you off from your abundant creativity. This is a state-of-mind thing. Strategizing when you really would thrive on going with the flow is a distraction, which takes you out of the moment and therefore out of your ability to make decisions based on what is actually happening. If you want a strategy that might work, keep looking around at your environment and ask yourself what you need to be aware of, and what you need to do right now. This is called immediacy. It may seem radical not to dwell on the past or on the future, but it's not so strange if staying right in the moment puts you in contact with the equivalent of vast wealth — emotional, creative and material — plus a community to support you. Home in on what is genuinely available to you. Notice how generous people will be if you show up and are real in the moment. You might be amazed at all you were missing all that time, but you don't have to dwell on it. You have what you need, and who you need, right here and right now.
---
The Saturn-Pluto conjunction is separating, but still strongly influencing our experience. While this event will happen two or three times in the lives of most people, this particular instance is a moment of convergence and reckoning for the world and for us as individuals.
Eric has completed recording RESPECT, the 2020-2021 Planet Waves annual readings, to cover the momentous astrology of the coming year-plus. You can read more about the project, and order the readings for instant access, here.