Today's Oracle takes us to the Aquarius monthly for May 26, 2016.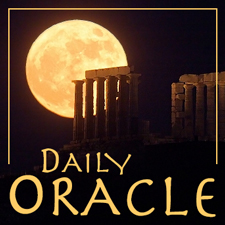 The poet Marge Piercy wrote, "The good must learn to cultivate their anger like fields of wheat that must feed them, if they are ever to win." One of the unspoken issues of our time is seething rage, what one pundit called "distemper among the electorate," that (for example) is driving much of politics at the moment. Yet anger, if taken consciously and properly understood, can be a tremendous force for change. Many other emotions considered unsavory and/or politically incorrect can be cultivated and worked with constructively. Really, do we have any other choice at this point? Shadow is only shadow if it's unconscious, which typically means projected onto others. You are in a rare position to see the deal the way it's going down — and to do something about it. This will surely be in many small ways, and potentially some big ways. The action piece is about taking accountability, including for what may not properly be your responsibility. You are in a position of leadership, and your example counts for more than you may know. Yet a vital part of that example involves how you move what is inherently frightening, negative, shadowy and toxic to a new level. This is more than about 'seeing the positive' in something. Rather, you have the capacity to recognize anything with emphasis behind it as a source of energy, and to tap that energy on your way to changing the world.
---
The Saturn-Pluto conjunction is separating, but still strongly influencing our experience. While this event will happen two or three times in the lives of most people, this particular instance is a moment of convergence and reckoning for the world and for us as individuals.
Eric has completed recording RESPECT, the 2020-2021 Planet Waves annual readings, to cover the momentous astrology of the coming year-plus. You can read more about the project, and order the readings for instant access, here.