Today's Oracle takes us to the Gemini weekly for August 7, 2009.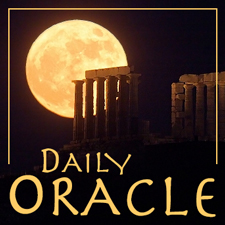 Your fears have been getting more of your attention than they deserve. What's actually happening is that the flow of energy is opening up inside you, and you're experiencing this as instability, which can evoke a kind of nervous quality. Yes, you're famous for this, but enough is enough. The thing is that Mars is going to be in your sign for a few more weeks, and is about to make a trine to the Aquarius conjunction. To put it mildly, a lot of information is coming in, to the point of overload. One thing to do is make friends with the chaos. To do this, you only need to let go a little, and feel it as energy rather than as matter. Another thing that might help is to focus on who you are rather than what you are thinking. Your sense of being will feel like flying above the clouds rather than being caught in the wind and rain.
---
New in the Special Readings Series
Magnum Opus on Eclipses, Now Through Late 2020
Eric's new 90-minute discussion of all things related to eclipses, in any sign — with a focus on Cancer and Capricorn eclipses, from the current pair through 2020 — is available now for instant access. Part audio reading, part astrology class, it offers you a lot of help processing the solar eclipse on July 2 and the lunar eclipse on July 16, and features original music. Hear it as part of the 2019-2020 Astrology Studio for Cancer, or purchase the Eclipses Reading separately for only $33.