Today's Oracle takes us to the Gemini monthly for February 23, 2017.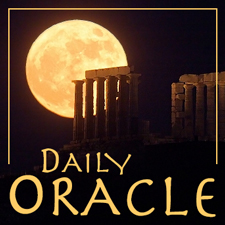 It's necessary to take your relationships seriously, but what exactly does that mean? First, it means having the right people in your life, and making sure that people who don't belong in your life are not there. Perhaps this sounds harsh, but Saturn in your opposite sign has been encouraging you to use your discernment for at least a year — and to act on what you observe. People who crowd your space, or who box you in to their idea of you, are not helpful. You need room to maneuver, and you need the freedom to make up your mind about who you are; this, your relationship partners must know and respect. Speaking affirmatively, the most significant qualification for anyone being in your life must be that you share similar spiritual goals. Now we're getting deep: for that to happen, you need to have spiritual goals, as well as to understand them somewhat. Then you would need to select others who also have spiritual goals, and find a meeting space. All sex and intimacy lead to procreation, which means a lot more than making babies: there is an exchange, karma is created, and people become like one another. Therefore, choose carefully whom you relate to. Embrace people you respect and admire. This is a high standard, but no other will work for you.
---
New in the Special Readings Series
Magnum Opus on Eclipses, Now Through Late 2020
Eric's new 90-minute discussion of all things related to eclipses, in any sign — with a focus on Cancer and Capricorn eclipses, from the current pair through 2020 — is available now for instant access. Part audio reading, part astrology class, it offers you a lot of help processing the solar eclipse on July 2 and the lunar eclipse on July 16, and features original music. Hear it as part of the 2019-2020 Astrology Studio for Cancer, or purchase the Eclipses Reading separately for only $33.