Morituri te salutamus — "We who are about to die salute you" — is chanted by gladiators before the Emperor as they enter into battle, to fight until the last one is standing in the pits. Which brings me to the Republican Party's presidential debate last night at the Reagan Library.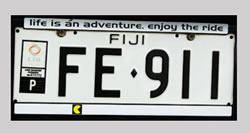 I am somewhat of a political junkie. I get worked up when the wheels start rolling on the American political process. American Presidential campaigns can be an exciting and aggravating process to watch as we try to winnow down our choices for who is going to sit in the Oval Office. But if you know what you're watching out for, it can be quite fun.
It was especially fun for me in 2008. We were at long-last about to say goodbye and good riddance to the Bush-Cheney regime, and elect the new: new party and new face in the White House. And truth be told, even with all their faults, mistakes, broken promises, and all the baggage of the awful office that is the American Presidency, we didn't do too badly.
Yet today I feel helpless watching the Republican Party presidential debates. I started by covering the first one last month sponsored by Fox News as a joke, which it was. Continuing with last night's debates sponsored by CNN at the Reagan Library in Simi Valley — except for some minor team additions — not much has changed.
When we look back to assess what really happened at last night's Republican debates at the Reagan Library, we shouldn't focus too long on the "gotcha" remarks that score points over a 24-hour news cycle; or analyze how much blood CNN news personality Jake Tapper was drawing between Carly Fiorina and Donald Trump — or for that matter everyone else on stage and Donald Trump, since his remarks insult and demean anyone in America he thinks of.
We know there's nothing there in the substance of the show. And it is a show. The debates are elimination duels. With 16 contenders you can imagine why. Yet the way we're conducting the elimination process didn't help much.
Last night reminded me of gladiatorial spectacle: words are swords and spears to throw; candidates attack and try to eliminate each other; beating their chests to show their cred on controlling women; running corporations; scapegoating Muslims and Mexicans; hating the gays, the Supreme Court, Planned Parenthood and Obama. All the convenient bugaboos that trigger amygdala (lizard brain) reaction by Republicans in America, which is unfortunately a measure of success for a Republican presidential wanna-be. So far, the only casualty remains former Texas Governor Rick Perry.
This candidate 'refining' through debate is equivalent to the imperial 'thumbs down', only this time the thumb is by the people in the debate hall and the network applause meter. On top of that, each candidate has staffed the seats of the debate hall with as many of their supporters as possible — to give the audience applause more boost for their chosen politician while on camera. I've watched this happen first-hand. The cards are already stacked for the show. It's been that way for years.
Do we know anything else about these people that would make you envision them tackling the weighty problems that go through the doors to the Oval Office every day? No? Thought so. Entertainment value now weighs more than the future.
Which is probably another reason why Donald Trump remains in the race. His outrageous remarks on the campaign trail are just the right amount of mass distraction. It's the political equivalent of CNN's ongoing coverage of Malaysian Airlines flight 370. Furthermore, why would we give a shit as to what your Secret Service nickname would be when we're not sure you wouldn't shit yourself when given the red button to push, or if you'd have the intelligence not to use it? Why do we even ask these things?
The way that news networks conduct campaign coverage like it's "Dancing With the Stars" is costing us democracy. And whoever came up with the 'candidate we most likely want to have a beer with' criteria — the criteria used to help elect George W. Bush and Dick Cheney, one of the worst administrations in the 21st century — should be ostracized on a deserted island, forever.
That Vice President Joe Biden was able to get a more human picture himself out there in an interview with Stephen Colbert than in a CNN debate (though he didn't do too badly there, either, in 2012) should say volumes on the circus American news coverage of politics has become. Why aren't the news cameras interested in looking more closely?
I am sick of the polarization of our politics. Even as a Democrat, I am interested in hearing what the Republican side has to say. I recall conservatives having some sensible ideas when it came to government. I guess those people are gone, or drowned out.
We have incredibly high-end technology to monitor and scrutinize the movements and words of every last candidate, yet we have failed in making sure the audience these candidates are wooing are informed enough to make wise decisions as to whether they should lead us. That is mostly intentional, and we have discussed why that is here and elsewhere many times before.
I guess the rest belongs to us in demanding more than what we're getting in the news networks' coverage and their efforts on behalf of the public's interest, like with these debates this next year. Given the state of the planet and its people, this is no time for games or game shows. The future, should we choose to accept it or even care to know about it, begins now.