Simple solutions are appealing. Unfortunately, they are frequently wrong. Similarly, the allure of stability somehow retains credibility in a world where the only constant is change. Thus, the deceitful are exalted and the pernicious prosper precisely because they offer simple answers that promise to preserve equilibrium.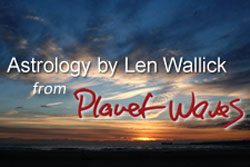 It doesn't have to be that way. Astrologers especially should know better. The sky is constantly in motion. Neither can any single sign, planet or aspect can be considered out of holistic context.
As it is above, so it usually is below. That's a good thing. It's good that the world is complex and nuanced, because that is the only sort of world where new possibilities can continue to emerge.
Hence, an alternative (but intrinsically realistic) way to make sense of the earth trine from the Capricorn Sun to retrograde Jupiter in Virgo, which is exact just before 5:49 pm EST (22:48:51 UTC) tomorrow. Better not to call the 120 degree separation from the Sun to Jupiter an 'easy', 'stable' or even 'flowing' aspect. Such a cookbook interpretation would only leave a lot of disappointed people regretting any money spent on lottery tickets, and further astrology's undeserved reputation as deceitful and pernicious hocus-pocus.
Better instead to see the big picture. More useful to discern how this particular trine from the Sun to Jupiter is different from other occurrences of that aspect, than to offer a sound bite about what it 'means'.
Mercury, for example, is about to pass between Earth and the Sun. That passage makes Mercury appear to be going backwards (retrograde) through Capricorn on its way to conjoin with the Sun, even as it is also unseen in the solar glare up in the sky. In short, there is implicitly more going on than meets the eye, whether in regards to the tangible Sun in the sky or its emblem of consciousness on the zodiac, which is moving to trine Jupiter at this time.
By the same token, any interpretation of Jupiter for the time being must necessarily dispense with its usual beneficent character as represented by many astrologers. First off, Earth is passing between the Sun and Jupiter right now. That passage results in Jupiter rising a bit later every night, and accounts for its own current retrograde motion back through Virgo. As result, the usual idea of Jupiter as a bringer of good things should currently be shaded to imply something more along the lines of a promise of good things.
Going a bit deeper, Jupiter in mutable Virgo is part of a larger picture. That picture includes Neptune (with its strong correspondence to inscrutability) and Chiron (which correlates to complexity and nuance, among other things) on the other side of the zodiac — roughly 180 degrees away in Pisces.
Since Pisces is ruled by both Jupiter and Neptune, their current opposition (however approximate) must be seen as a sort of contest right now. It is a lot like the political contests currently going on in the U.S., with most of the candidates competing to offer the simplest and most comforting promises of good things regardless of how impractical to implement their proposals would be. That's how any interpretation of the trine aspect Jupiter will be taking from the Sun tomorrow must necessarily include a broader perspective, and would need to include some skepticism.
All this is not to say you should approach the middle of this week without optimism. Nearly anything is better than falling into the confining space of being cynical. While there remains some possibility that the meek might inherit the Earth, it is almost certain that the bitter and jaded will never fare as well. Which is where you come in.
Astrology does not happen to you. Yes, your inaction can allow things to happen — especially things brought on by actions of the deceitful and pernicious, but you can't blame astrology for that. What you can do is embrace the astrology and work with it. With tomorrow's trine from the Sun to Jupiter, that would almost certainly not mean that you should stake your material and psychological wellbeing on winning a billion dollars. Nor should you swallow any political promises whole.
Rather, you should be realistic. You should accept that answers to your problems will involve some complexity and require some work on your part. All the better to attain solutions that will actually work for you. You should also anticipate change and prepare for it. All the better to recognize new possibilities and make them your own.
Finally, as a participant in the world with others, your recognition of how the sky will keep moving after tomorrow will make you among the few who are indeed qualified to lead at least some of us forward, rather than hold all of us back.
Offered In Service