Mercury will be initiating a week, a month, and probably you with expansive style come Sunday. Indications are you should not take a passive role and simply wait for something to happen. Even though several expressions of the same theme will be intersecting in one day's worth of astrology, you will probably have to make at least a some effort to catch the swelling wave.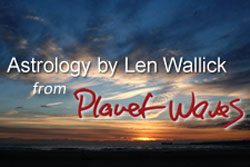 The requisite nature of your participation will implicitly have to do with exposing yourself to some sort of mind-expanding initiation. That will mean going to someplace new, or doing something for the first time.
Be selective. Wherever you go or whatever you do should have a quality or reputation that makes your pulse race a bit in anticipation of what it will be like.
In addition, Sunday's astrology implies that your chosen activity or destination should stimulate your mind at least as much as your body. Finally, insist on some sort of inherently spiritual (but preferably not ideological or hierarchical) quality for your astrologically harmonious participation.
So what is happening in the sky and on the zodiac to open a door and possibly blow your mind on the first day of both next week and next month? A handful of things, actually. But there is no doubt that Mercury will be the crux of what manifests for you. So let's look at the little big planet first.
Mercury is versatile. Yes, it has to do with mind and mentally-related subjects. As Eric has repeatedly pointed out, however, there is now an unavoidably electronic component to Mercury's impressive reach, manifesting in every form of media and whatever else moves quickly.
Then, of course, there is Mercury's well-earned reputation as a trickster, paradoxically paired with its proficiency as a medic. The list of other mercurial qualities goes on and on. It's quite the multitasking planet.
Mercury is in Aquarius and has been since Jan. 5. How could the planet with fastest apparent motion be confined to one sign for nearly two months? Well, there was this little matter of a retrograde during which Mercury slowly (for the most part) pinged back and forth in basically the first half of this fixed air sign. You probably got pinged a bit as well.
Mercury entered the arc (or first shadow/echo phase) of its retrograde motion on the same day it entered Aquarius. It turned on a dime and shifted into reverse Jan. 21, then resumed direct motion Feb. 11. Finally, on March 3, Mercury will move out of the narrow slice of the zodiac to which it has been confined most of this year, and concludes its second echo/shadow phase by accelerating into new places and interactions.
But not before an implicitly grand finale.
The big finish will come on March 1. In the course of one day, Mercury will achieve an exact sextile aspect with Uranus (in Aries) for the third time this year, followed by an opposition to retrograde Jupiter in Leo for the very first time this year.
Jupiter and Uranus are not chopped liver. What they have in common is that both express some sort of expansion, albeit differently. Jupiter's expansiveness is usually on the magnanimous side, although retrograde motion can bestow a quality of megalomania to Jupiter's old and usually stable reputation.
The reputation of Uranus does not imply stability. As a matter of fact, none other than the concisely erudite Robert Hand flat-out referred to Uranus as "a crazy planet" when interviewed for the October/November 2014 edition of The Mountain Astrologer magazine.
Hence, what expansive quality Uranus can be said to have tends to be somewhat explosive. That's a good quality if you can harness it. Fortunately, Mercury in sextile aspect (closing to within 60 degrees of separation) with Uranus on Sunday indicates a chance you might be able to capture lightning in a bottle, or more precisely with your mind.
The evocation of lightning is not an idle one. Mythical Jupiter was known for his thunderbolts, with which he sustained his power over heaven and Earth. Mercury's archetype, as already mentioned, has grown to include all things electronic. Finally, Uranus (as what some astrologers call the "higher octave" of Mercury) has an implicitly galvanizing cachet all its own.
We already have some experience with Mercury in what is normally known as a supportive sextile aspect with Uranus. That's because Mercury's retrograde sweep has already brought us the same aspect twice this year — on both Jan. 14 and Jan. 28th. It would be worth your while to check back on your calendar, diary or memory for what happened on those two Wednesdays, to give you a leg up on what promises to be a third time that just might redefine the word 'charm'.
We have no such previous experience this year with Mercury in Aquarius precisely opposing Jupiter in Leo, but maybe a hint. When Mercury apparently initiated reverse motion on Feb. 11, it was two degrees away from a precise opposition with Jupiter. The sky has waited until this coming Sunday, however, to show us the real thing. Hence the idea that Mercury will be hooking you up to an initiation of sorts, one that might well blow your mind.
Like Mercury's reputation, there's an even longer list of indications in the astrology to reinforce the theme of a mind-expanding initiation on Sunday. We could go on and on here, but by now you have the idea.
To access the real thing yourself, you will need to do your part. After all, to surf you must first go to the beach. So, as Mercury would have you do, start thinking now.
Would your first experience watching an opera fill the bill? On any given Sunday, you might well find a bargain matinee. Alternatively, you might take a walk on the wild side (as Uranus would encourage) and check out a kinky cabaret. Perhaps (as Jupiter may have you do) you might even show up to support an unconventional (but now legal) marriage ceremony.
So here's wishing you Jupiter's good fortune, Mercury's stimulation and the combustive upside of Uranus. May you come back to Planet Waves next week a bigger, better person for having caught every bit of a perfect wave for the first time in your life.
Offered In Service
Len is available for astrology readings. You can contact him at lenwallick [at] gmail [dot] com.