If you have the occasion to ask "September already?" try to catch yourself and turn that question around. As would befit the initiative implied by the Moon in Aries today, make a declaration instead. To liberate yourself a bit from slavery to the civil calendar, and get in the flow of the astrology, declare: "All ready, September!"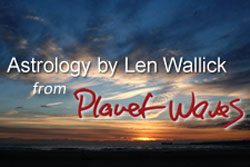 This will be no month to allow bemusement at the arrival of its first day to dictate the tone for the rest of its days. Instead, endeavor in some way, no matter how small, to go beyond the usual and set the tone of your choice. 
For in the terms of astrology, September 2015 is and will be what one might call the single most unusual month in an unusual year. Hence, this should be a month when you can foment unusual manifestations.
To begin with, consider what happened overnight. As August segued into September, another important (and unusual) aspect transpired besides the Virgo Sun's opposition to Neptune in Pisces, which Eric has already covered so adroitly to set the tone for Planet Waves this week.
Less than two hours after the Sun opposed Neptune (and while many of you were sleeping), retrograde Venus briefly shared the same degree of Leo with Mars, forming what astrologers call a conjunction aspect. The usual thing is for Venus and Mars to come together once every other year. For example, prior to 2015, Venus and Mars last conjoined once in April of 2013; and before that, once in May of 2011.
This year, however, is unusual. Venus and Mars will merge in the same degree of the same sign three times before 2015 is over. The first such event took place in Aries overnight between Feb. 21 and 22. The next instance will take place in Virgo as Nov. 2 rolls over in its sleep to become Nov. 3. Hence, the timing of the Venus-Mars conjunction at approximately 1:04 am EDT (05:03:47 UTC) this morning sets an astrological tone for the month that is emblematic of what is to follow.
Events later in September will include what you might call the 'big three' of astrology: a new season (when the Sun enters a cardinal sign), Mercury beginning its next retrograde, and a pair of eclipses — all in one month, which is not business as usual at all. Normally, the Sun entering cardinal Libra (as it will on Sept. 23) to precipitate an equinox, and autumn in the Northern Hemisphere, is the focus of the entire month. Not this year, however.
This year, the conjunction of the Sun and Moon in Virgo (on Sept. 13 for most of you), will be more than just a New Moon. It will also be a solar eclipse.
Only days after the Solar eclipse (on Sept. 17), Mercury will begin its third and final air-sign retrograde of the year in in the middle of Libra.
Finally, overnight between Sept. 27 and 28, the Full Moon in Aries will complete the trifecta by also being a total lunar eclipse. And those are just the highlights.
In sum, September will be no month to begin with a hapless declaration. Rather, if there were only one time in all of 2015 to declare yourself ready for anything and everything no matter how unusual, it would be now. If you can simply say that and mean it, the rest of September will be yours for the taking so long as you take it one day at a time, just as you did today.
Offered In Service   
Len is available for astrology readings. You can contact him at lenwallick [at] gmail [dot] com.