In the fall of the 2008 US Presidential election campaign, some of our European friends emailed to ask if they should come to California to help do phone banking for Obama.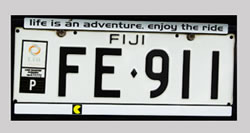 It was an amazing and touching communication to receive, and so much in the spirit of Jimmy Carter's global democracy project, which monitors freely held elections in countries around the world. After eight years of Cheney-Bush, the rest of the world — not only the US — needed change. They helped so that we could do the right thing and kick out the neo-conservatives who ruined the country and de-stabilized the world.
Therefore, in 2016 I politely ask that if you are interested in saving America from itself, can you come over and do this again? I am sure there are a lot of sensible Americans willing to put you up, in thanks for the help. Me included.
I am not certain that we are capable of having a reasonable debate in 2016 as to who will replace President Obama and sit in the catbird's seat of the free world. Not while the center-left and far-left of this country are in a raging battle for the soul of the Democratic Party, and the far-right is battling to sell the soul of the entire nation to the devil.
I'd say we've qualified as bat shit crazy right now, before the nominees are even selected. Even reporters from Breitbart.com — a conservative news website — are being attacked at Trump rallies. In Chicago, protesters forced the Trump campaign to cancel its event. At a Trump rally in Kansas, a young Muslim student was assaulted by Trump supporters.
We are not helped by the fact that Trump's chief rival, Ted Cruz, is only slightly less worse. Although his rallies lack the Nazi book-burning fervor of Trump's, Ted Cruz is the 21st century's Tomas de Torquemada. A real Bible-thumping Dominionist. And he is so despised by his own party that some of his Senate Republican colleagues stated off the record they would vote for Clinton if Cruz was the nominee.
Once the primary process is done and the nominees from both parties are clearly identified, the steep path towards the convention and the general election will be fraught. How do you reason on political issues when your opposition is willing to come at you with pepper spray, racist taunts or a pair of fists?
This seems more like the 1816 general election instead of 2016, and with more advanced crowd control and surveillance devices. And I think the 1816 election — still so close to the Era of the Enlightenment — was far more civilized, or so history books claim.
But what this plea for help really is about is a call for us to remember what we're doing, as we look through the lens of history. What are we becoming in this phase of our development? How do we respond to our country's social and economic crisis, as well as the crisis in our relationship with the rest of the world? How did we lose our way, and when will we find our way back?
If you have any thoughts on getting us out of the dark woods we find ourselves in, please write, email or give us a call.